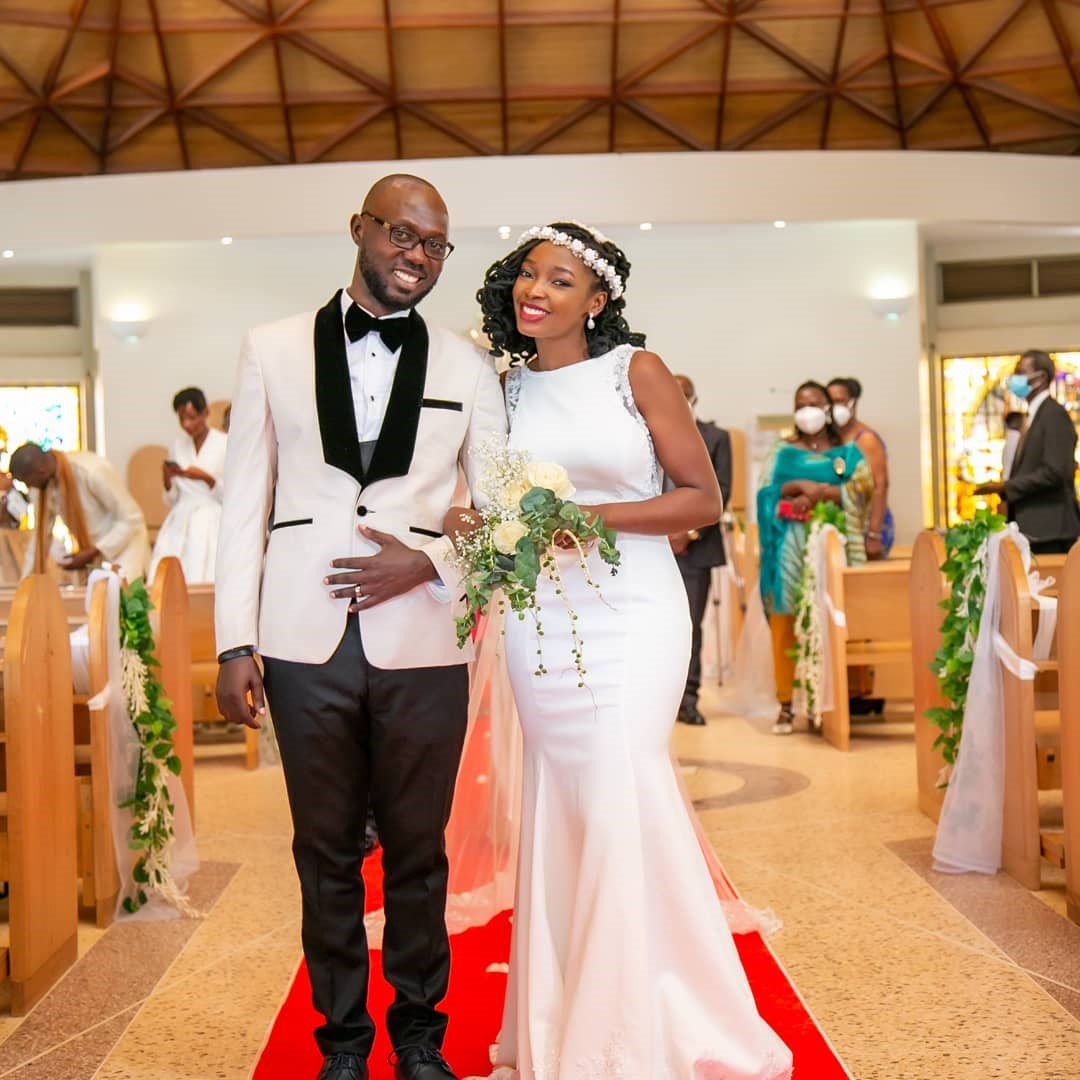 How to fix crisis on the wedding day
Your wedding is definitely up there among the most important events in your life, so it's not unreasonable that you want it to go without a hitch.
Incidentally, things don't always go as planned, even after ticking everything off your wedding checklist. No matter how hard you try, you should expect some hiccups on your wedding day. Thankfully if you hire a wedding planner you will never find out. But without a planner, your problem-solving skills have to come into play for you to still enjoy a great day with your lover. Yet that's easier said than done. Today's blog is your fixer.
1. A vendor fails to show up
Vendors are a big part of your wedding, until they don't show up!
Fix this by simply having an alternative list of reliable vendors for the most important items you need at the wedding. Have a wedding planner on your speed dial even where you don't hope to hire his/her services. They can call in favors in a pinch will almost always have a backup.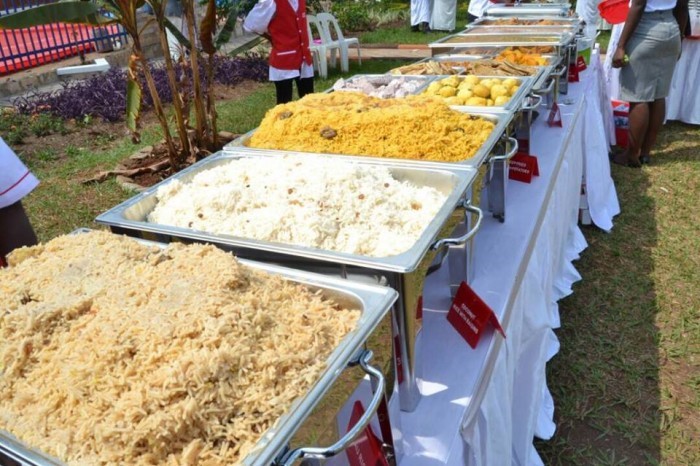 Wedding buffet without serving plates
2. Extra guests at the reception
One of the biggest wedding hustles is having more guests than invited. There is always that one guest who assumes that 'this card admits only one person' on the wedding invite is written for those who cannot find someone to go with. Luckily, a good venue service provider will almost always be prepared for this and will sort you out. However when the numbers are overwhelming, we advise you to have extra twenty to thirty seats, either hired separately or under a provision with your seats service provider!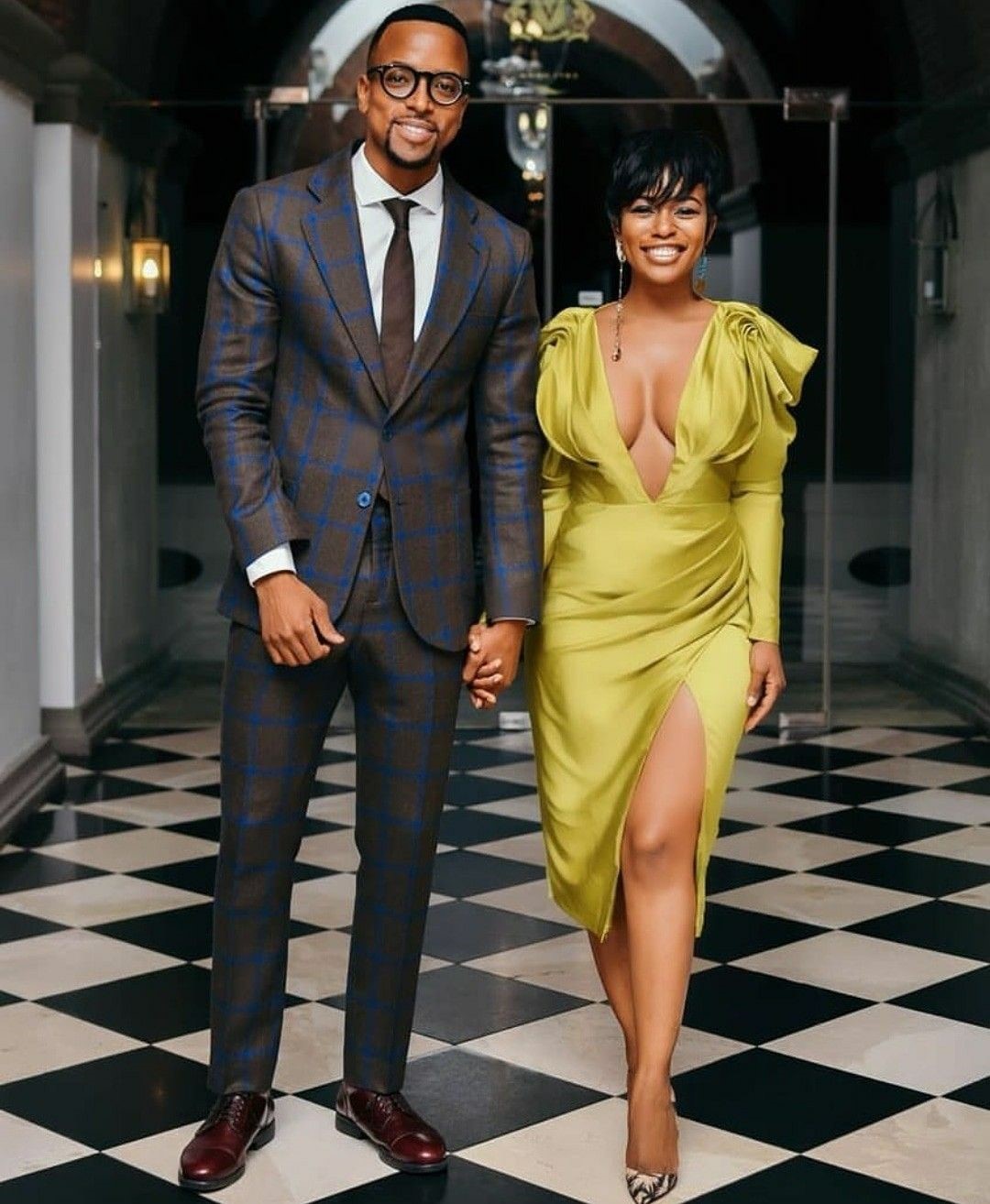 Smartly dressed for that wedding reception Credit: pinterest.com
3. The Deejay cannot get people to the dance floor
To find a deejay who will rock every dance floor is not always easy. Sometimes they simply fail to read their audience and the music fails to appeal to them. If you feel like the party needs to get going, ask your closest party buddies (yes, those ones) to suggest some 'groovy songs' and signal to some of them to head to the dance floor!"
Your bridesmaids should be lead the pack.
4. Moody weather at your outdoor wedding reception
An outdoor wedding reception is always at the mercy of the heavenly moods. If the sky is angry then its hot-temper will give your guests a very hot tan. If it is feeling emotional, guests will have to dash for the nearest shed. Even though some believe it's good luck, rain on your wedding day can be a menace, but serious heat isn't pleasant either. Umbrellas are good fix for both extremes if the heavens don't come down cats and dogs. Your venue provider will most likely have some on hand. When it rains heavily, your ideal fix is a shed; a couple organizing an outdoor wedding therefore needs a tent (or tent service provider) on hand.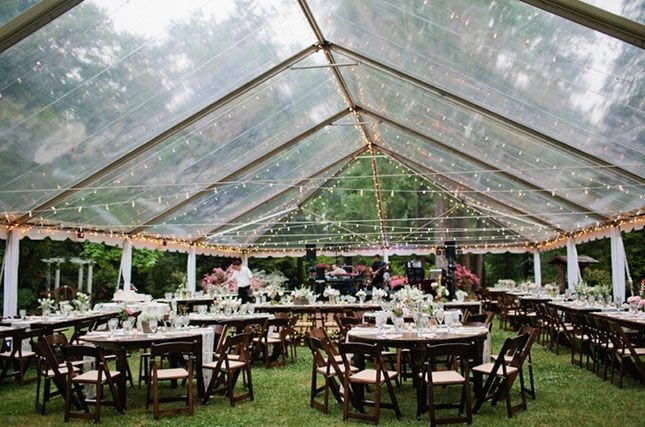 A transparent tent is especially a good fix because it gives you the best of both worlds.Transparent tents are a good fix for rainy days Credit: brit.co
5. Wardrobe malfunctions
Victims of ripped dresses and split pants are plentiful; from bridesmaids to mothers of the brides; grooms and their brides; and celebrities and royals too. You cannot escape a wardrobe malfunction because it's your wedding day.
The quickest fix is a packed sewing kit as part of your bridal box but inviting your tailor to the wedding is even better.
6. Car Breaks Down
Please do not fix the car. It's your wedding day! Once again, 'Please do not fix the car'. It's your wedding day! Call your mechanic! Leave the car exactly where it is. The sight of a distressed freshly wedded couple with an open bonnet is always unflattering. Besides, you will always attract compassion from passersby, don't be embarrassed to take that lift! It's your wedding day! The best way to fix a car breakdown however is before it happens, let the mechanic look at it at least 3 days before the wedding.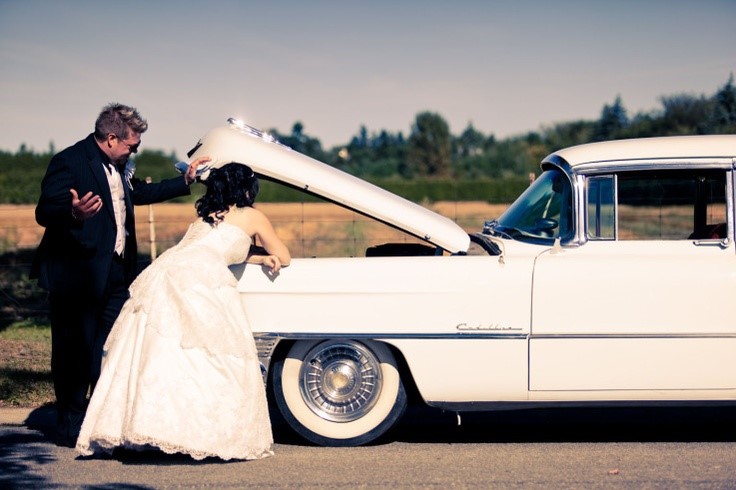 Don't fix the car! It's your wedding day! Credit: masterfile.com
7. Baker Drops the Wedding Cake
If the baker drops the cake, you are damned! A cake on the ground is, well, a cake on the ground! If your reception venue has backup cakes, you are covered but if it doesn't then if your baker is professional, he/she will find a solution. But if the worst comes to the worst then you may need to send someone on an errand, to look for a cake from the nearest place they can find. Be sure to check all your options before opting for this.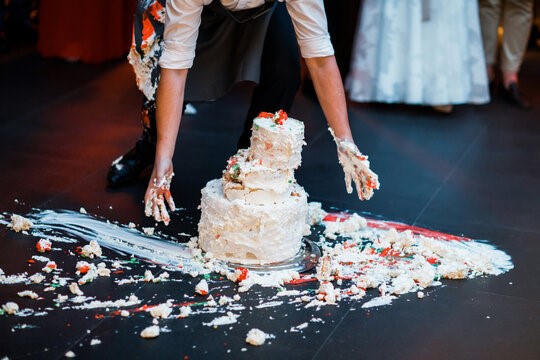 A cake on the ground is a cake on the ground Credit: stock.adobe.com
8. Everything is running behind schedule
This is almost always the norm unless you have some very organized wedding partners supporting you. Quick advice-relax! Focus on enjoying your day, smile through it, and keep yourselves happy as a couple. Fill up your humour jar! Take some more photos. Share some childhood memories with your entourage for old times' sake. Drink some water! Find what relaxes you and do it! Keep doing it! The day will be sorted. But if you think this doesn't work for you then send a polite note to the Emcee or whoever is in charge of your function to get that foot on the pedal. In the meantime, get your DJ to play some good music and keep guests entertained.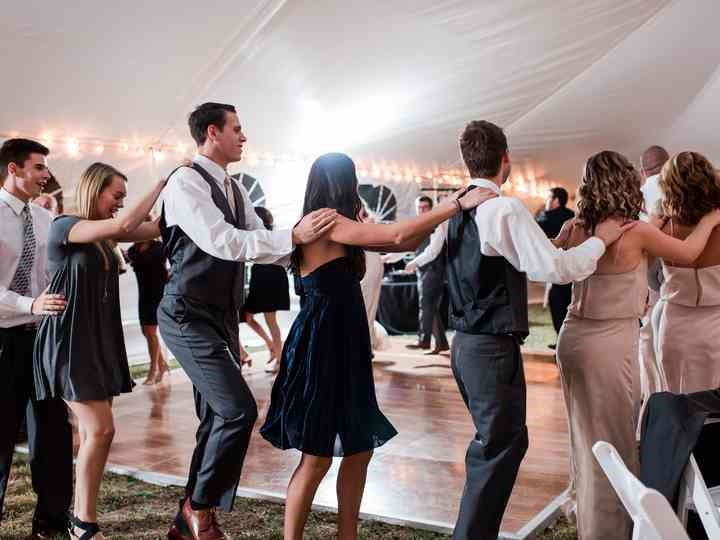 Wedding guests will find fun ways of keeping happy Credit: weddingwire.com
9. Someone causes a scene
A wedding without a person causing a scene, is every couple's dream. Whether a person is drunk or sober, you do not want a scene. An open bar can easily lead to some sticky situations. If someone is drunk and being embarrassing, try not to panic.
Quietly signal to the bartender to stop serving them, and if that doesn't help, then ask the venue for their security team to help. This is also the sure remedy for those who just want to cause a scene- think a jilted ex! Hopefully, the scene does not ruin the whole wedding especially where people get hurt! But more so, don't be the one to cause a scene!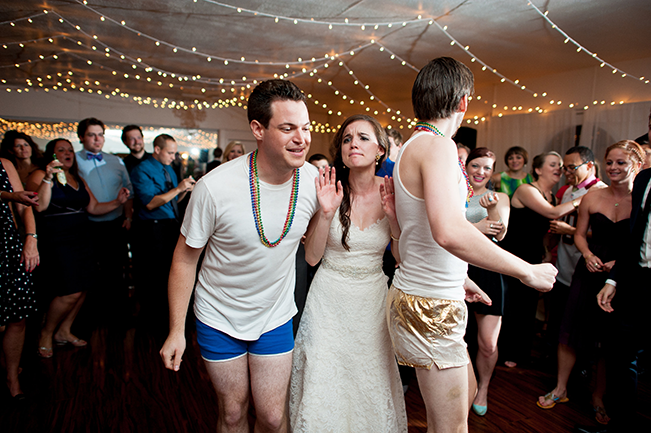 Don't argue with drunkards! It's your wedding day! Credit: clbxg.com
Cover photo credit: twitter.com
Visit www.nyomplanet.com for all your wedding fixes.