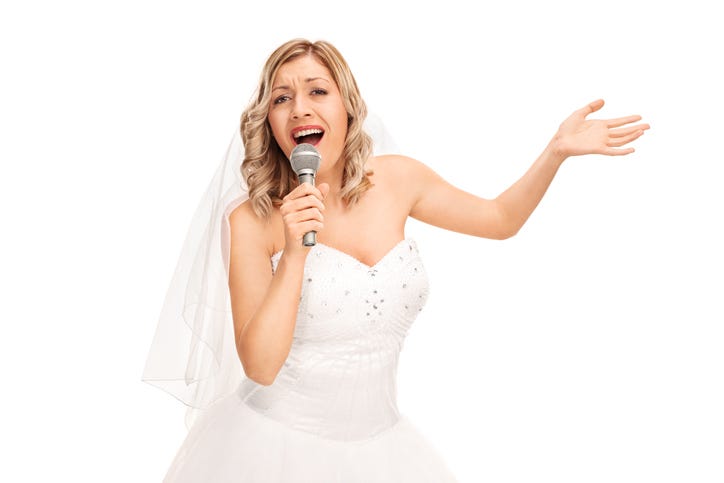 Four Decades of Wedding Songs
We all take wedding entertainment for granted but have you ever imagined a bride walking down the aisle without music? Stop, you shouldn't! The thought is as horrifying as the bride not turning up. Alright, that's a stretch, but would you imagine an entire wedding service without music interludes? Even before modern music instruments were invented, a vocalist was hired to spice up this important event. Like many other wedding traditions popularised by royals, music has always been the heartbeat of weddings. Such timeless classics like Richard Wagner's 'Here comes the Bride'; Kenny Rogers and Dolly Partons' 'Islands in the Stream' and more recently Shania Twain's 'From this moment on' have been an ever present soother at weddings, welcoming more and more couples into marriage, gluing stronger those already in and even matchmaking those toying with the idea.
Western wedding music traditions differ and some couples' favourite love songs are an intimate affair that wedding guests only get to join in on the couples' special day but let's take you down memory lane to some of the songs that we are sure you have heard at weddings in the last forty years; year by year starting with the most recent.
2020: "Conversations in the dark," by John Legend
The lyrics of the song just sound like vows that the bride and groom make at their wedding. In the song, John Legend expresses his deep love for his beautiful wife 'Chrissy Teigen'. Just like the fans, on Instagram, his wife Chrissy got emotional after listening to the song.
2019: "10,000 Hours," by Dan + Shay and Justin Bieber
The title ("10,000 Hours") of this song is symbolic of the amount of time the artists are willing to dedicate to not only learning everything they can about the woman they love but also show their affection to her. In mathematical terms, 10,000 hours is actually equal to a little over a year.
2018: "All to myself," by Dan + Shay
At its core, this is an expression of the intimate desire the artists have for their significant others. This is clearly seen in its lyrics;
I want you all to myself
We don't need anyone else
Let our bodies do the talkin'
Let our shadows paint the wall
I want you here in my arms
2017: "Shape of You," by Ed Sheeran
Ed Sheeran's "Shape of You" is a very catchy track with lyrics about how a bar hook-up grows into a potential relationship. Sheeran sings about a woman approaching him while he drinks with his friends. In the chorus, the encounter ends up in the bedroom, and the singer describes the intensity of the initial attraction.
2016: "Like I'm Gonna Lose You," Meghan Trainor ft. John Legend
According to an interview on the meaning of her song, Meghan Trainor said "It's about when you have those nightmares where your loved one passes away, and you wake up sweating and crying. You check on them, and they're still there, and you realize that you're not promised tomorrow, so you're going to love them like you're losing them". Come to think of it, this is timely for couples wedding in this period; don't wait, make those vows, tomorrow may not be guaranteed.
2015: "Thinking Out Loud," Ed Sheeran
I think this song is referring to someone that you fell in love with & still are deeply in love with. However due to circumstances, you're not physically with them. In your mind you relive the first moment you fell in love with them every day.
2014: "All of Me," John Legend
According to John Legend in an interview with fuse, he said "The song is saying things that balance each other out: even when I lose, I'm winning; my head's under water, but I'm breathing fine; I give you all of me, you give me all of you. At the same time as you're giving everything up, you're gaining everything, and that's what the whole song is about. If you're in love and you connect, then even when you're giving things up, you're gaining so much from it."
2013: "Mirrors," Justin Timberlake
According to Justin Timberlake in an interview, he says "'Mirrors' is a love song to someone that you feel like is, you know, sort of your other half." And we all know Jessica is Justin's other half!
He continues to wax romantic, adding, "One of the most valuable things in a relationship is being able to constantly change and be individual, but look to the other side to the person that you're with and know that they're changing as well individually, but somehow you two can mirror each other and be the other half of that world that you both create."
2012: "Home," Phillip Phillips
The song home is basically saying that your home is anywhere as long as you have people and things you care about you can make anyplace your home. The meaning would especially count when it's played for a couple having a destination wedding.
2011: "A Thousand Years," Christina Perri
The main meaning of this lyric represents how the singer is afraid to fall in love, because she is afraid of getting her heart broken after she falls in love. But the lyric saying "All of my doubt suddenly goes away somehow" means that she found someone who she really loves.
2010: "Just the Way You Are," Bruno Mars
This song is about a guy who loves his girlfriend very much. He thinks she doesn't need make-up to make her beautiful because she already is. He thinks she's so beautiful that "the world stops and stares for a while."
2009: "Lucky," Colbie Caillat, Jason Mraz
This beautiful song is about his best friend who he can trust and loves to be with who is also the woman he is completely in love with and he knows he is lucky to have this because you don't always get that.
2008: "I'm Yours," Jason Mraz
The meaning of this song is to live life to the fullest, appreciate little things, stop being vain and try to be yourself. Love unselfishly don't stop yourself from being happy, do what u want to do and think that we deserve to be loved
2007: "No One," Alicia Keys
Alicia Keys' "No One" mainly focuses on the idea that the person you love will always stay close no matter what happens. Alicia portrays that she has missed her lover and even if they cannot meet physically, she'll keep him close in her heart forever. She assures him that they will go through both good and tough times together, because she believes they will live a joyful life in the end.
2006: "Chasing Cars," Snow Patrol
This is a song about true love; one you find once in a life time, one that just happens no matter how hard you try to fight it but never could (and still can't). One you thank for "just being you". A love so strong that it just appeared even though you weren't looking for it. A love so strong that cannot be stopped even though you thought it would fade since they are no longer in each other's life but doesn't, no matter how hard you try to forget.
2005: "You're Beautiful," James Blunt
This song's lyrics are actually based on a chance encounter James Blunt had in real life with his ex-girlfriend. In other words, she is the addressee. And the way the story goes is that they crossed paths one day on London's subway. Moreover, at the time he was so "high" that she was able to notice it.
Additionally, as the first verse elucidates, she was actually moving out with another guy when he saw her. We are also made aware that she "smiled" at him. Now this simple gesture, along with him once again being smitten by her beauty, makes him conclude that the two of them have just "shared a moment". And resultantly the singer decides to devise "a plan" in spite of her already having a partner.
2004: "If I Ain't Got You," Alicia Keys
Some people think that love is defined by how much money couples spend on one another and the things they get each other. Alicia however, doesn't want money or anything from anyone, she just wants to be with her significant other, and nothing else.
2003: "Crazy in Love," Beyoncé featuring JAY Z
Beyoncé told the writer Dennis Hensley about this tune. She explained: "The song talks about how, when you're falling in love, you do things that are out of character and you don't really care because you're just open. The song came from me actually looking crazy one day in the studio." Beyoncé added: "I said, 'I'm lookin' crazy right now,' and Rich Harrison, the producer, was like, 'That's the song!'"
2002: "Moment Like This," Kelly Clarkson
This song is about the moment she won American Idol and the love shared between her and the audience, her fans will catch her if she falls and she hopes it's not just a dream.
2001: "Speechless," Michael Jackson
This song shows how the power of love can commit our minds to overcome any barriers or obstacles just to be with that one whose mere presence can leave us lost for words because of their eternal love, understanding and compassion. Lovers speak each other's love language without saying a word.
2000: "Breathe," Faith Hill
In this song, Faith Hill sings about sinking into an intimate moment with her lover. Being in his arms, the outside world slips away. They don't even have to talk, it's enough just to feel him breathe. We can assume that her husband, Tim McGraw, provided inspiration for her performance.
1999: "Kiss Me," Sixpence None the Richer
This song is trying, above all, to evoke that magic and romantic atmosphere that surrounds the moments previous to that wonderful first kiss.
1998: "Truly Madly Deeply," Savage Garden
Love. Unconditionally to be in love is the meaning of this song.
1997: "Something About the Way You Look Tonight," Elton John
This song is all appreciation and lovey-dovey descriptions of being floored by someone you care about. It's homage to that feeling you get when you're totally head over heels for someone, but you can't really put it into words, so you get all ambiguous.
1996: "Because You Loved Me," Celine Dion
Celine Dion's "Because You Loved Me" mainly captures the attributes of a person who has been a support and pillar in the singer's life. The song could possibly be addressing a lover, very close family relation (especially a parent) or even a good friend of hers. Dion describes this person as someone who was there in bad times, to correct her and to keep her from stumbling. In doing so, this person gave her joy and pushed her to pursue her dreams. She reveals that she will always be thankful for his/her presence and love in her life.
1995: "Fantasy," Mariah Carey
"Fantasy" is that of admiration towards a particular person who she can't be with in reality. Mariah Carey begins by describing how she feels whenever he passes by. Apparently, she is so in love with him that she keeps thinking about him all the time, notwithstanding her inability to make her feelings audible.
1994: "I Swear," All-4-One
The meaning of this song is the lyrics.
"And I swear by the moon
And the stars in the sky I'll be there
I swear like the shadow that's by your side I'll be there
For better or worse
Till death do us part
I'll love you with every beat of my heart
And I swear".
1993: "Have I Told You Lately," Rod Stewart
This is a song in which the artist Rod Stewart expresses his love for God.
1992: "Save the Best for Last," Vanessa Williams
This elegant love song is a tale of unrequited love that comes together in the end. The message of the song is that life is full of unexpected events that often lead to what's ultimately for the best.
1991: "Everything I Do, I Do it For You," Bryan Adams
"(Everything I Do) I Do It for You" is an expression of the singer's feelings for his significant other, using some of the most-tender lyrics ever. Indeed, as the title implies, all of his life's ambitions are dedicated to pleasing her, and he would do anything in the name of defending and protecting her.
1990: "Nothing Compares 2 U," Sinead O'Connor
It's a song about someone leaving you and how hard it is to get over them and how nothing compares to that person.
1989: "Eternal Flame," The Bangles
This song is about a union of twin flame soulmates. True love that is eternal, brought together with the hand of god. This song's essence follows the journey of twin flames.
1988: "A Groovy Kind of Love," Phil Collins
Lovely song about the joys of love. It's funny because out of all the poetic ways that love has been described as. one way that can truly explain it and hasn't been named is as something "groovy." If you describe something as groovy then it means it is attractive, fashionable or exciting. So guess it was.
1987: "I Wanna Dance With Somebody," Whitney Houston
This is a song about wanting to be with and doing what you want with that significant other. The artist in her song talks about how she wants to dance with somebody who loves her and needs to be with someone who will take a chance on a love that burns hot enough to last so when the night falls, her lonely heart calls.
1986: "Take My Breath Away," Berlin
This song is about unrequited love. Two people that are attracted to each other but are not able to be together as a couple. When they see each other, each time, they take each other's Breath Away. They find ways of expressing their feelings and interest to each other. They've had a few interactions or romantic encounters with each other, But they both know it has to stop there.
1985: "Say You Say Me," Lionel Richie
It's not a love song per say, but more of a friendship song. It basically tells about the friendships of the 2 main characters (Mikhail Baryshnikov and Gregory Hines) who are two really good dancers - trapped in Russia during the Communist era (in the 80's). Say you, say me - basically telling that they can believe and help each other.
1984: "Time After Time," Cyndi Lauper
The song describes two people that can't keep the same pace within their relationship. Perhaps they have merely grown apart like so many couples do. One character is essentially miles ahead while the other struggles to keep up.
1983: "Islands in the Stream," Dolly Parton, Kenny Rogers
This is a love song that basically describes every relationship. The artists describe how their peace was unknown before they met each other so they set out to get each other and since then they do everything together as love should be as seen in the lyrics, we start and end as one, in love forever, we can ride it together, ah-ha, making love with each other, ah-ha.
1982: "I Will Always Love You," Dolly Parton
In an interview with the artist on her inspiration for the song, she said "It's saying, 'Just because I'm going don't mean I won't love you. I appreciate you and I hope you do great and I appreciate everything you've done, but I'm out of here,'" she explained.
1981: "Endless Love," Diana Ross, Lionel Richie
This is a song in which a couple talks about how they are deeply in love with each other and how their hearts beat as one. They both can't deny how they feel about each other and that they will love each other endlessly.
1980: "Crazy Little Thing Called Love," Queen
This song is about experiencing this new emotion, love, and being unsure at first because it was different but now liking it. Later the narrator expresses this feeling for his "baby" and how she makes him feel love which makes him feel the need to calm down before he can "be" with her, in any sense of the word.
Next time, we shall share some of Africa's classic wedding songs over the last 40 years. Please do share with us in the comments section below some of the wedding songs that graced your special day or of the weddings you have attended.
Cover Photo credit: audicy.com