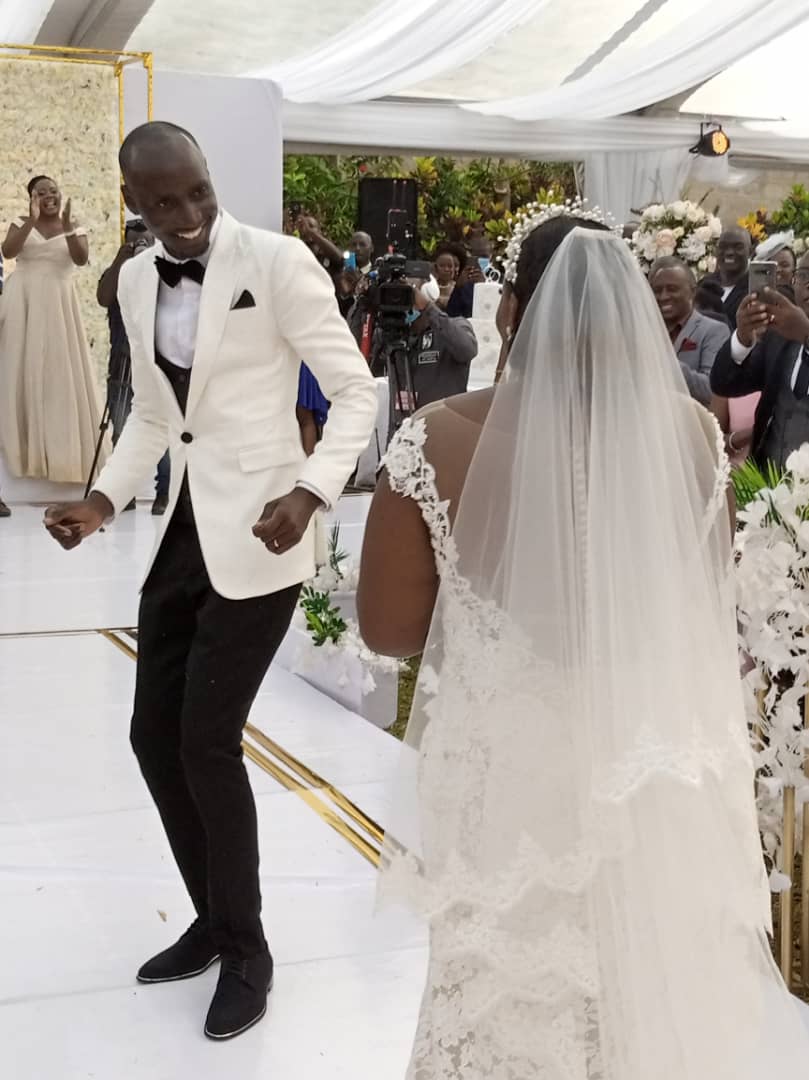 40 years of African wedding music
Africa is a continent of more than 50 countries, a diversity of people, ethnicities and cultures with a variety of music. African music has come of age over the last two decades and so have wedding songs. In the past, mostly western wedding songs played at African weddings and one could quite easily predict the play list. Today, however, without much hustle, one can choose an entire play list of African songs for a wedding. Let's navigate together the songs that have made African weddings the envy of the world in the last 40 years especially for those planning a retro-themed wedding.

The 1980s
Thank you Mr. DJ was Yvonne Chaka Chaka's signature song and Africa's heartbeat for the last half of the 1980s. A dancehall thriller, whose instrumentals, lyrics coupled with amazing vocals got newlyweds in the day dancing without holding anything back.
African music that steered weddings back then were mostly ballads from the elite musicians of the time; the likes of Elly Wamala, Afrigo band, the Eclipses and others.
'Violet' was Wamala's signature wedding melody in which he sought trust and patience from his wife as he went off to Europe. Carol Nakimera's 'Omusujja' was another wedding attraction at the time. Translated the title means, '…without you I catch a fever'
The 1990s
This is the decade that gave us Brenda Fassie's 'Wedding day', perhaps one of the most creative song videos of its time. She uses her strong voice to remind the bride of the happiest day of her life. In the video, she takes on the roles of parent, priest, guest and entertainer at the wedding. Not one to shy away from controversy, the video also features minors as a couple kissing several times.
This era also gave us the likes of Ekimuli kya Rosa by Fred Maiso. Afrigo band in 1994 lit up weddings with 'Jim' while Maddox Ssematimba gave us the sophisticated afro beats in 'Namagembe' as Halima Namakula did 'Ekimbewo' to which we danced with glee because she told us to.
The 2000s
The first decade of this era gave us some of the most amazing wedding music ever done on African soil. Songs like 2 Face's 'African Queen'; Udakwa Njalo and Ndihambanawe from S. African duo Mafikizolo were born. From Angola we had Ary release her Portuguese Teu grande amor.
Afrigo band's Racheal Magoola (now an MP in the Ugandan Parliament) had people dancing to Obangaina, till morning. It was a fresh song done in a unique language which captured the hearts of many newly marrieds.
The first five years saw East Africa's music icon, Jose Chameleon, captivate us with his famous "Mama Mia,", the first of his many hits that have seen him become a music legend on the Eastern part of the continent; while Michael Ross gave us 'Senorita', the best R'n'B song at the PAM awards in 2002.
We cannot leave this period without talking about Ragga Dee's 'Empeta' perhaps one of the best beats ever put together for a Ragga song. It's a song with a line that translates in local jargon to mean- 'Let the ring I put on your finger make your intestines churn within you'. There was also Pr. George Okudi's 'Wipolo,' that became a darling of Christian themed weddings and the country at large. The song gets its origin from Psalm 98:4 and it's about singing joyfully and praising the LORD. It went ahead to scoop both national and international accolades. In 2005, 'Jamila' was another hit done by Chameleon that made brides wish they had chosen their dresses wisely for if you hadn't, you simply choked with your moves in your seat.
The second half of the decade announced the arrival of the famous I-J who incidentally became more famous when they broke up. Irene Namubiru and Julianna Kanyomozi both gave us their first real hits in 'Nkuweki' and 'Nabikoowa' respectively. While in her song, Iryn sought a suitable gift for the one who loved her tenderly, Juliana bemoaned her abusive relationship and vowed to never return yet both songs kept guests at weddings singing along.
The last part of this decade introduced us to Toniks with his 'Beera Nange' and the creative duo Mowzey Radio and Weasel while featuring with Vampino in 'I love you'; a dance-hall song in which Radio (the groom) couldn't find the right expressions for the love he had for his bride so he promises to tell her 'papa', her 'mama' and everyone who cares to listen. It's typically Radio at his comical best- one of the lines says that if she were milk, he would simply drink her.
The 2010s
This decade saw music from other parts of Africa begin to receive a lot of airplay in East Africa and whereas we had a number of East African hits like Eddy Kenzo's award winning 'Sitya loss' to entertain couples' guests at weddings, West Africans were the real crowd movers with songs like 'My woman, my everything' by Patoranking and Ashawo by Flavour. Add P Square's 'No one like you' and 'Beautiful Onyinye', released five years apart but both rocking weddings in this same decade.
This decade also introduced us to some of Africa's finest lyrical geniuses like the Longombas. Check out the lyrics of the song 'Queen'; 'every day is a brand new day, every time that I see your face, you are my everything and anything that I will ever need in this world, I am so glad that you came my way, I am loving every minute that spend, baby you are the reason to everything.' Grooms were forced to pursue their brides all over again.
We also had MOG's 'Wedding day' teaching brides to literally dance at the altar, don't take our word for it, watch the video. It's also this song that taught Emcees to tell couples to say 'bye bye' to the single ladies and the single guys. Willy Paul and Alaine released their 'I do' around this same period.
'Tinda Tine' by Lady Mariam sang in a local dialect urging the ladies to express love to their mates unrestrained inspite of the doubters and slanderers was also a darling of weddings.
Silver Kyagulanyi also gave us a timeless classic in this same decade with his 'Congratulations'. Care not about the function, this song will play because no matter the event, no matter the achievement, you deserve to be congratulated and celebrated.
This decade too unveiled Coco-finger teaching all brides in East Africa how to blush with "My miss," A man praises a woman until she can't help herself, then he declares his perfect love for her. Jackie Chandiru made a sequel out of this one with her 'Gold Digger', reminding the men that it wasn't their money women were after. Weddings received both songs with affection.
In 2015, Big Size Bebe Cool became a love doctor when he taught men to say I 'Love you every day," and together with Winnie Nwagi's 'Musawo', weddings in the latter half of the decade had guests either dancing or singing along until Sheebah Kalungi introduced us to 'John Rambo'- what a title! Fascinating about this song is that the John Rambo in the video, muscular as he was, wasn't jumping cliffs, cutting snakes and killing every breathing thing (even for love), he just stood there and held his lover. Talk of 'arriving'!
The decade ended in 'scandal'- one about separation and remarriage and another about political opposition but not in music because while both Rema and His Excellency Bobi Wine were presumably hitting back at their nemeses in these songs, they still kept newlyweds in the mood for their nuptials with their 'Gutujja' and 'Kyarenga' chart topping songs respectively. While Rema's 'Gutujja' title tells it all (the heart is beating), Kyarenga left us all baffled. We later learnt that it was about a man who is expressing too much love for his significant other that even when her parents bring another suitor, she's already locked up in him because his love is greater than any of the suitors. The meaning did not matter, we were already dancing to the song at our weddings until it became political to do so.
Crown that with Travis Greene and Tim Godfrey 's 2018 Nara ekele mo and Diamond Platinumz 'Iyena'; Saida Karoli's Magenyi and Master G's Jerusalema recorded at the tail end of 2019 and you perhaps have Africa's wedding music decade of all times.
In this new decade, look out for:
2020: "Mallamu," by Pallaso; Aye- by Davido; Sweetie Sweetie- Zabron Singers
2021: "This is love," by Rema Namakula and The Ben
It's almost impossible to list all the African music that steered wedding banquets in the last forty years (especially the last two decades) because Africans have mastered their ballads, and perfected their beats, and choreographed their videos and learnt the art of entertainment but allow us drop the mic right here.
We shall be back with the funkiest Caribbean wedding melodies of the last forty years.