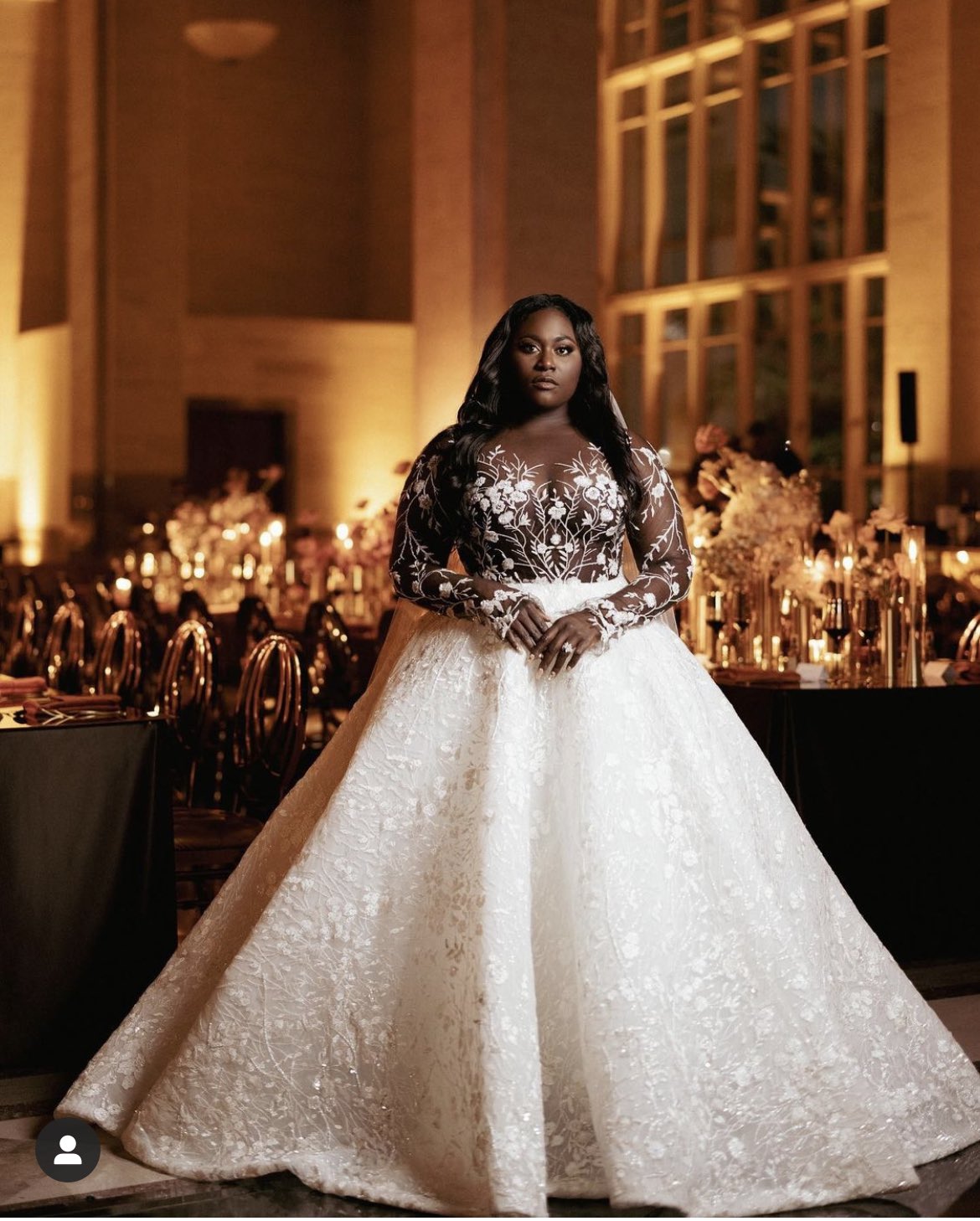 The Celebrity Weddings of 2022
Celebrity weddings are always such a great joy to experience whether as a guest or for the couple wedding. Be it a small private and intimate union or a mass show stopping function, the smiles and joys are profound. The 2022 list of celebrity weddings is endless and it includes notable celebrities like Jennifer Lopez who married Ben Afleck, Kourtney Kadarshian, Britney Spears, Nigerian actress Ritah Dominic, Jay Ellis, David and Victoria Beckham's son-Brooklyn, Danielle Brooks, Nigeria gospel artist Chinwo among many others. Here is a detailed list of celebrities than in 2022 shared with us the joys that weddings bring.
1. Ricki Lake and Ross Burningham
In an intimate colorful backyard celebration on January 2nd in Malibu, Ricki Lake, the actress famed for the Ricki Lake show said 'I do' to her lawyer fiancée Ross Burningham, nearly a year after they got engaged. They both ditched traditional wedding attire, with Ross opting for a simple black shirt and Ricki going for a golden orange long dress.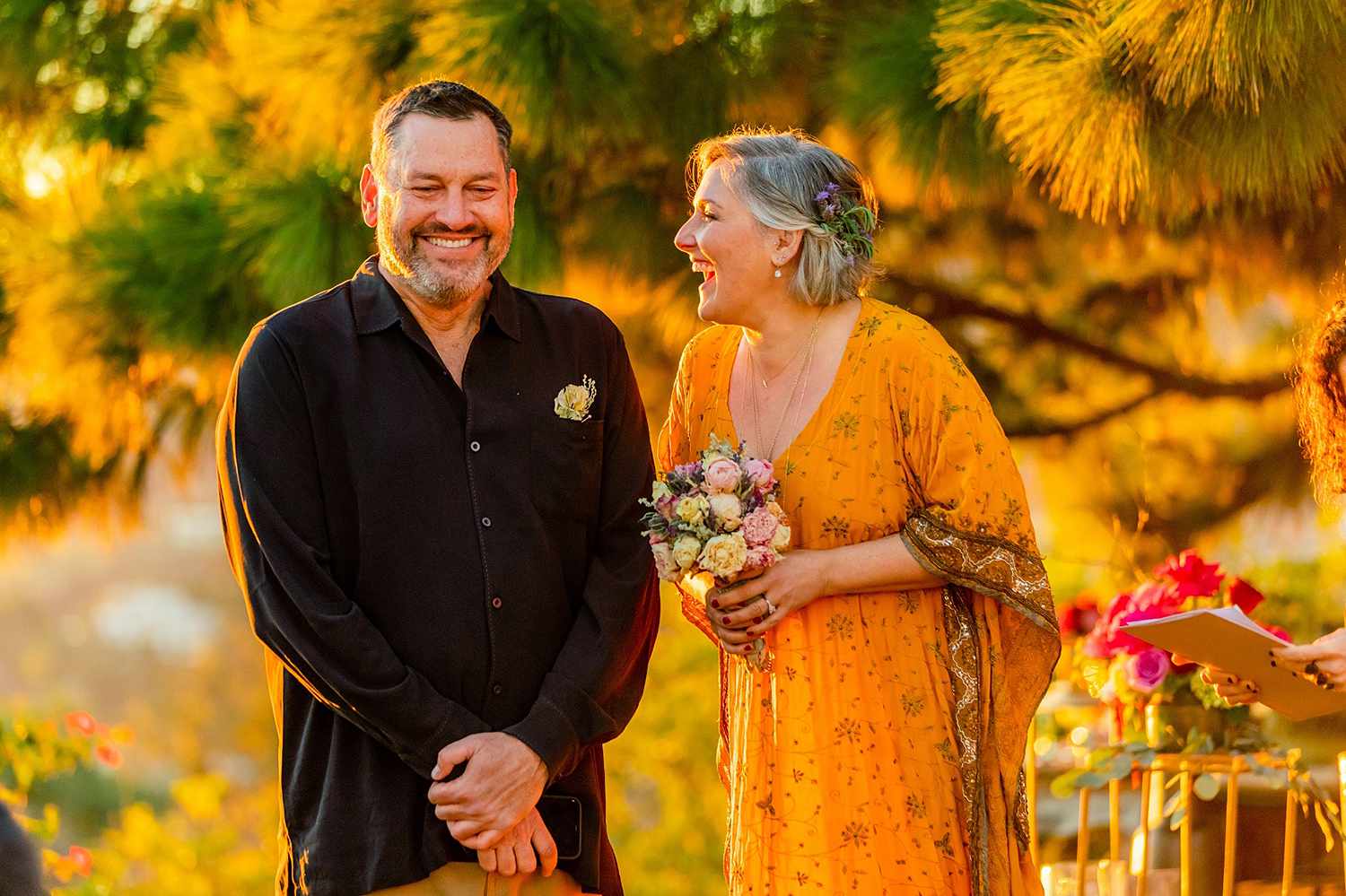 2. Danielle Brooks and Demis Gelin
Having met at a game night she was hosting with a friend, Danielle Brooks and Demis Gelin kicked off a hot romance that culminated into the celebrated 'chocolate love' themed love story wedding reception we witnessed in Miami on January 13, 2022. She is also the lady in our cover picture by the way.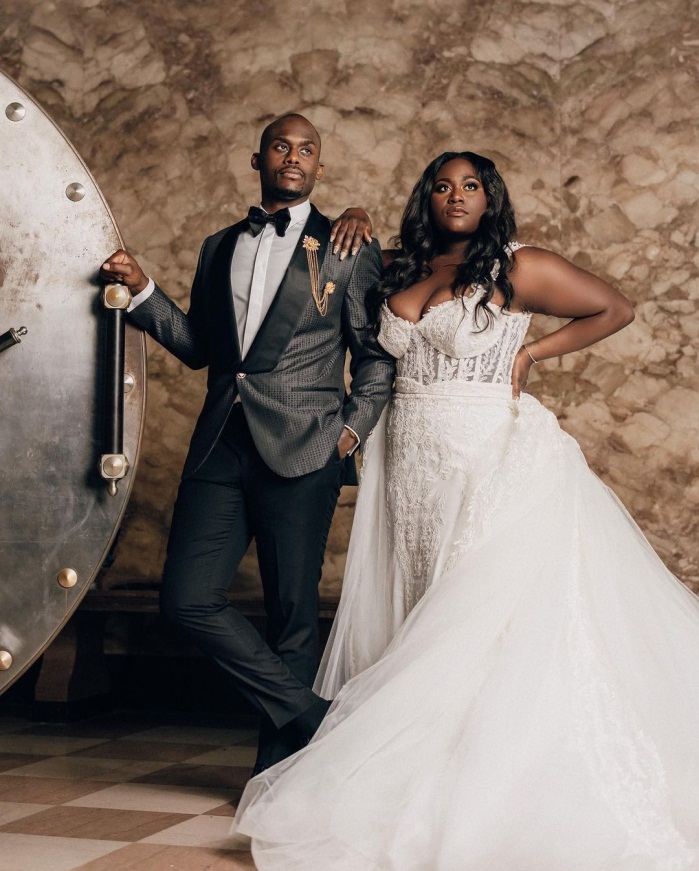 3. Jordan Kimball and Christina Creedon
The Wynden in Texas was the host to former 'Bachelor in Paradise' star Jordan Kimball and Christina Creedon on 15th January. 'Cheers to forever loving you,' he wrote on Instagram to which Christina added 'Jordan Kelly, I am so proud to be your wife….'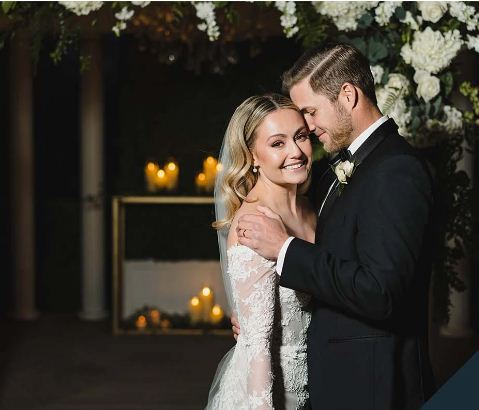 4. Mouni Roy & Suraj Nambiar
Dubai based businessman Suraj Nambiar and actress girlfriend Mouni Roy wed in a lovely intimate ceremony in the sunshine state of Goa in January. Since then, they have been treating fans online to amazing photos and snaps from the ceremony.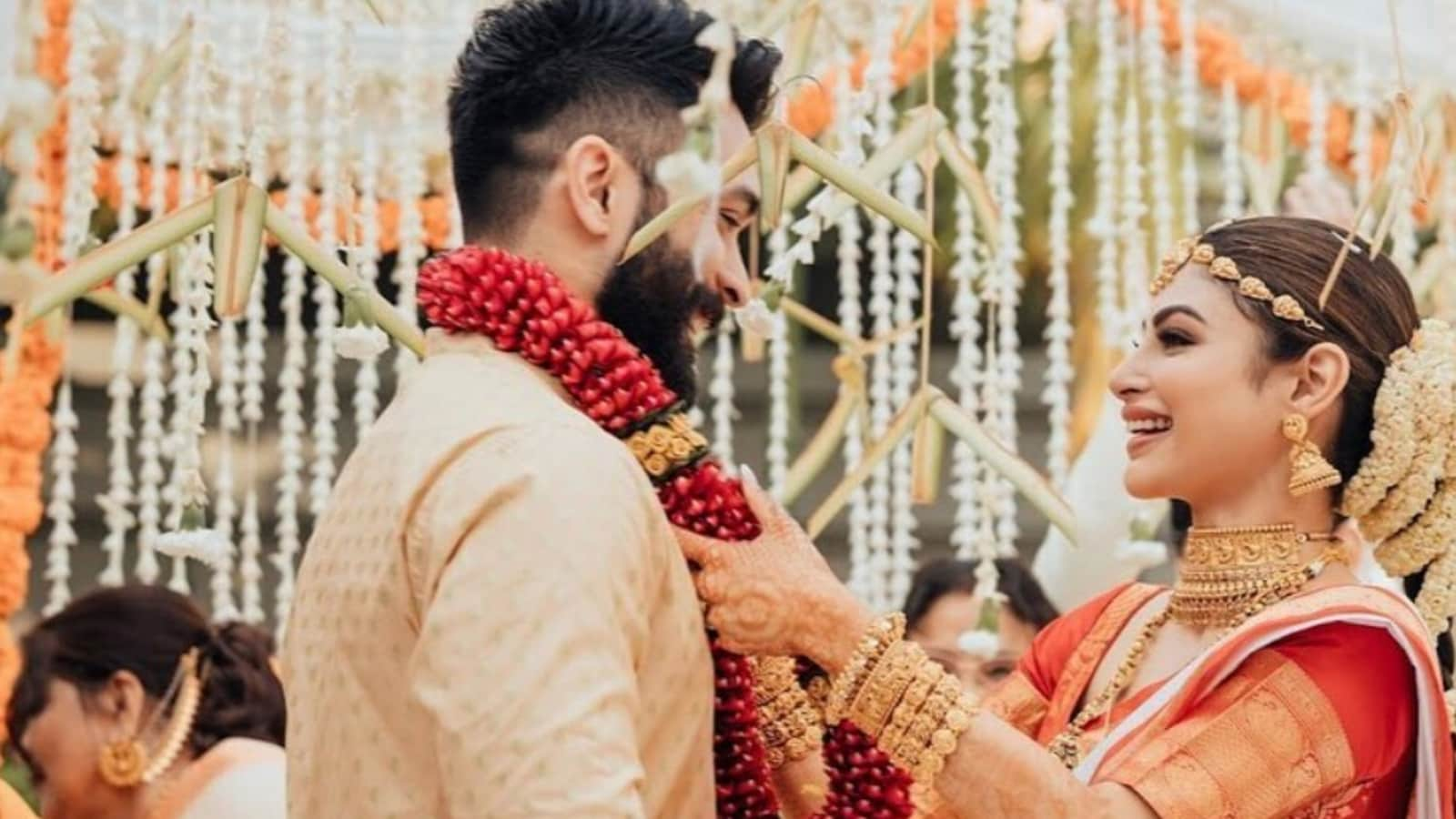 5. Navarone Garcia and Elisa Achilli
After dating for four years and being engaged since Christmas day 2020, Priscilla Presley's son, Navarone married his fiancé Elisa in a winter-spring ceremony in Switzerland on February 15th.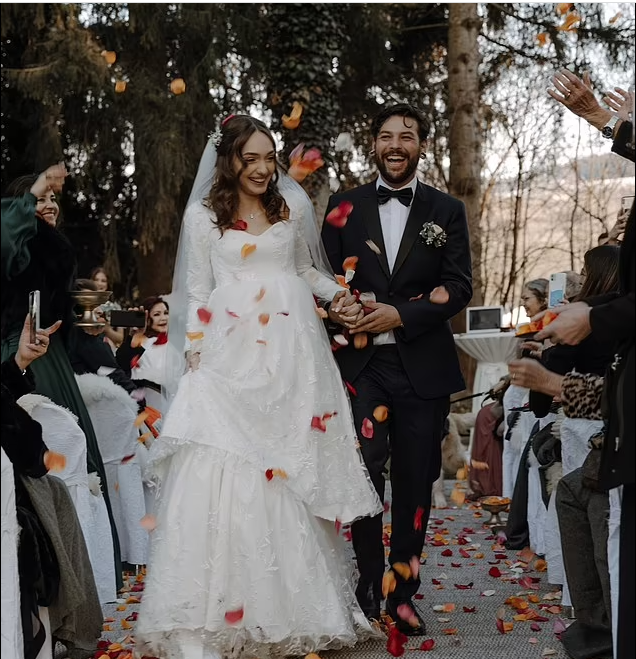 6. Farhan Akhtar & Shibani Dandekar
The couple dated for almost four years before tying the knot on February 19 in an intimate ceremony at Farhan's Khandala farmhouse attended by the closest friends and immediate family members.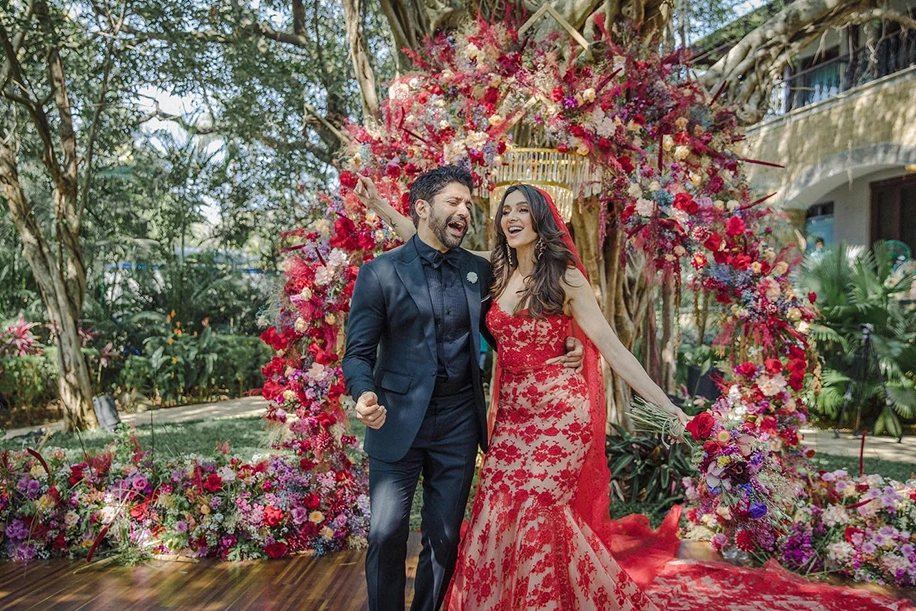 7. Ryan Sheckler and Abigail Baloun

Ryan and Abigail are quite open about their love. The couple shared their union on Instagram with bold romantic captions. Abigail captioned on May 3rd ,'I married the love of my life' and Ryan, an MTV star and American skateboarder responded 'It was a day filled with Jesus Christ and my closest loved ones'.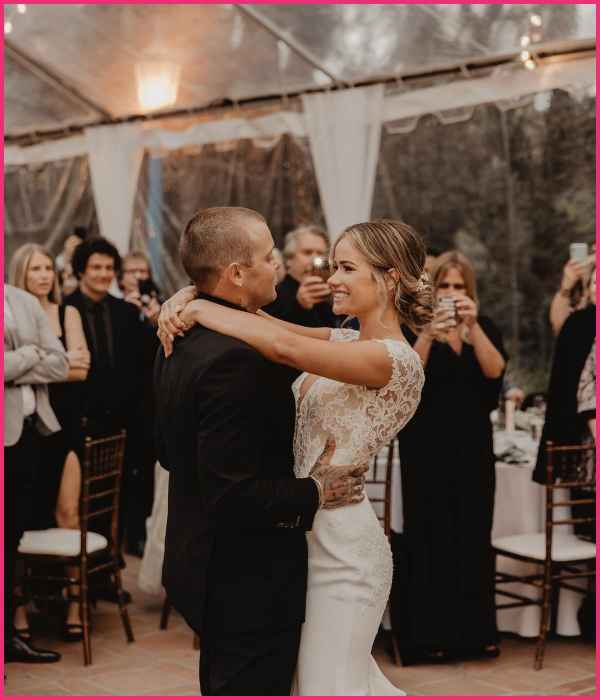 8. Billie Lourd and Austen Rydell
Daughter of actor Carrie Fisher and a distinguished actress herself, Billie Lourd got married to her producer boyfriend Austen Rydell on 12th March. They had got engaged in 2020 when Austen popped the question and Billie said 'duh!' instead of 'yes'. It still ended well though.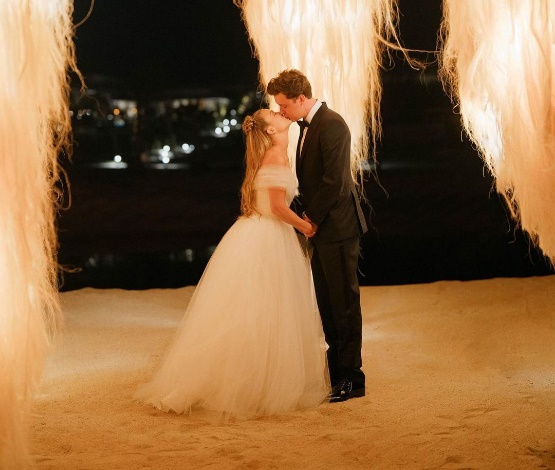 9. Patrick Mahomes & Brittany Mathews
American football quarterback, Patrick Mahomes and football player Brittany Mathews on March 12th had a romantic wedding in Hawaii. 'Mr. & Mrs. Mahomes,' the newlyweds shared on Instagram following their scenic ceremony.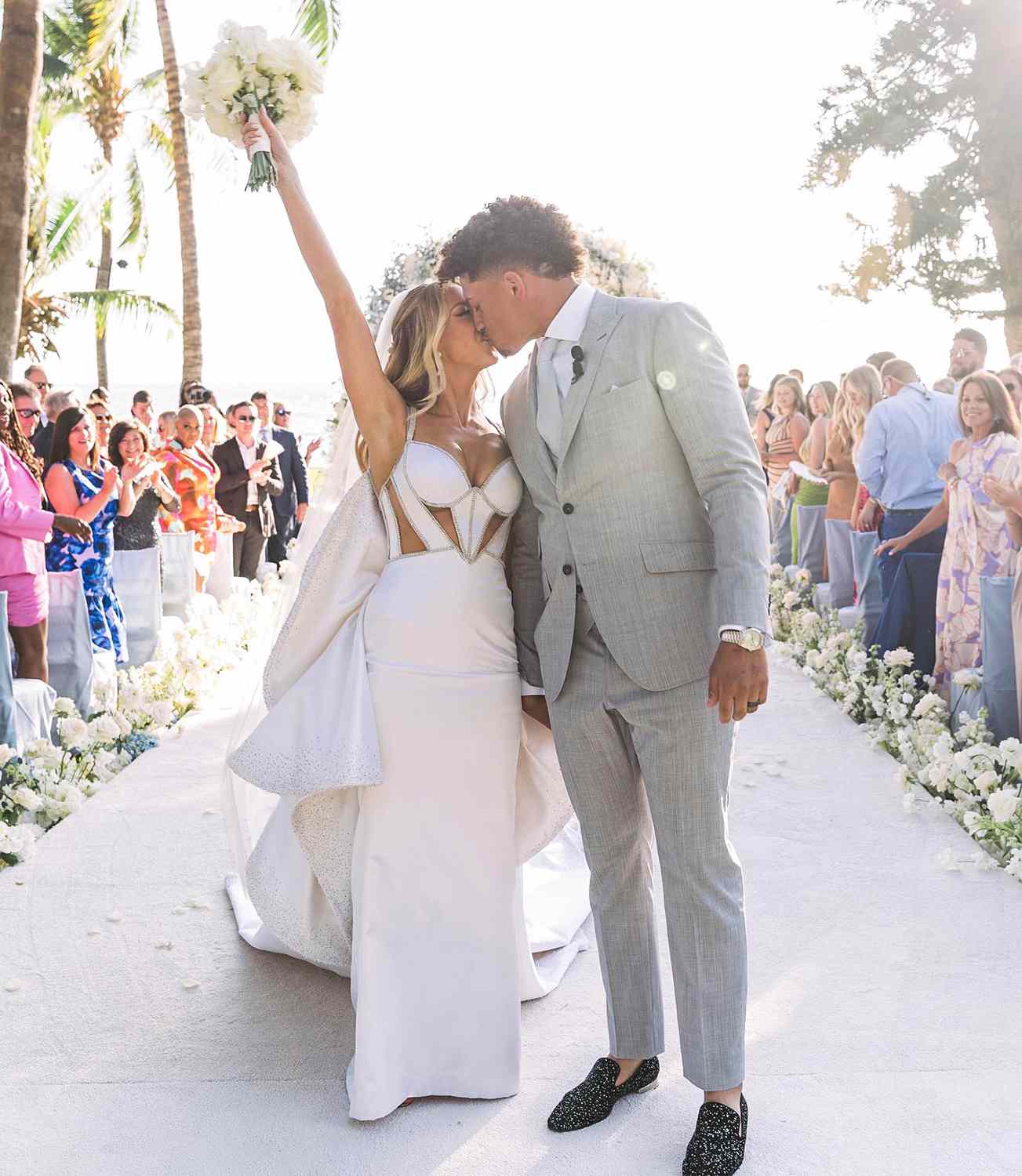 10. Jack Huston and Shannon Click
House of Gucci actor Jack Huston and his girlfriend of over a decade, Victoria's Secret model Shannon Click finally clicked and tied the knot in Sin City, Las Vegas on 16th March. Ten, like they say, is magical.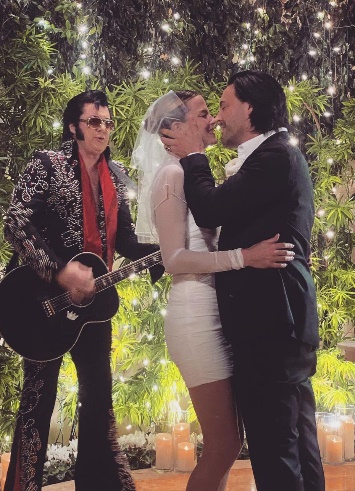 11. Robert Kraft and Dana Blumberg
Robert Kraft and Dana Blumberg began dating in 2019 before tying the knot in March 2022. The New England Patriots owner and his doctor bride held their wedding at Hall des Lumieres in New York .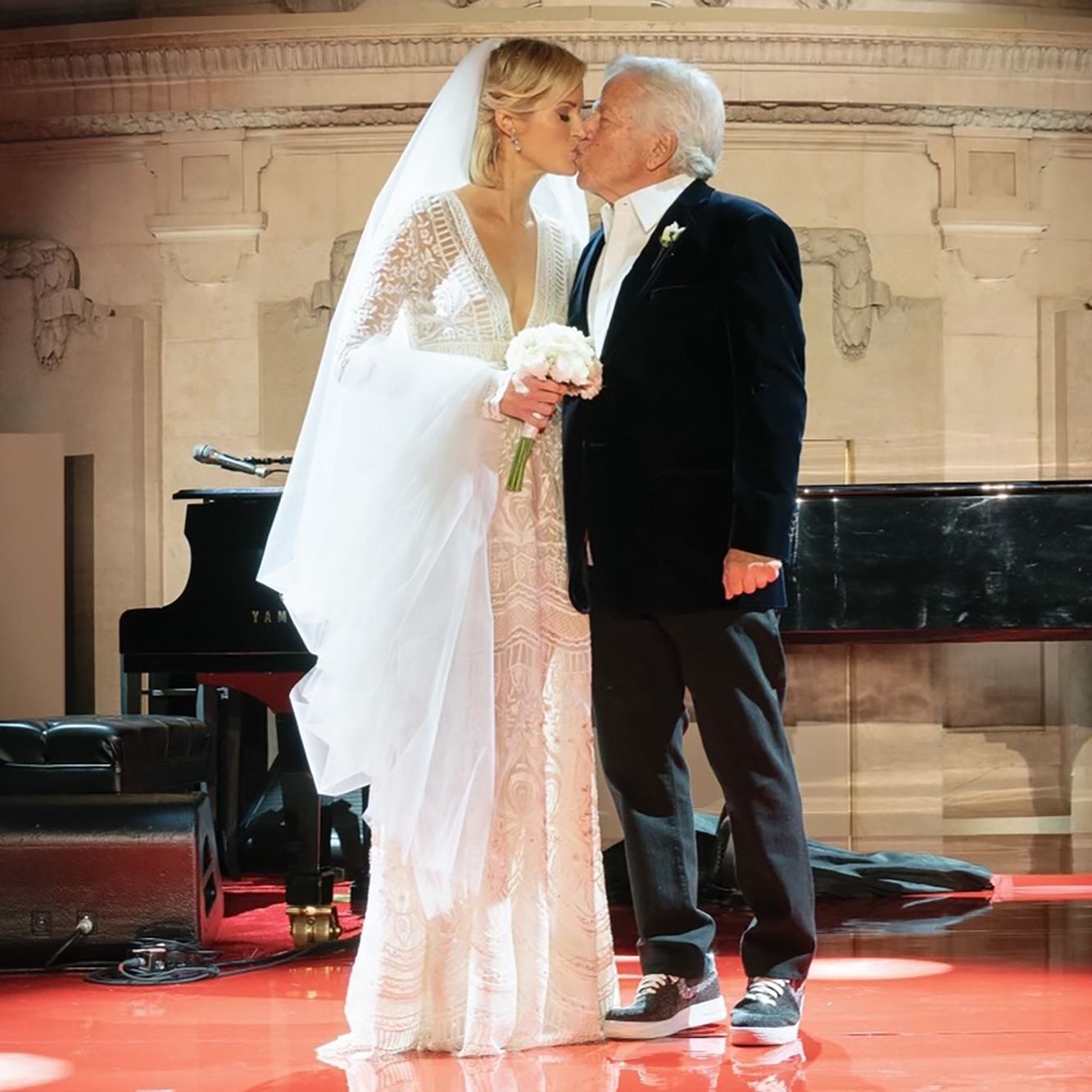 12. Ryan Cabrera and Alexa Bliss
American singer, Ryan Cabrera tied the knot with Alexa Bliss in a big wedding on April 9th, 2022 in Palm Dessert, Calfornia. Alexa, a WWE superstar, revealed she initially wanted a small wedding for only close friends and family. As a quiet anti-social person, the opposite of her husband, she told him they could have a big wedding only if he planned it. And plan he did!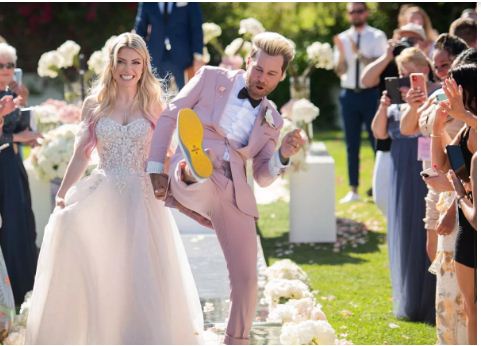 13. Brooklyn Beckham and Nicola Anne Peltz

April 9th 2022, was the celebrity wedding date last year. Apart from Ryan above, David and Victoria Beckham's 23 year old son Brooklyn on the same date also wed Nicola Anne Peltz in a lavish ceremony at Peltz's family home in Florida. Brooklyn went on to have his wedding vows tattooed on his arm four months after their wedding. 'Surprised my baby,' he captioned the tattoo photo on his Instagram where he tagged his wife.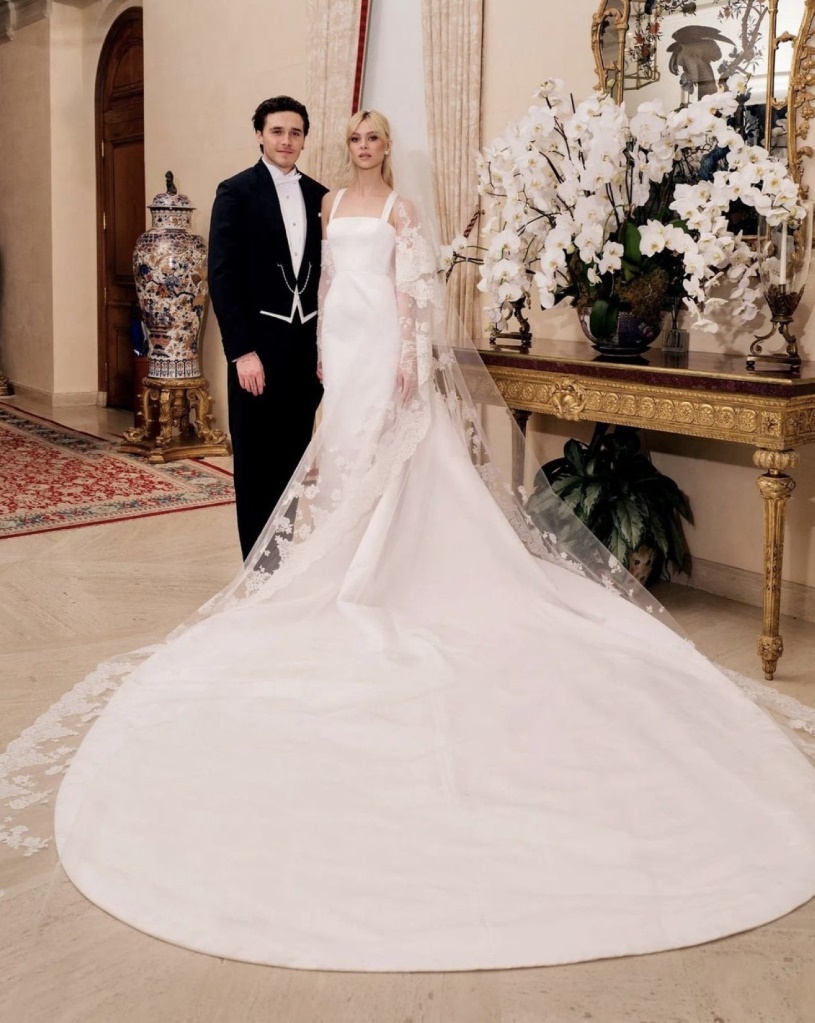 14. Alia Bhatt & Ranbir Kapoor
British actress Alia Bhatt and Indian actor Ranbir Kapoor on April 14th had a gorgeous wedding at their house balcony in Mumbai with their close friends and family. Bhatt herself is of Indian descent, you can say she did this one for the culture! And we loved it!
15. Ewan Mcgregor & Mary Elizabeth Winstead
Ewan McGregor and actress Mary Elizabeth are married after almost five years of dating. The two met on the set of the Fargo TV series. Their wedding was a small outdoor ceremony of friends and family on April 23rd in Los Angeles.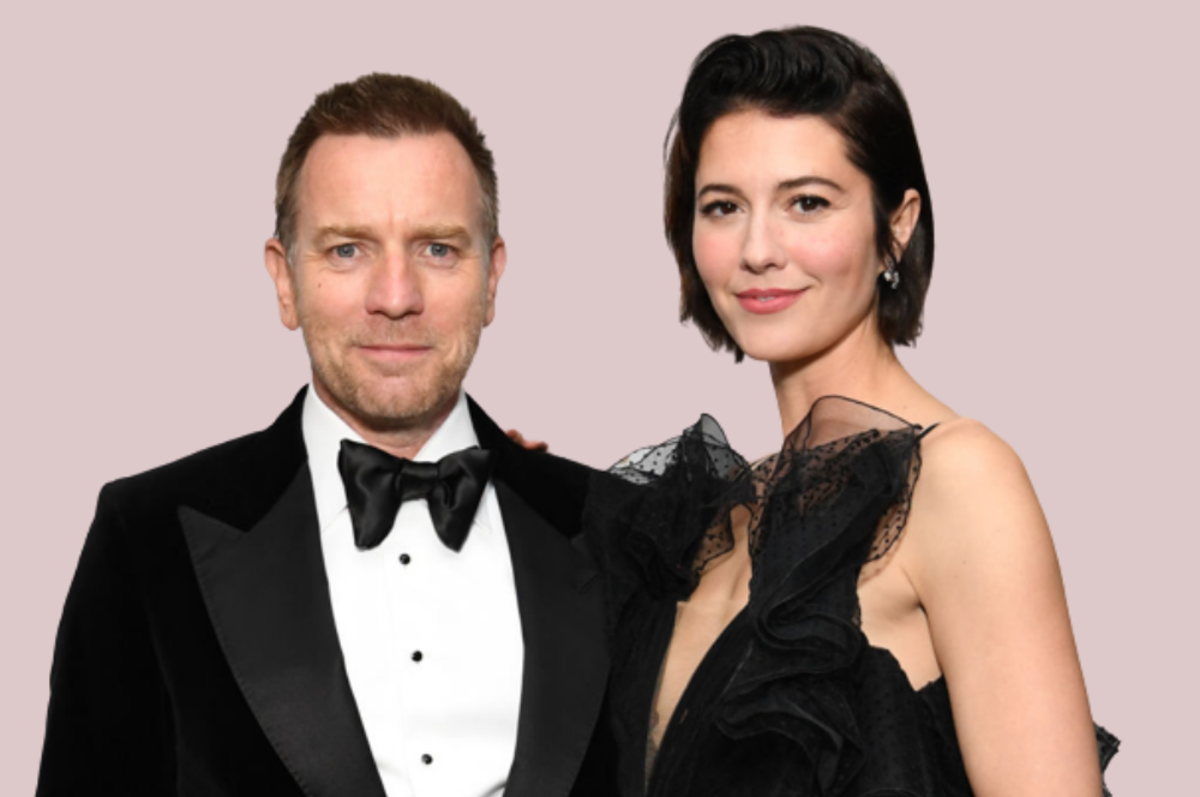 16. Sydney Mclaughlin and Andre Levrone
Former NFL player Andre Levrone and track star Sydney Mclaughin got married at Early Mountain Vineyards in Virginia on 6th May. In an Instagram post, Levrone wrote, "May the success of our marriage not be gauged by fame, fortune or flash but by submission to one another..." That's sweet, ain't it?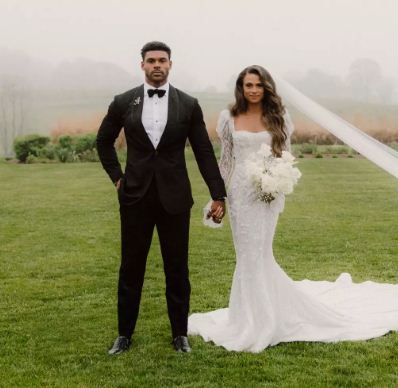 17. Jojo Fletcher & Jordan Rodgers
Six years since their engagement in 2016 on The Bachelorette finale, American real estate developer Jojo and American sports anchor Jordan finally got married on 14th May, 2022 in a rustic intimate ceremony at Sunstone Winery in California.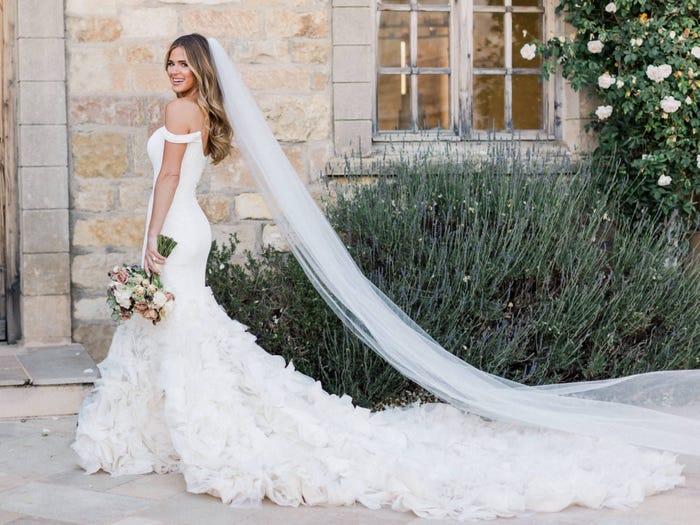 18. Kourtney Kardashian AND Travis Barker
Kourtney and Travis are officially married! Hooray! Typical Kardashian style, the wedding had an adventurous touch. It was held on 15th May in Italy at Castello Brown, a historical place dating back to the 13th century. Kourtney as usual courted a bit of controversy with her wedding dress. Sponsored by Dolce & Gabbana, an entire complex was booked for their extended celebrations and all the Kardashians were in attendance.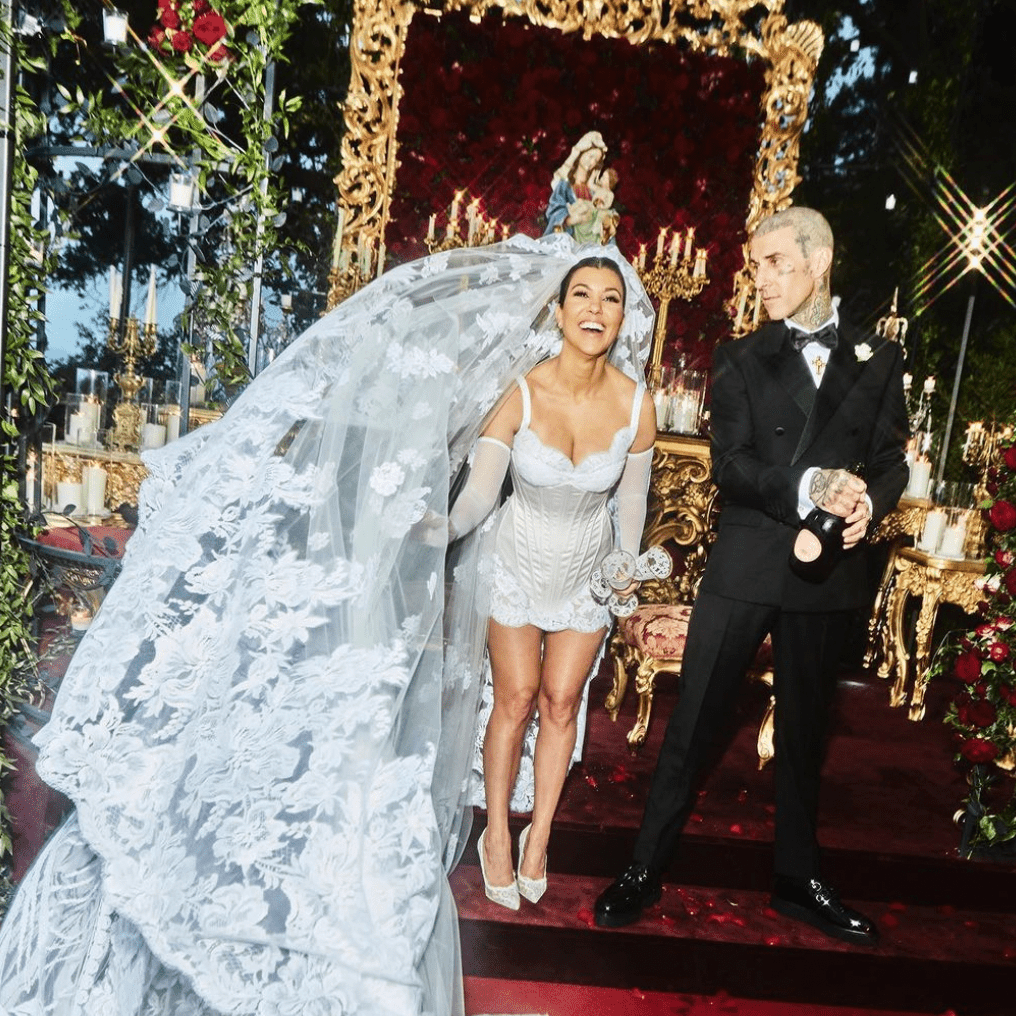 19. James Lafferty and Alexandra Park
The Royals star actress, Alexandra Park said 'I do' to fellow actor James Lafferty having been together since 2015 when they met at the filming of Season two of 'The Royals' that James directed. Lovestruck, the two got engaged for almost two years before finally wedding in May last year.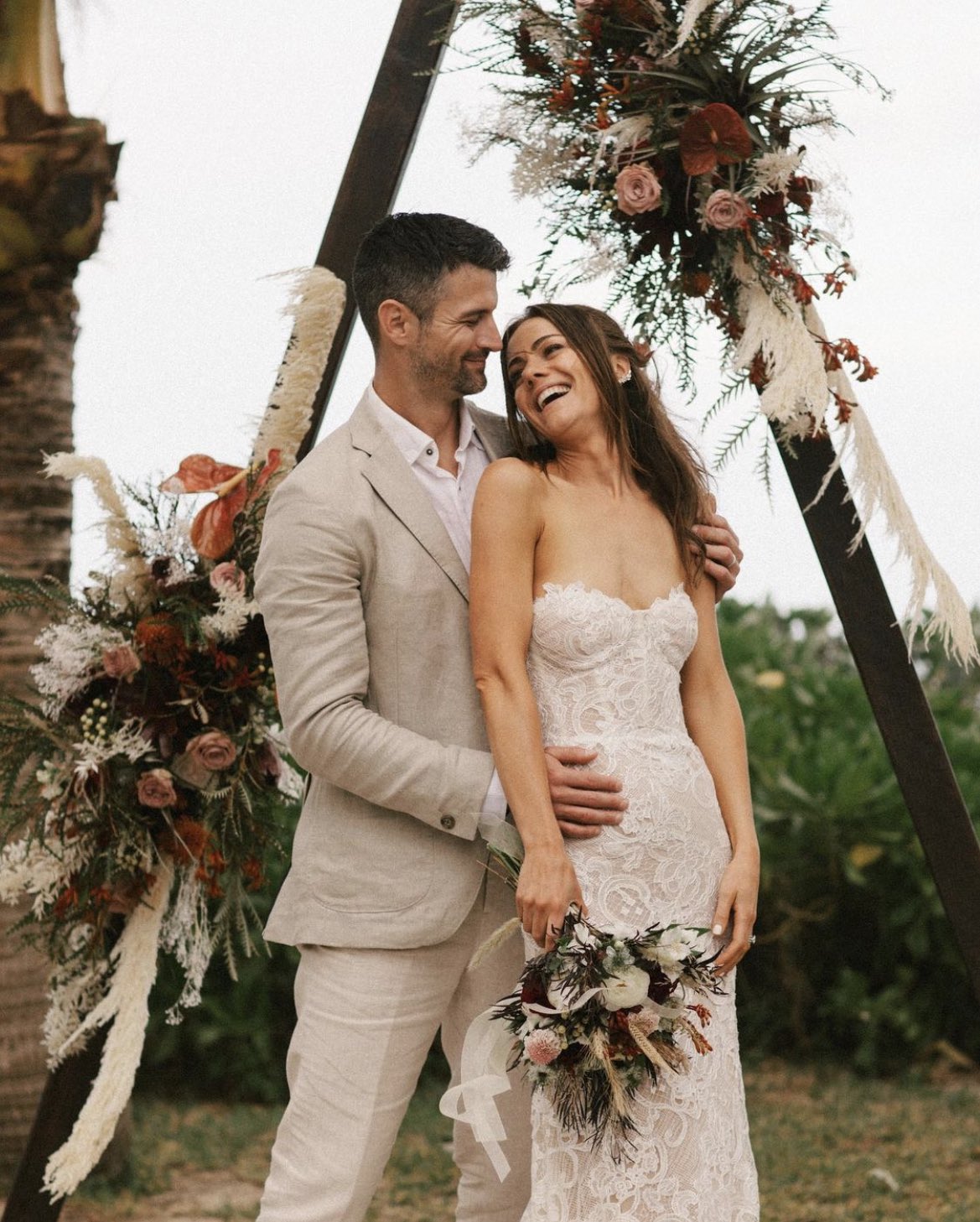 20. Billi Mucklow & Andy Carroll
Professional fitness coach Billi Mucklow tied the knot with former Liverpool and Westham football player, Andy Caroll on 5th June at Hampshire's five-star Four Seasons hotel. Billi and Andy began dating in 2013 and got engaged in Rome the following year. It's rumoured that things have not been so well after the wedding with Billi even being witnessed holding an online auction sell for her wedding dress.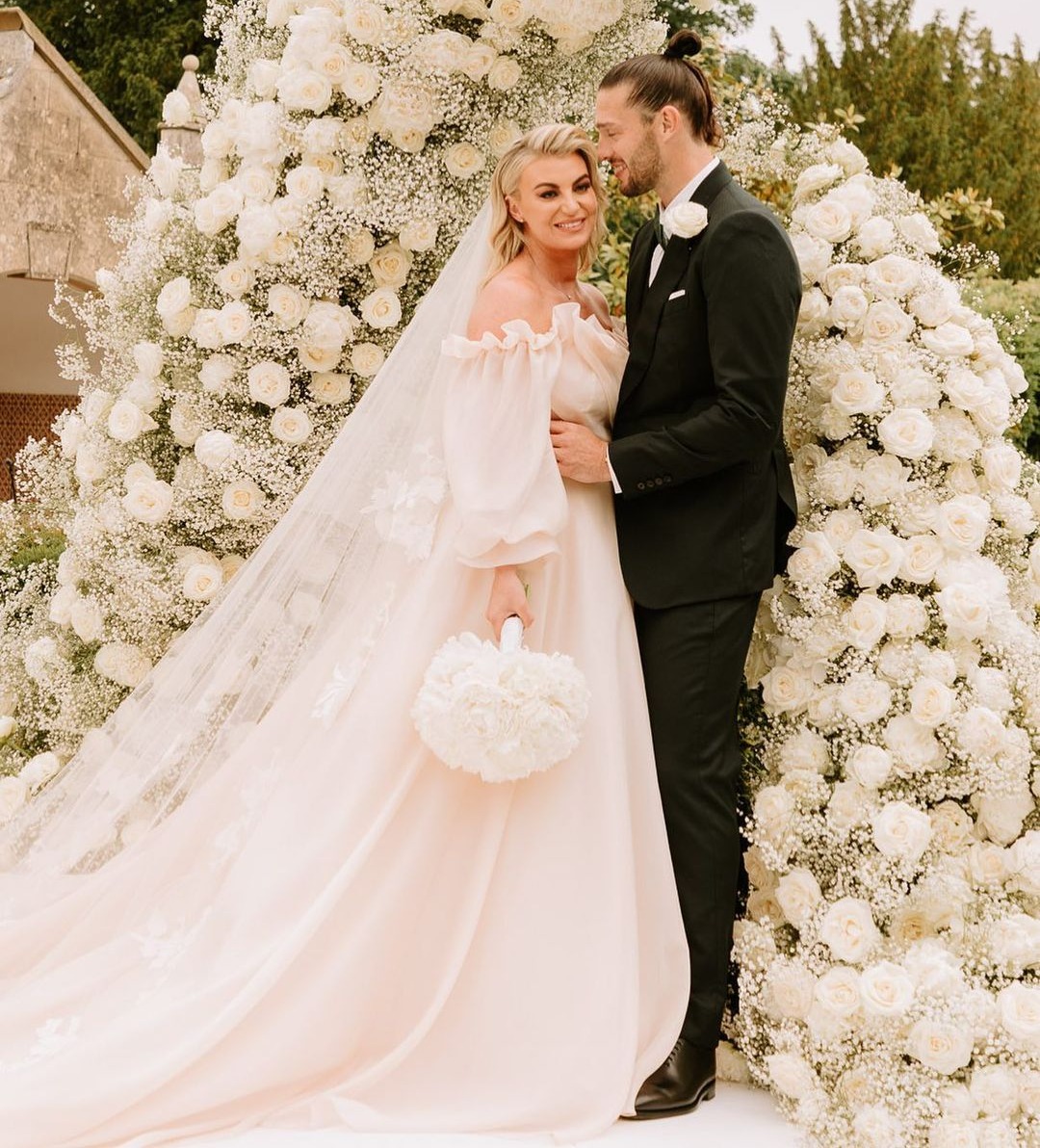 21. Oliver Cheshire and Pixie Lot
The long-term love birds finally tied the knot in a traditional ceremony on 6th June 2022 at Ely Cathedral in Cambridge. Pixie wore a beaded Ivory gown with long-transluscent sleeves and completed the look with white roses in her décor and bouquet while Oliver donned a rare forest green three-piece suit!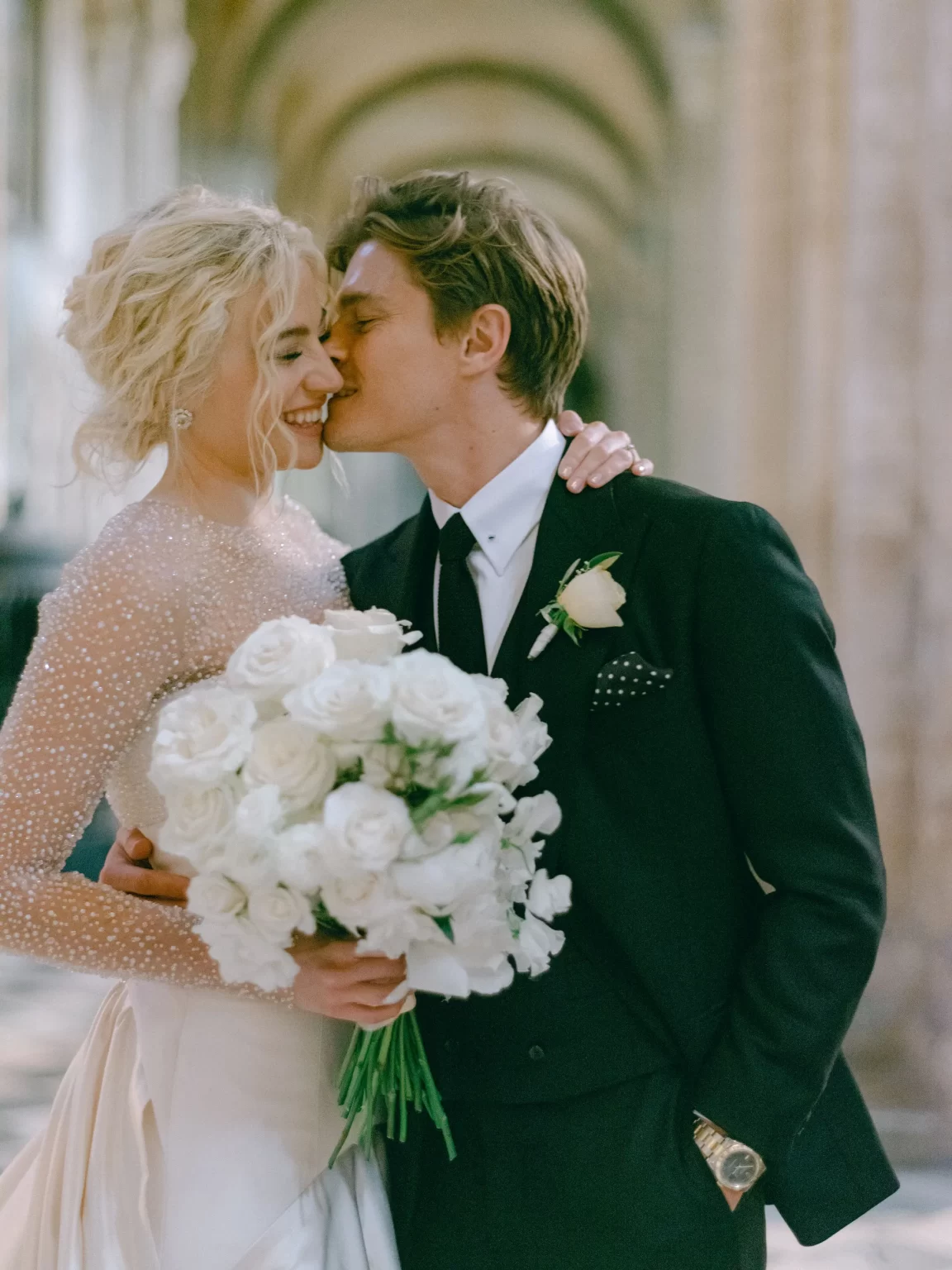 22. Nayanthara & Vignesh Shivan
South Indian actress, Nayanthara and longtime beau Vignesh got married on 9th June in a lovely ceremony thronged by family and friends.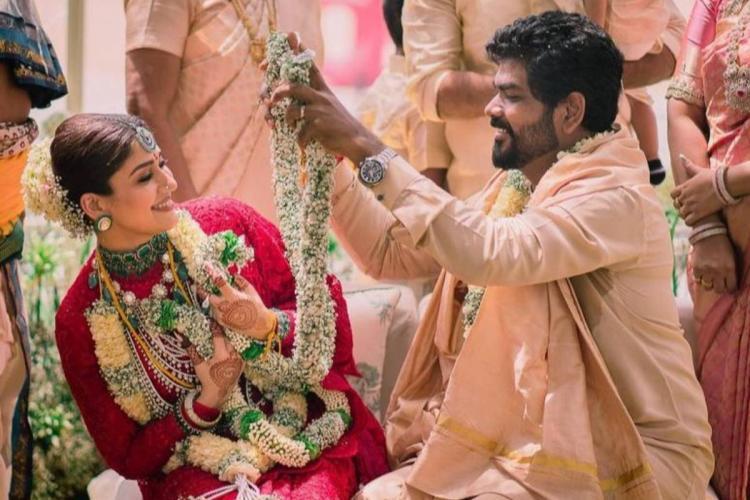 23. Britney Spears and Sam Asghari
In one of the most high-profile weddings of the year, Britney and Sam got married on 9th June. The couple exchanged vows in a small intimate wedding attended by about sixty people among whom were Selena Gomez and Paris Hilton. Some of the singer's family members weren't in attendance though. The ex-husband also was rumoured to have tried to fluke the function!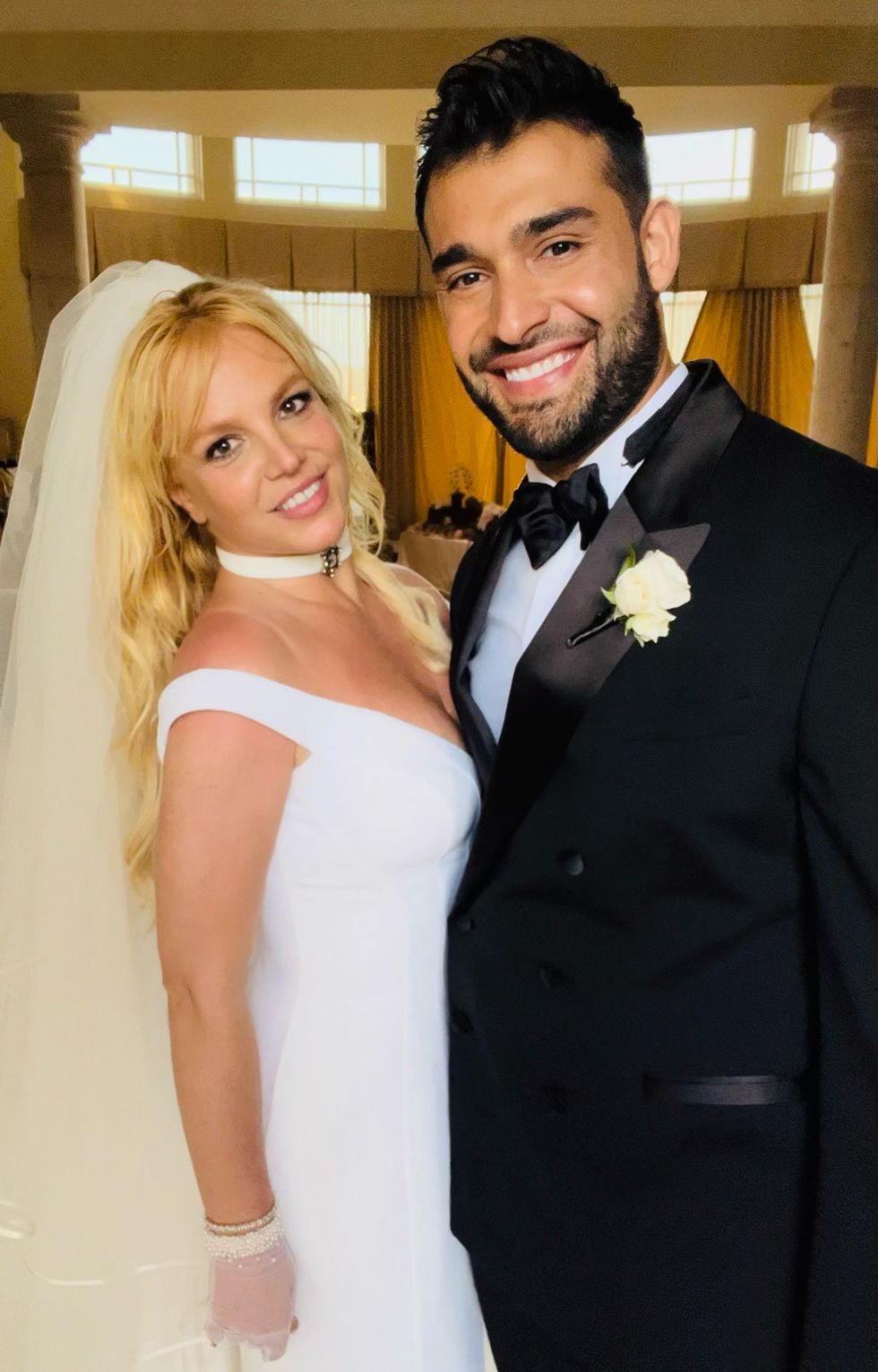 24. Alexandra Daddario and Andrew Form
In a vintage inspired wedding, Alexandra married Andrew in June 2022, a year after their engagement. The White Lotus star confirmed her New Orleans wedding, telling Vogue that New Orleans is a city full of music and life. Italy was the initial choice the couple wanted to have their wedding but was changed when Alexandra got a job in New Orleans.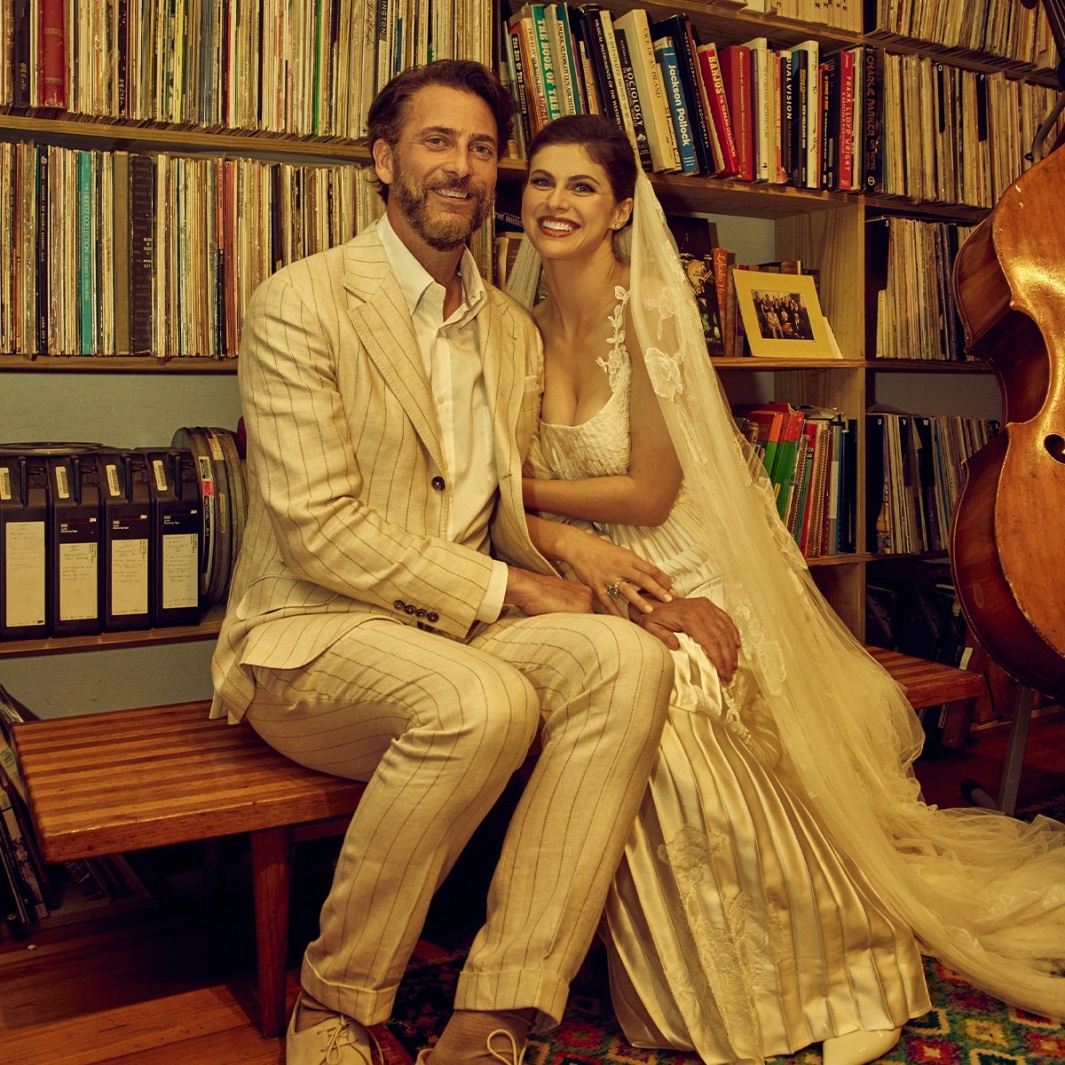 25. Sophia Bush & Grant Hughes
On June 11th at the Philbrook Museum of Art, Sophia Bush said 'I do to forever' to Grant Hughes. The actress looked stunning in a custom-designed floral gown which was one of the three dresses that she wore for the ceremony. Talk of style and uniqueness!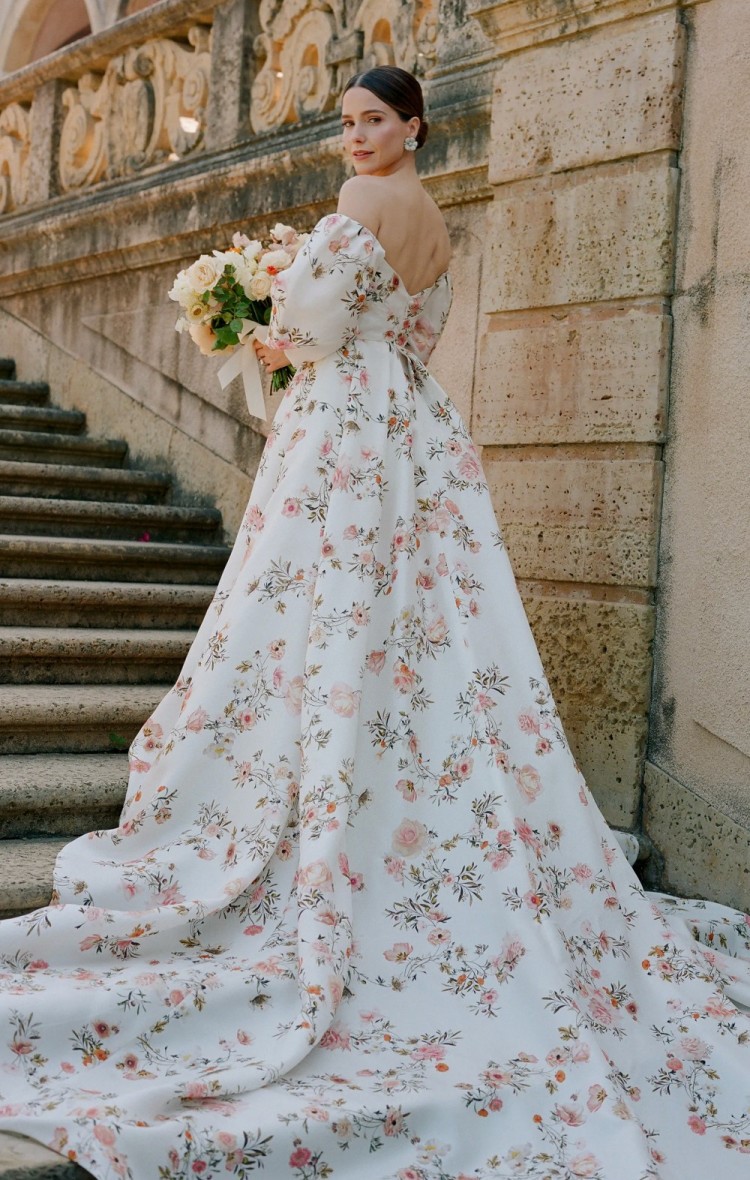 26. Kirsten Dunst & Jesse Plemons
The Power of the dog costars Kirsten Dunst and Jesse Plemons quietly got married in Jamaica on July 2nd. The two met on the set of FX series Fargo in 2015. Their love blossomed into a fully blown romance in which gave them two sons.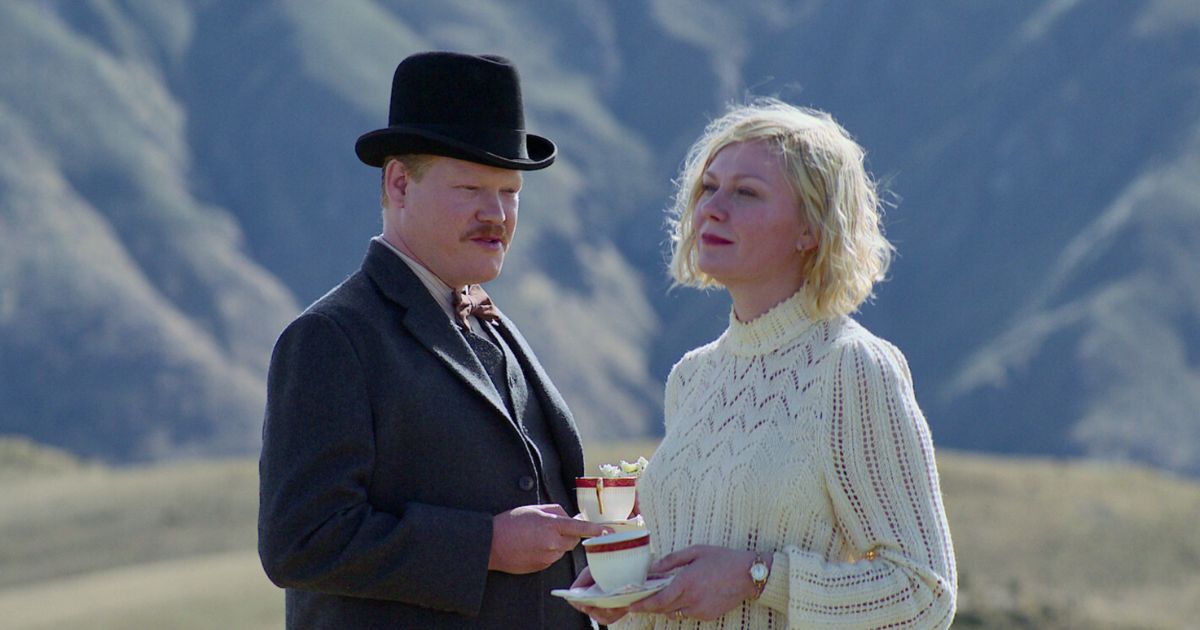 27. Jay Ellis and Nina Senicar
Maverick's actor Jay Ellis married the love of his life, actress and model, Nina, in a garden themed wedding in July, 2022. Jay proposed in 2019 after the two had dated for five years. The two looked at about 15 wedding venues in Italy before finally choosing Villa Mangiacane.
28. Bria Murphy and Micheal Xavier

It was such a lovely sight as actor Eddie Murphy walked his daughter, Bria Murphy, down the aisle as she got married to her actor boyfriend, Michael Xavier in an intimate ceremony in Beverly Hills on 9th July.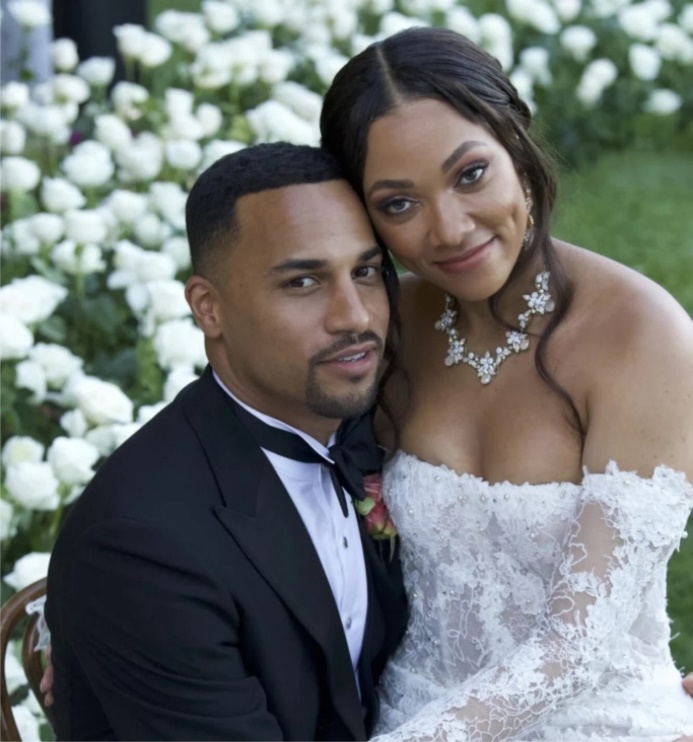 29. Jennifer Lopez and Ben Affleck
In a long overdue marriage that celebritydom has waited to witness for almost 20 years, singer and actress Jennifer Lopez got married to Ben Affleck at his home in Georgia. Though the couple had previously eloped in Las Vegas, the Georgia ceremony was where they hosted their friends and family on 16th July.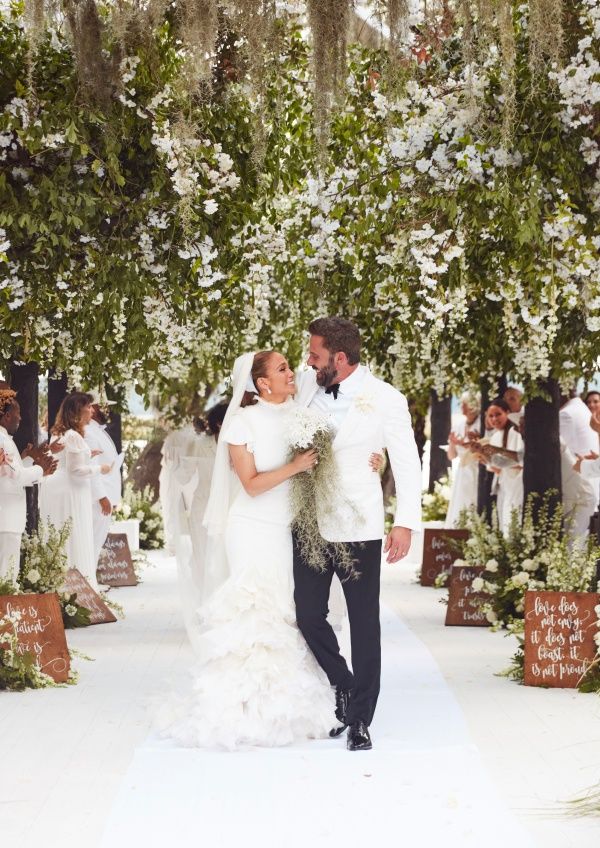 30. Petra Ecclestone and Sam Palmer

British model Petra Ecclestone looked amazing during her wedding to Sam Palmer in London on July 16th. The businessman and heiress exchanged vows in front of family and friends and their four beautiful children.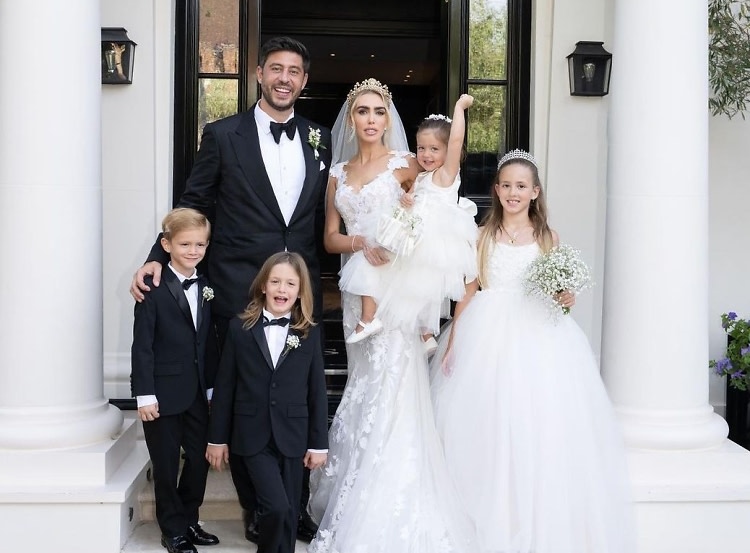 31. Stacey Solomon and Joe Swash
July 24th was a blissful day as Stacey Solomon and Joe Swash walked down the aisle. The couple have both previously won the 'Iam a celebrity…Get me out of here' show and share two children together. They got engaged on Christmas eve 2020.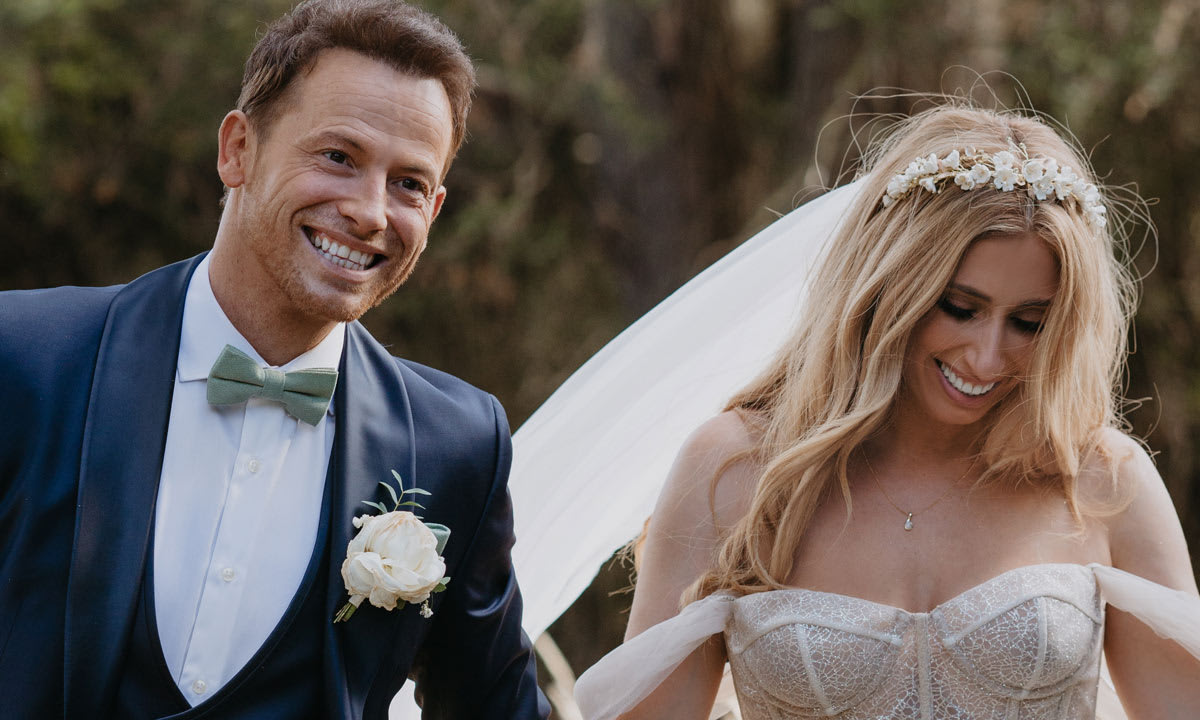 32. Kelly Brook and Jeremy Parisi

Supermodel Kelly Brook and Jeremy Parisi married in a private ceremony in Frosinone, Italy on July 30th. Jeremy Parisi who is also a model posted a selfie of them holding hands showing their wedding bands captioning 'Just married.'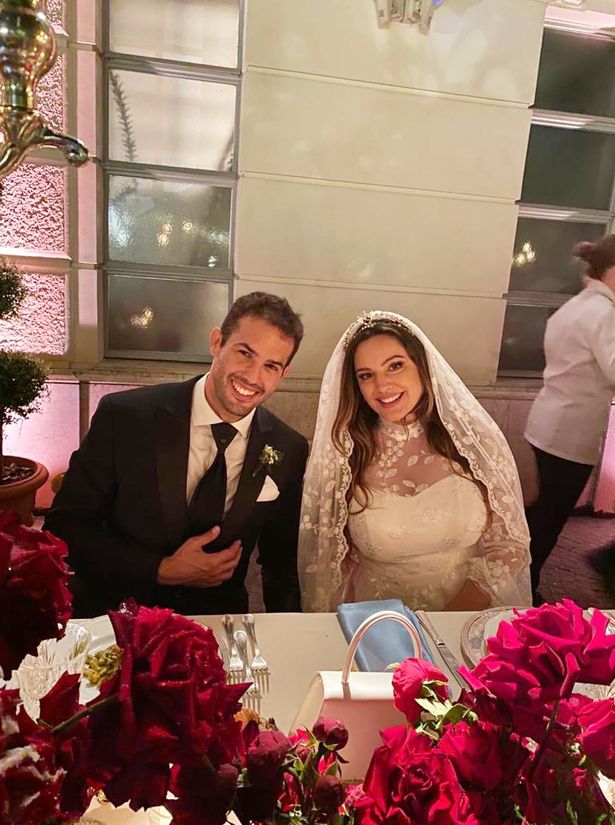 33. Andy Robertson & Rachel Roberts
Scottish and Liverpool football player Andrew Robertson is officially off the market after tying the knot with longtime girlfriend Rachel Roberts in July.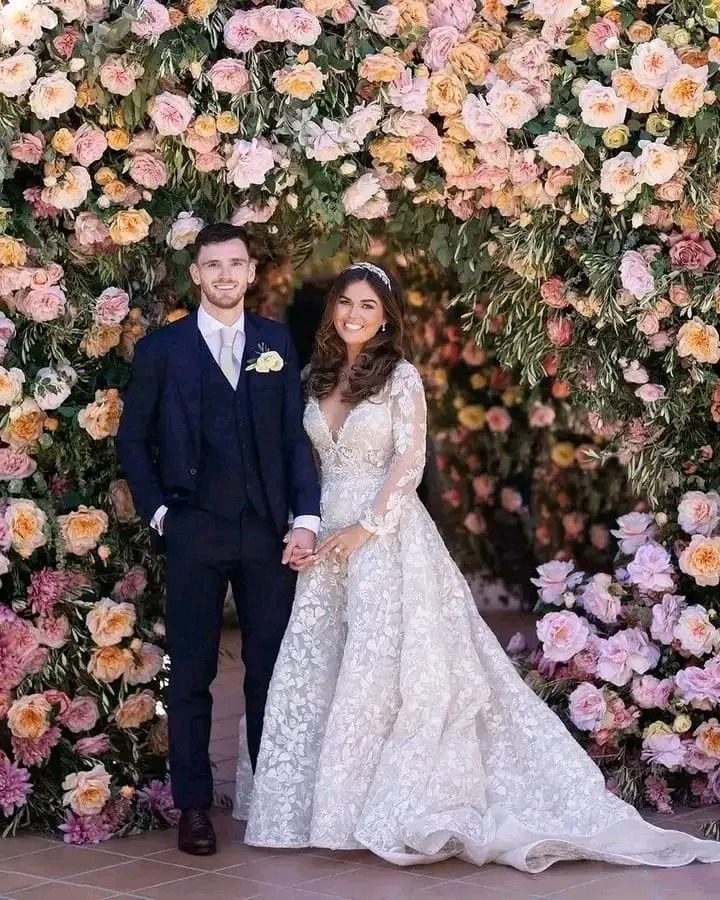 34. Teresa Guidice and Luis Ruelas
In East Munswick, New Jersey on 6th August, 2022, American TV personality Teresa Guidice tied the knot with Luis Ruelas in a beautiful ceremony surrounded by fellow Real Housewives of New Jersey stars. Her tiara seemed to say, 'I have finally got this crown- I am a housewife of Jersey!'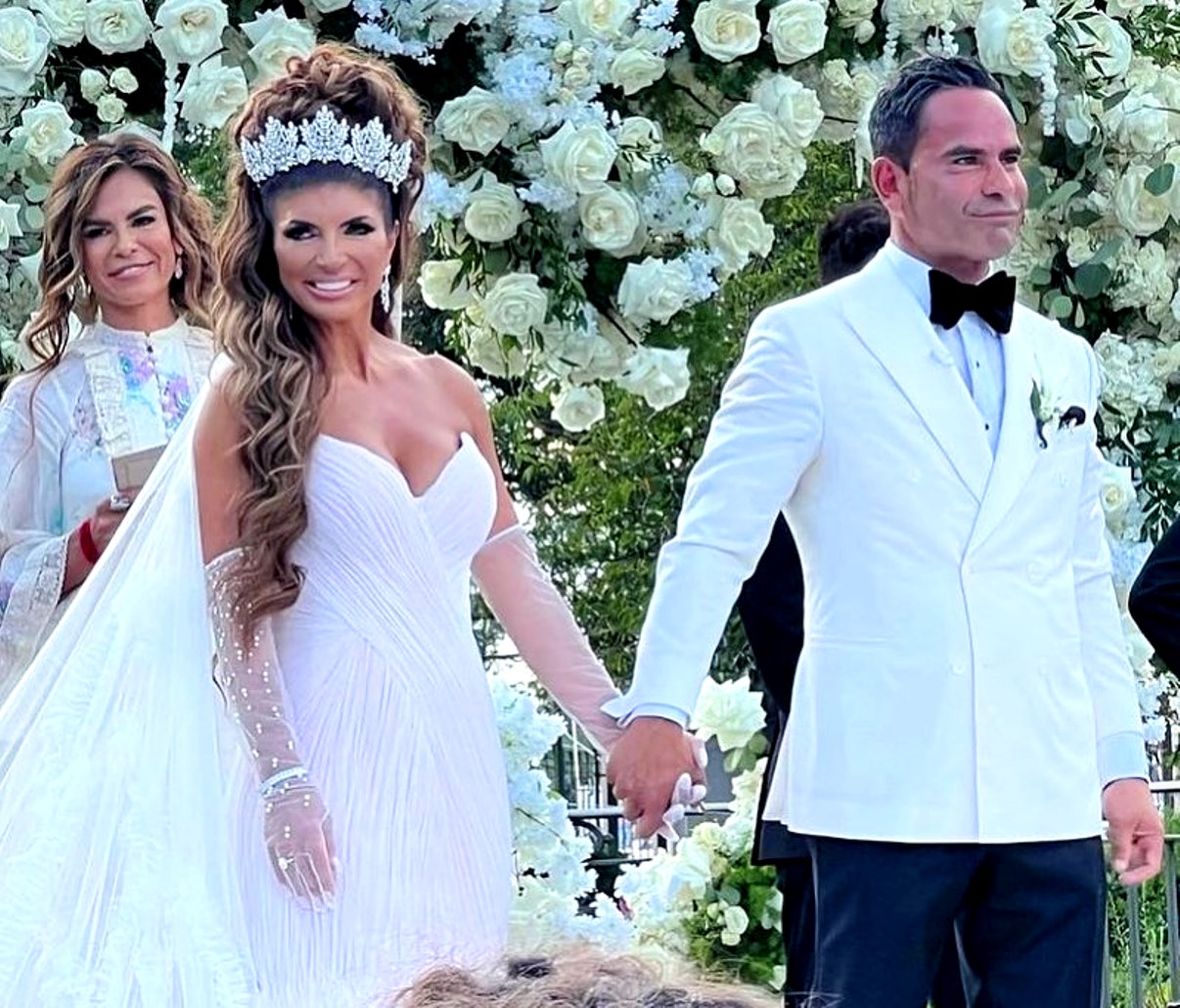 35. Rita Ora and Taika Waititi
Rita Ora-the pretty 'For You' singer and her film director hubby opted for a small private and intimate ceremony in London surrounded by a few friends and family. The wedding took place on 8th August.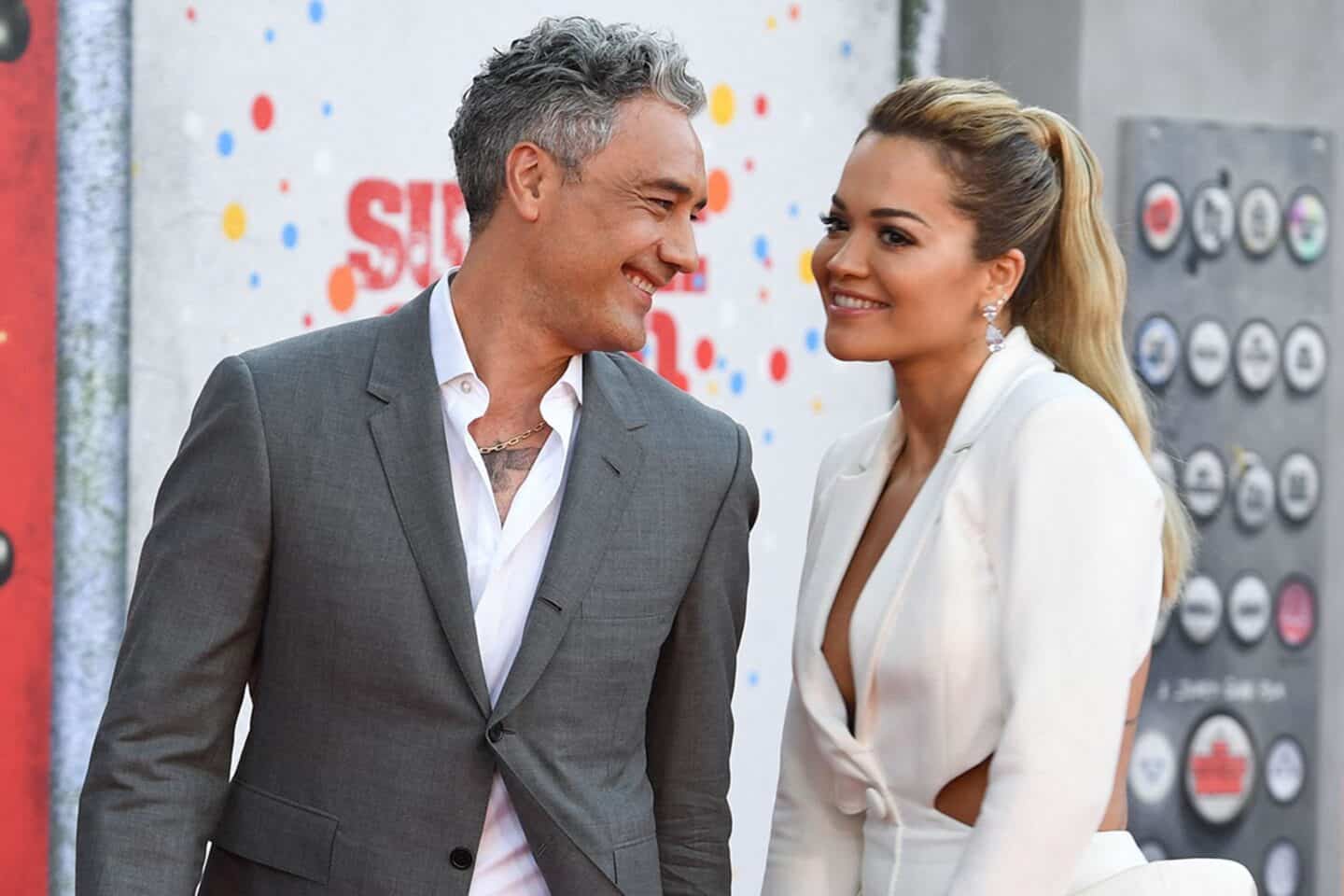 36. Mercy Chinwo and Pastor Blessed
Mercy Chinwo beamed with happiness as she danced and smiled all through her ceremony. The gospel singer known for her signature berets was teased by social media in laws not to wear one during her ceremony and she definitely understood the assignment as she looked fabulous in all her wedding attires. She got married to Pastor Blessed on 13th August.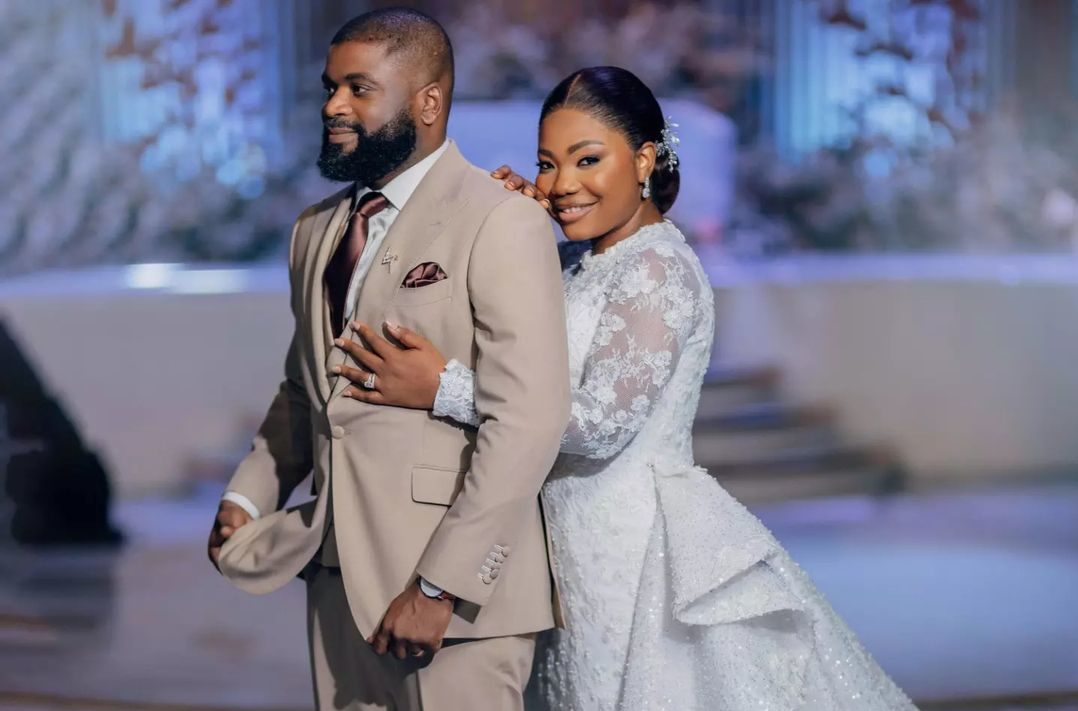 37. Wells Adams and Sarah Hyland
Having been dating since 2017, Wells Adams and Sarah Hyland finally tied the knot. The couple got married on 20th August after the COVID pandemic had delayed the ceremony. Adams says everyone was crying at his wedding and he couldn't believe it was real and happening.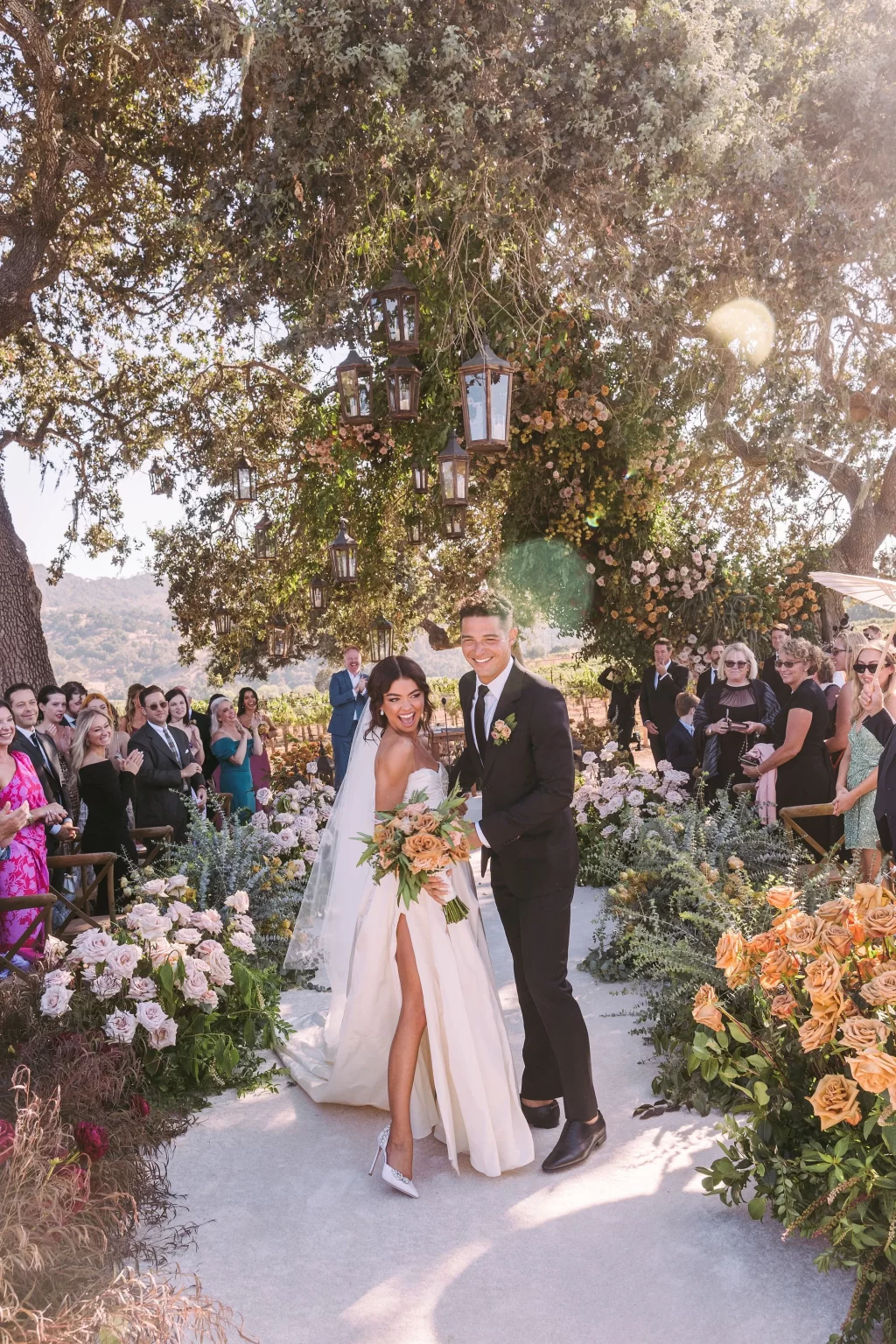 38. Nikki Bella & Artem Chigvintsev
Congratulations to Russian- American professional dancer Artem Chigvintsev and American professional wrestler Nikki Bella. The two had a gorgeous Paris ceremony on August 26th surrounded by a small group of family and friends.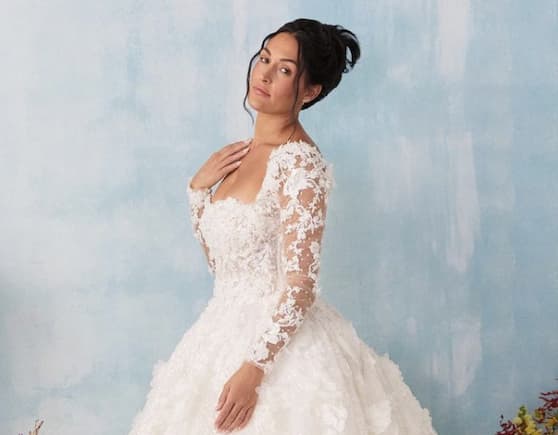 39. Danielle Armstrong and Tom Edney
TV personality Danielle Armstrong said 'I do' to childhood friend and construction company director Tom Edney on August 27th in a lavish ceremony at a country estate Ashridge House in Hertfordshire. The lovebirds share a two year old daughter.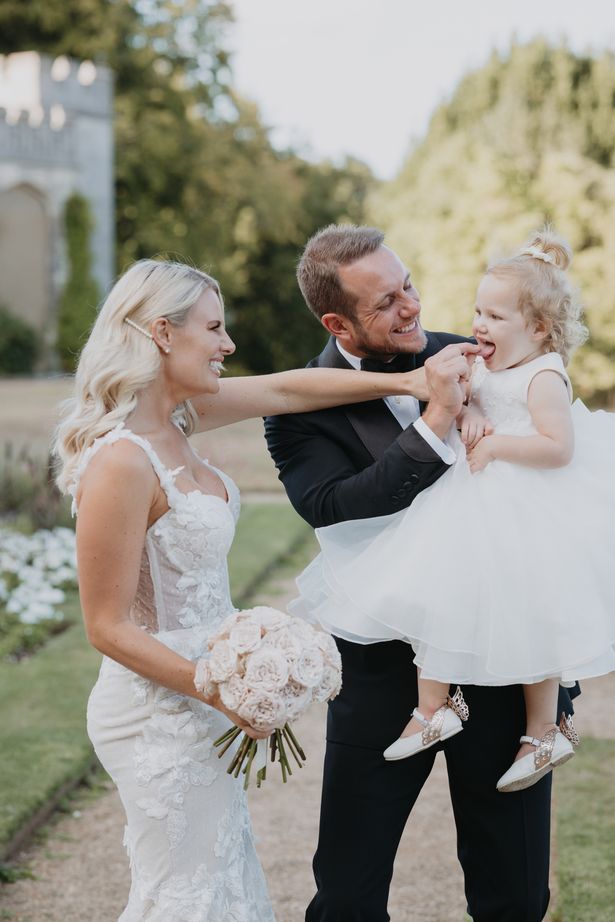 40. The Ben and Pamella Uwicyeza
Singer The Ben wedded former beauty queen, Pamella in a civil ceremony at Kimihurura in Kigali on 31st August. The ceremony was graced by mostly family and a few friends.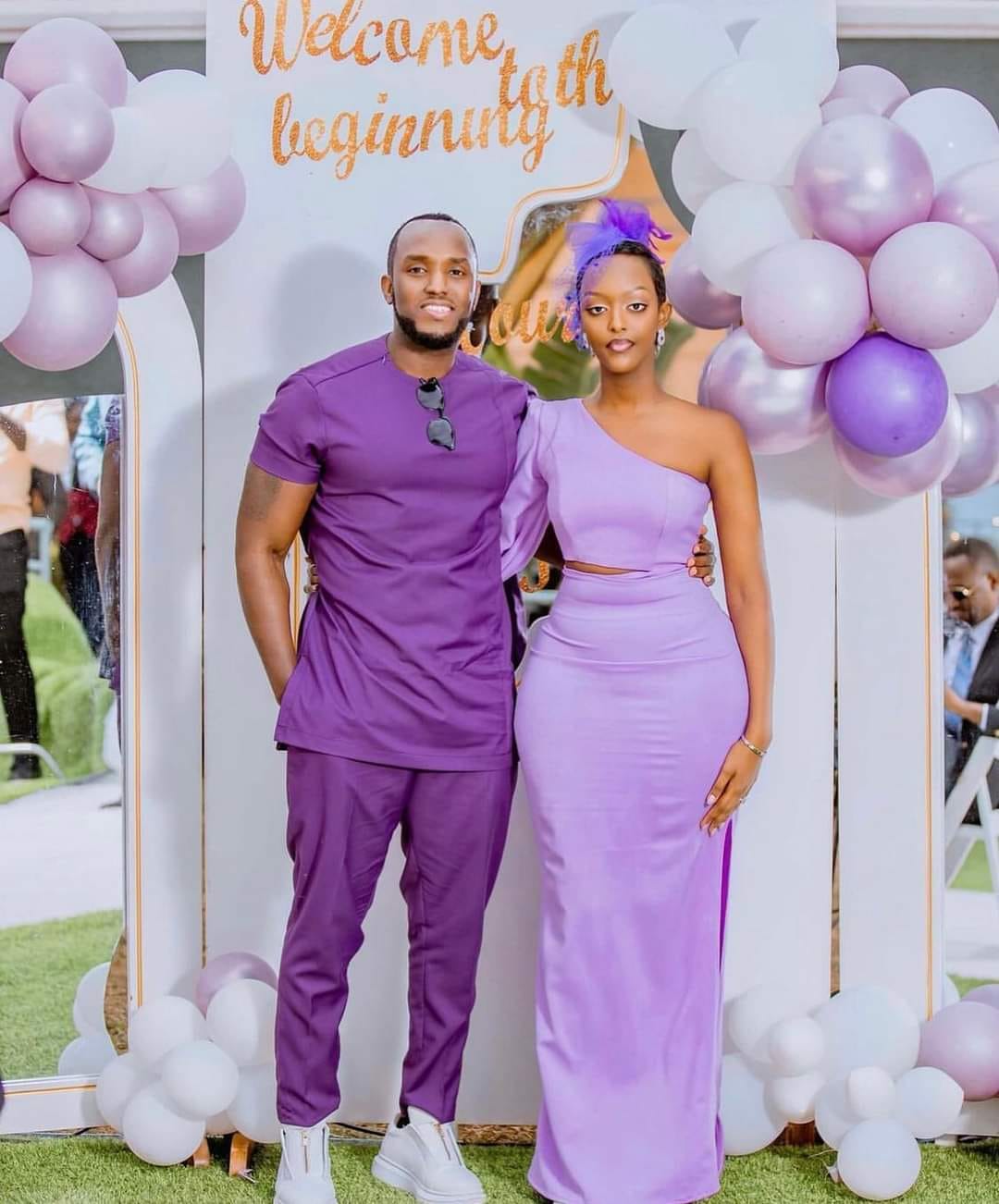 41. Josh Duhamel & Audra Mari
After announcing their engagement in January, actor Josh Duhamel exchanged vows with 2016's Miss World America Audra Mari on 10th September in North Dakota on the rooftop of Jasper Hotel.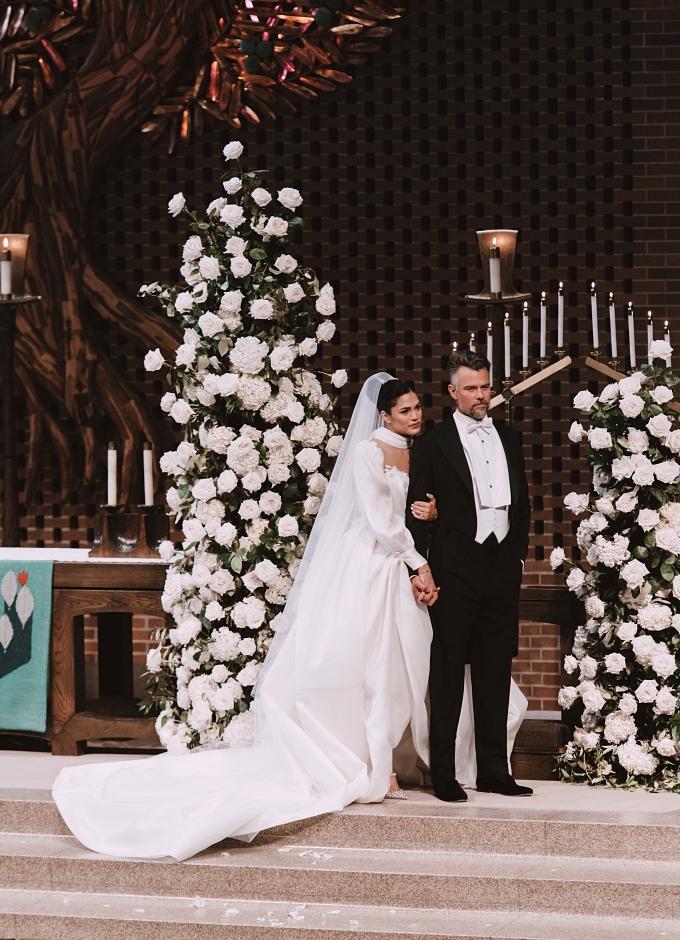 42. James Gunn and Jennifer Holland

Actress Jennifer Holland and Marvel film maker, James Gunn tied the knot in Colorado on 24th September. The two Js have been together for close to seven years. An incredible ceremony, the beautiful Autumn day was graced by their wonderful family and friends.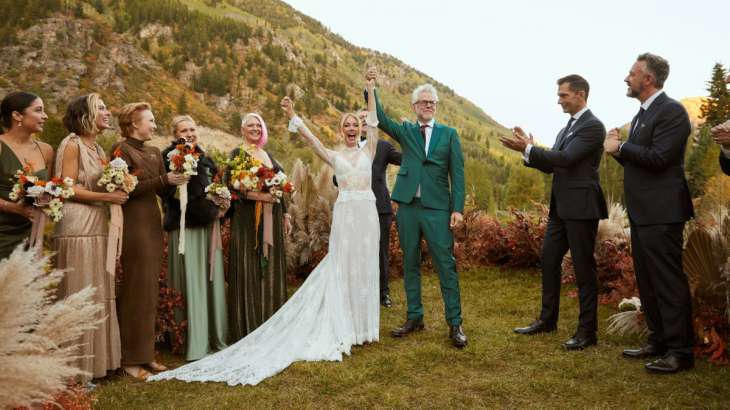 43. Aston Merrygolds and Sarah Louise Richards
Despite looking this beautiful, dancer Sarah Louise arrived late for her own wedding apparently due to traffic. She wedded JLS star Aston Merrigolds in Liverpool in September. The couple had been engaged for five years and share two kids between them.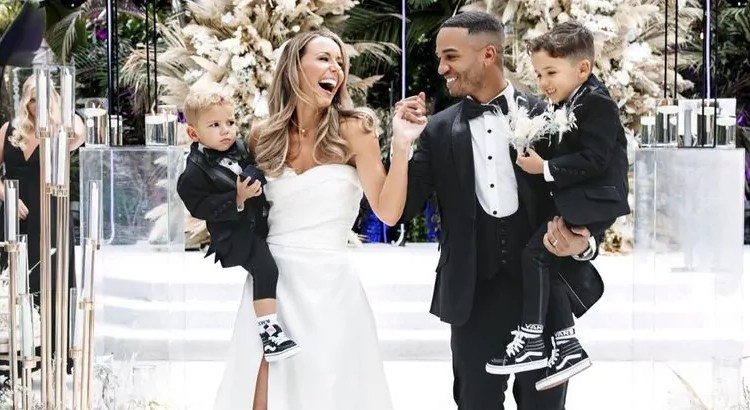 44. Richa Chadha & Ali Fazal
Richa and Ali tied the knot in the fall. The ceremony took place on September 30th in New Dehli in the presence of family and friends before moving to Lucknow celebrations and finally Mumbai where the duo hosted their celebrity friends in a star-studded party.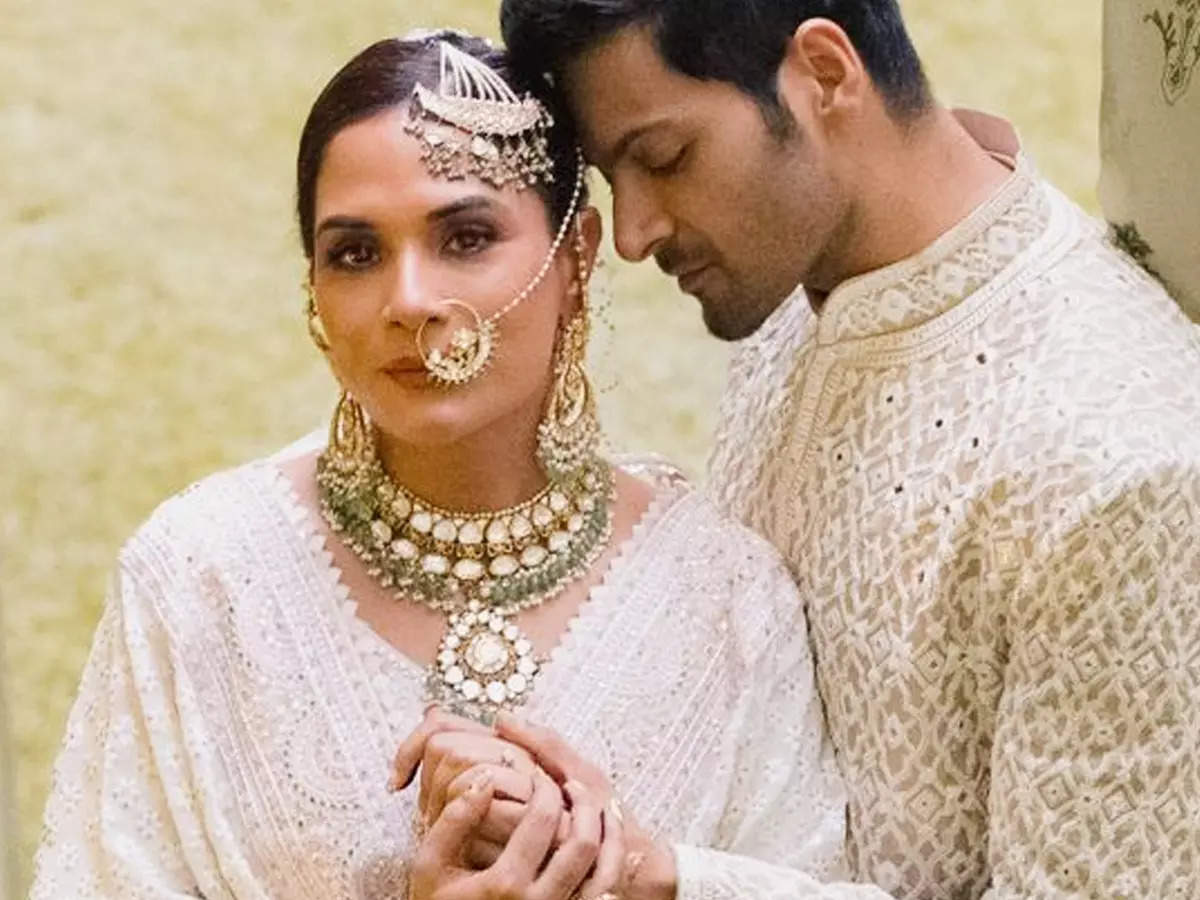 45. Emily Weisband and Dylan Toscano
Nashville based Singer and song writer Emily told PEOPLE Magazine that the energy was electric as she walked down the aisle and everyone stood and cheered as she wed medical sales rep Dylan in a star studded ceremony on October 1st.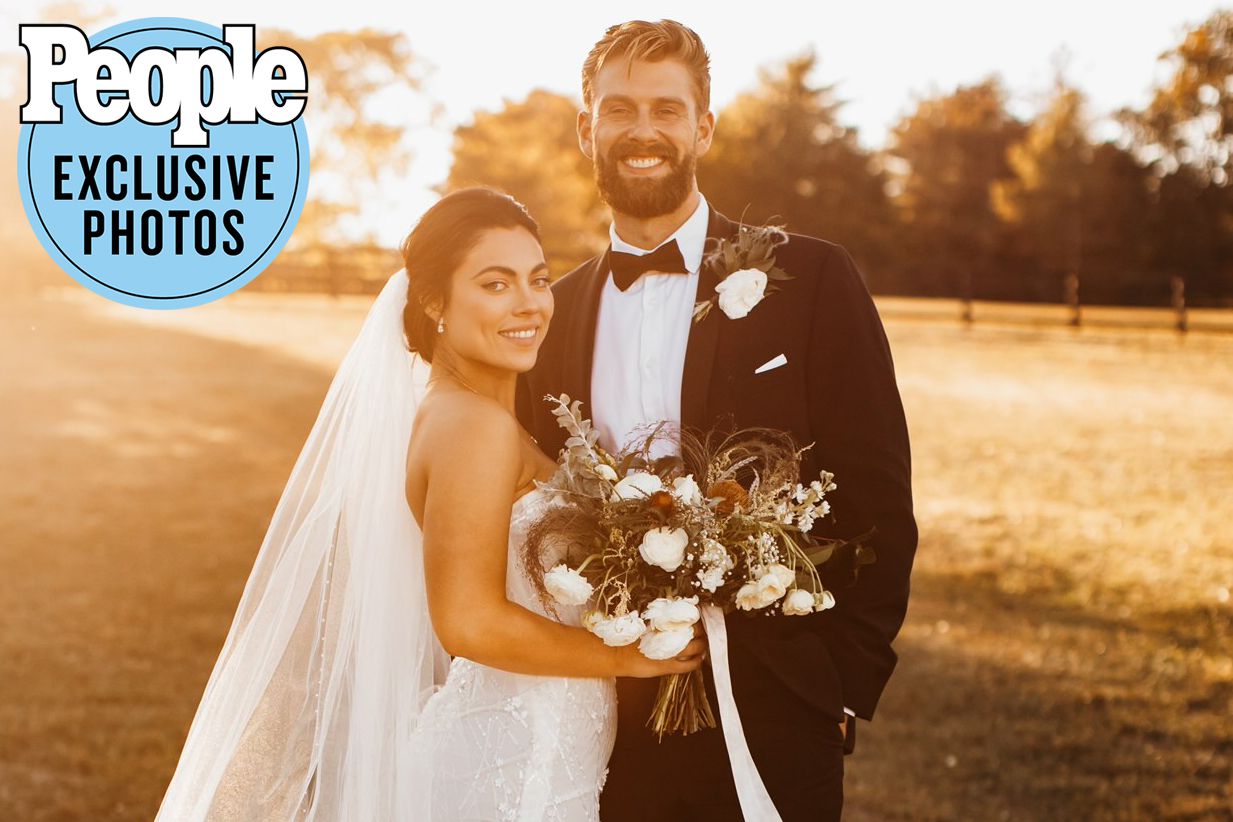 46. Alex Beresford and Imogen McKay
English weather presenter Alex Beresford and Australian Social media star Imogen McKay in an intimate ceremony on the picturesque Spanish island of Majorca tied the knot on October 2nd. The two met on a blind date set by a mutual friend.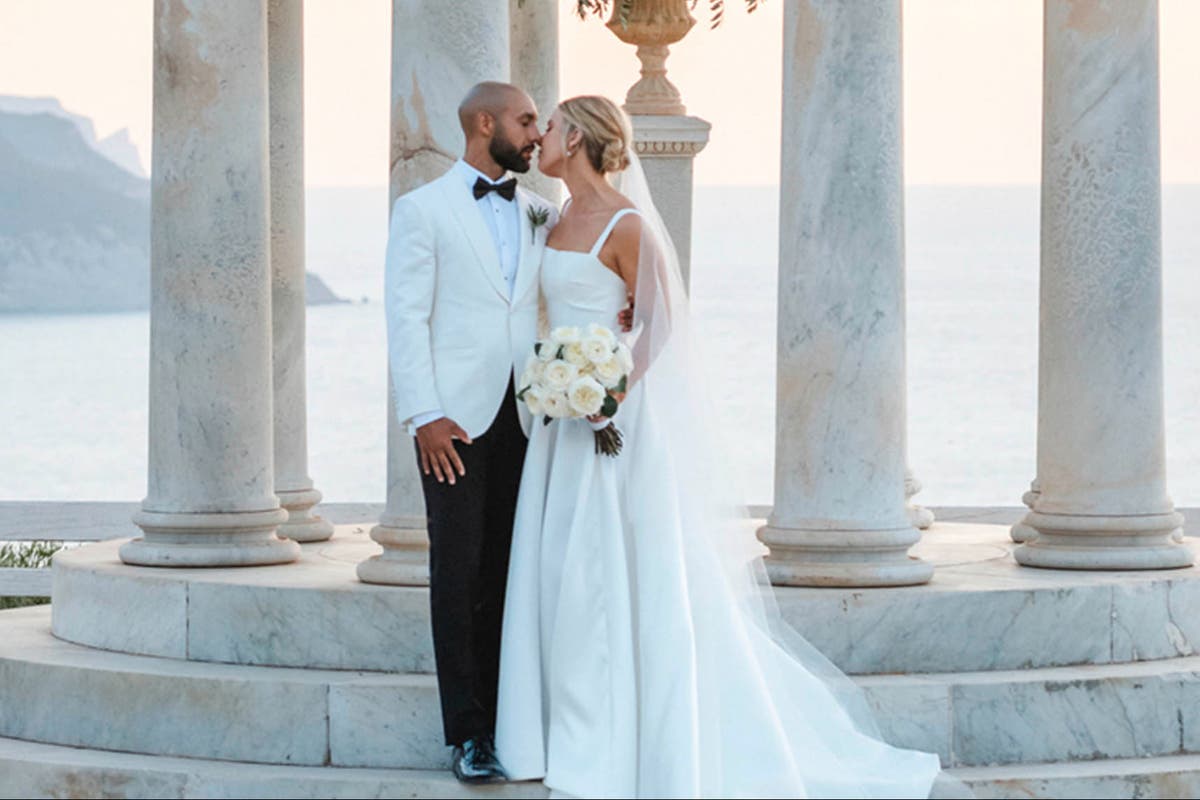 47. Lena Headey and Marc Menchaca

Game of thrones alum, Lena Headey was all smiles as she walked down the aisle to actor Marc on 6th October in Italy, in an intimate ceremony surrounded by friends and family. Heady looked stunning in an elegant white gown.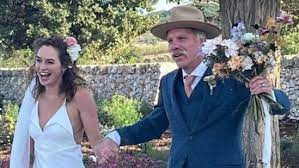 48. Lio Tipton and Chaz Salembier
The ever-jolly Lio and Chaz tied the knot on 8th October in the fall. They had a courthouse wedding before holding a larger celebration at the actor's home in Wisconsin to celebrate their union with family and friends.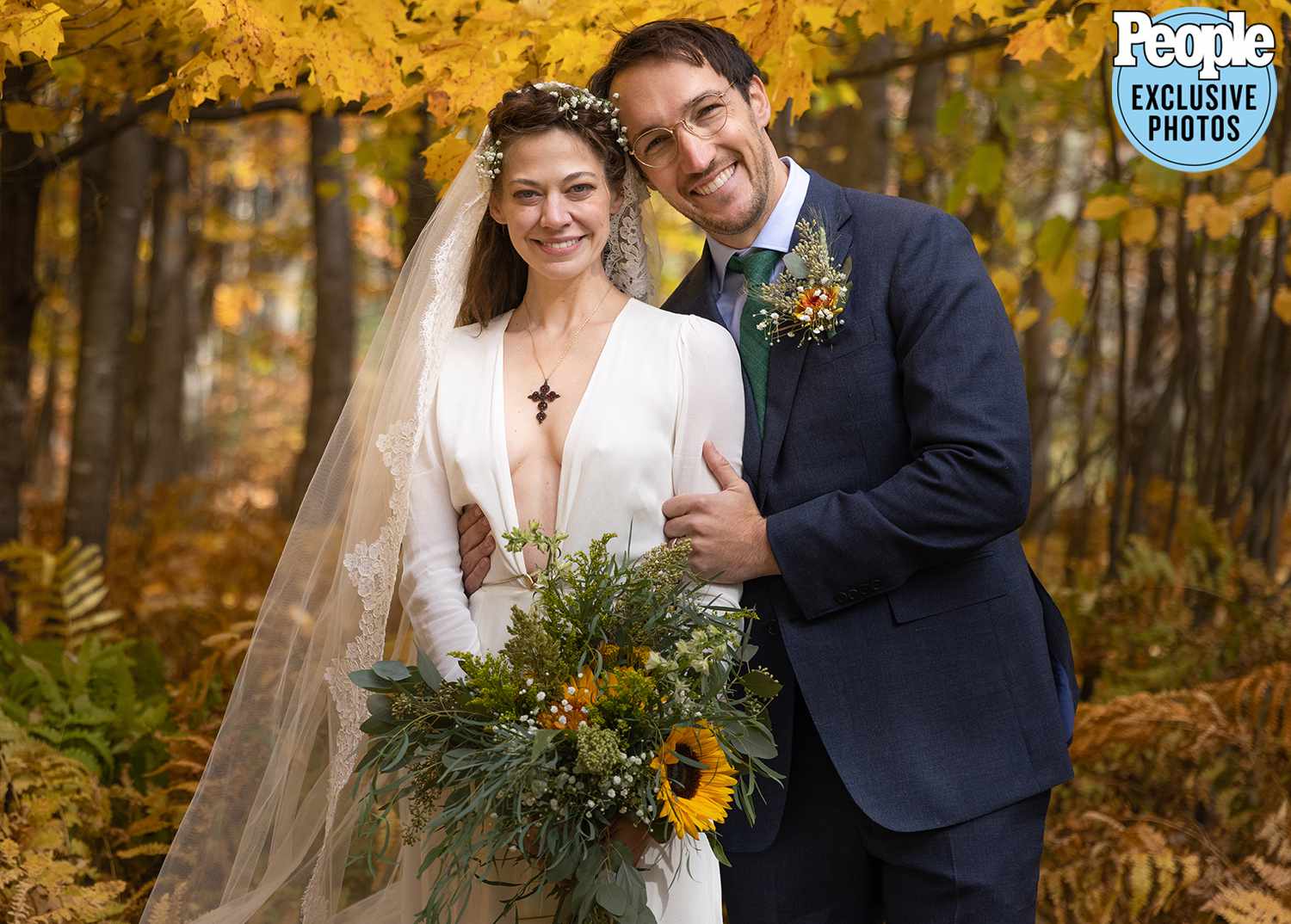 49. Skyler Shaye and Christian Lopez
Actress Skyler said 'I do' to musician boyfriend, Lopez in an intimate ceremony at Ritz Carlton in Santa Barbara on October 10th, 2022. Shaye says nothing compares to the real thing though it feels like they have been married for years.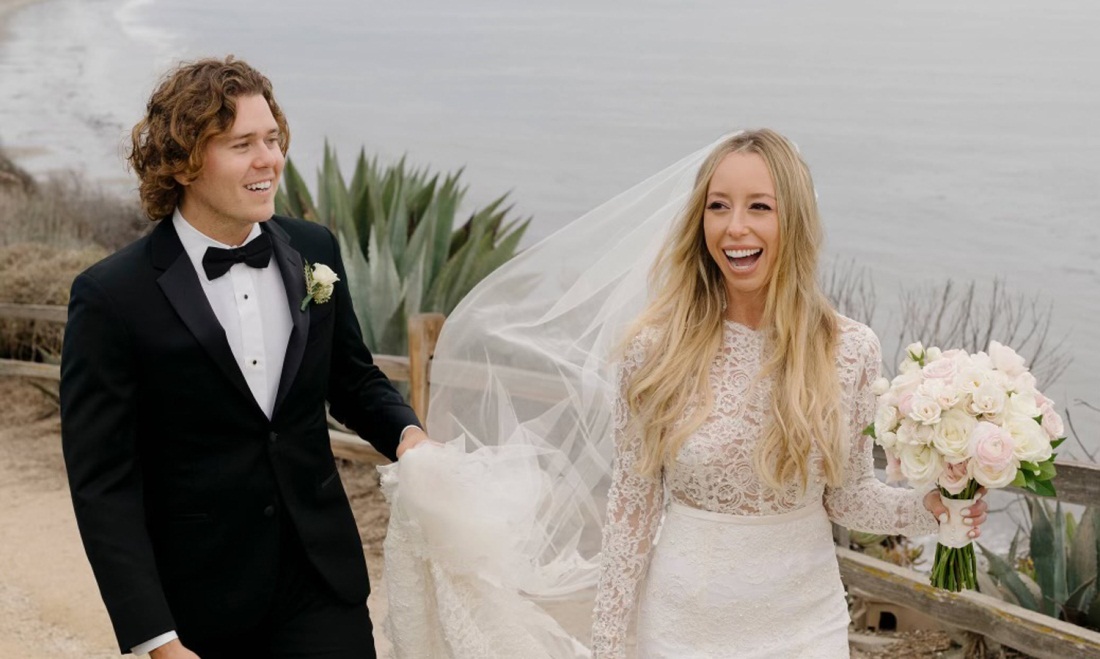 50. Tara Davis and Hunter Woodhall
On October 11th, in front of friends and family in Texas, athlete Tara Davis tied the knot with American Olympian Hunter Wooddhall. Woodhall wore a black bowtie with a matching tux while Tara wore a V-shaped floral gown with sheer sleeves and a matching veil.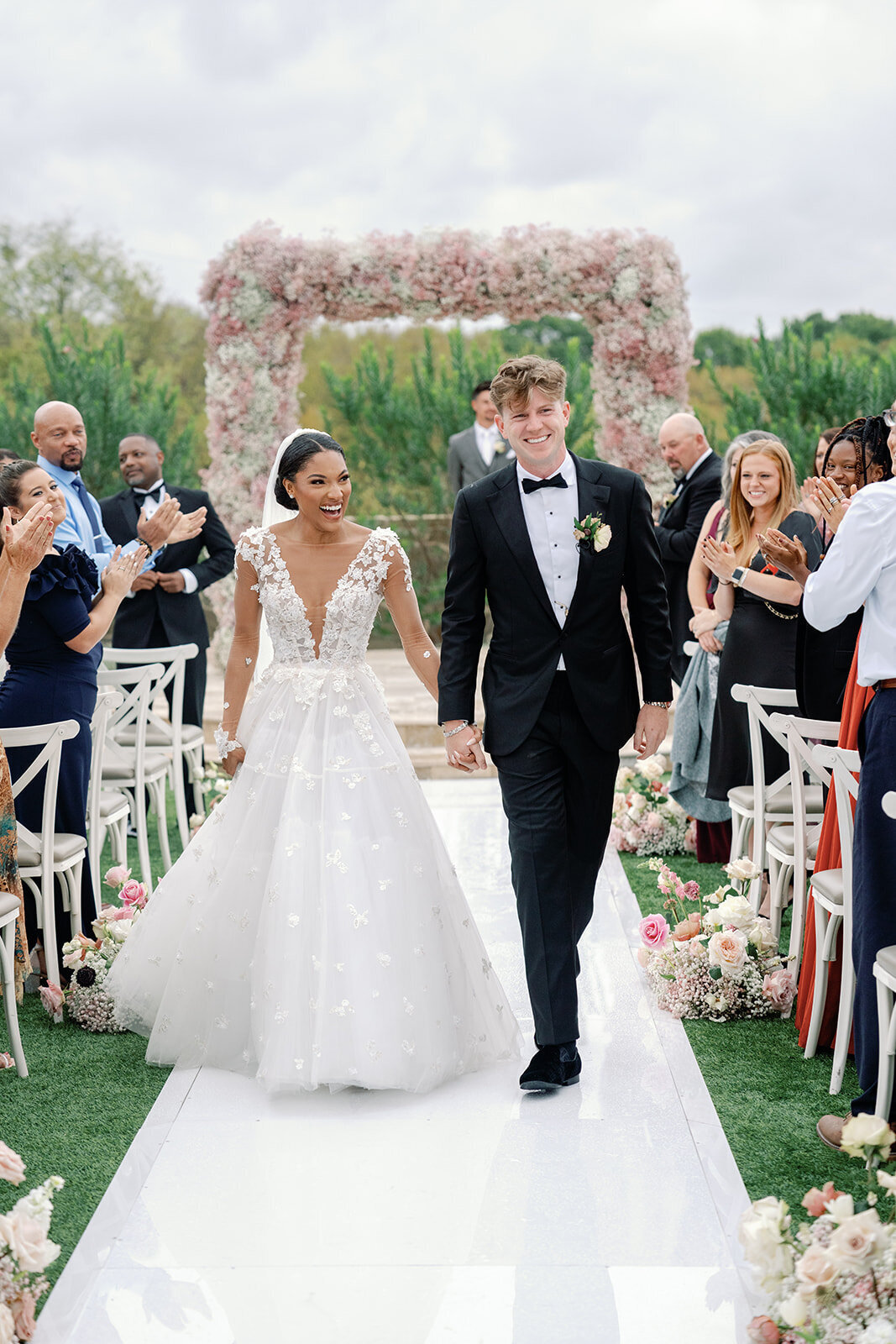 NCIS' Caleb Alexander exchanged vows with Lindsay, a Sports Illustrated host outside Paris on October 14th. ''It was such a magical evening'' they were both quoted on their social media handles.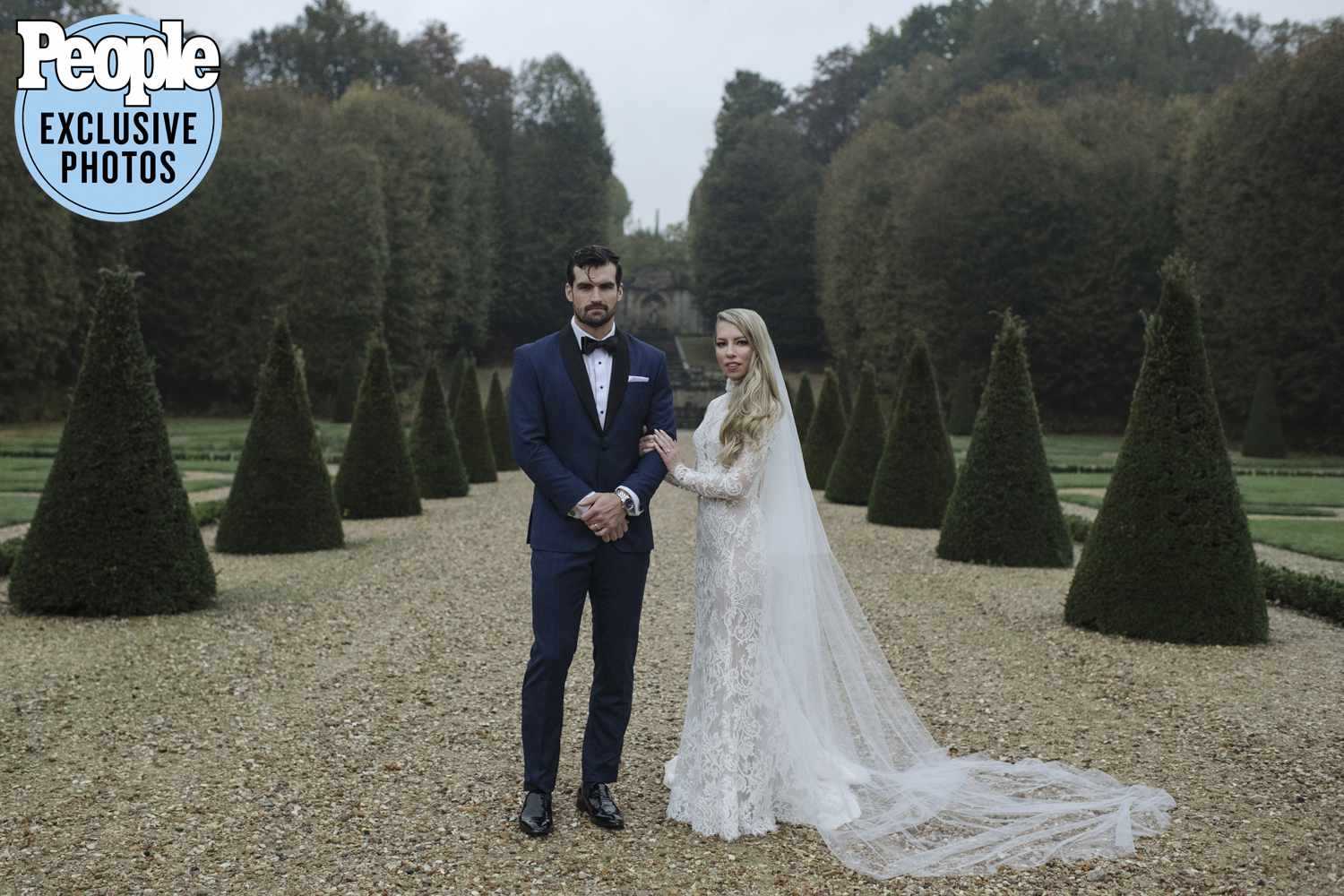 52. Lauren Jenkins and Patrick Davis

Getting married on Saturday 15th October, country singer, Lauren Jenkins shared pictures of their beautiful wedding through their wedding registry at Georgia's lookout Mountain.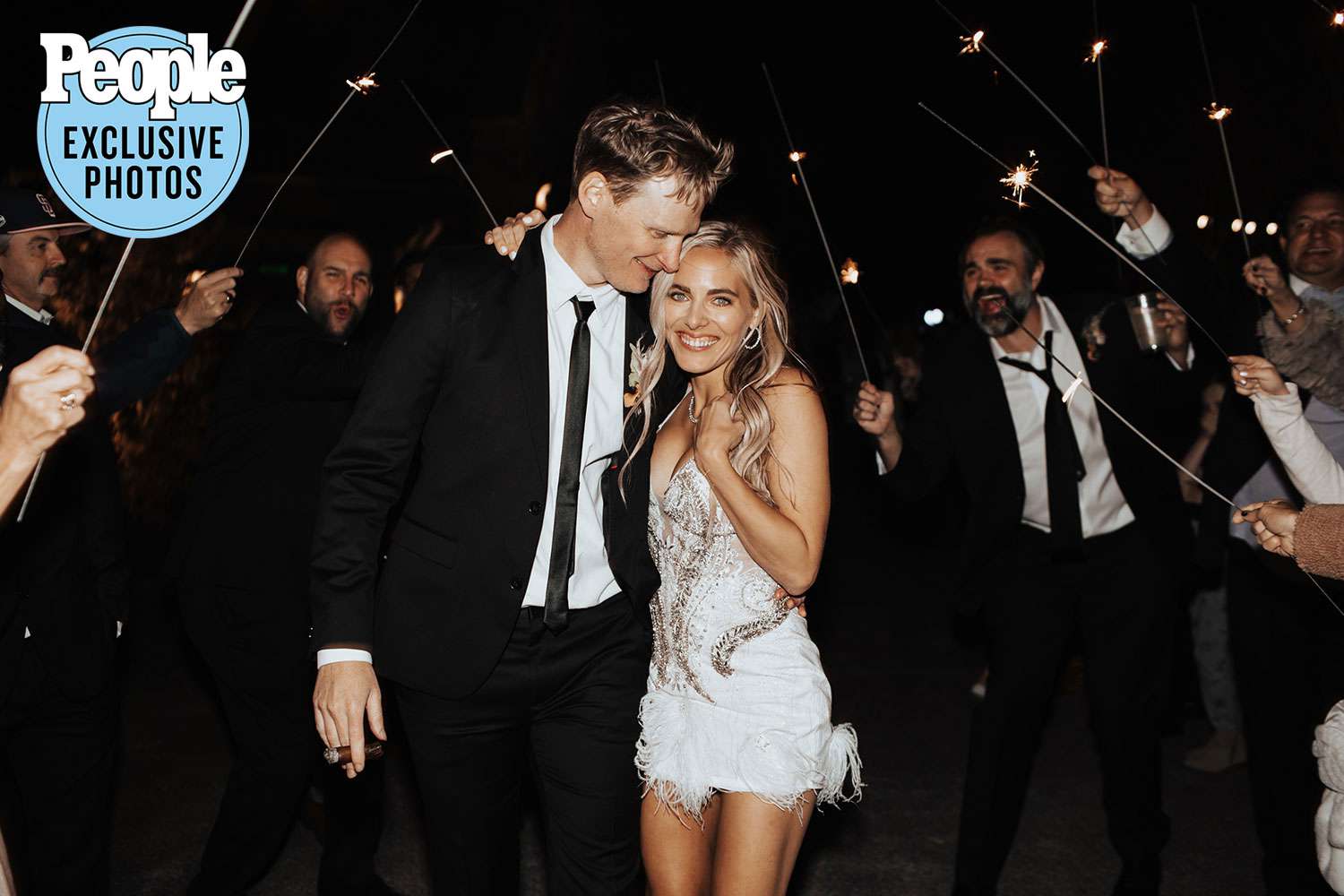 53. Shelby Wulfert and Lucas Adams

Famous days of our lives actor, Lucas Adams legalized his relationship with Disney star, Shelby on October 15th at the Chateau Hiddenwood estate in Texas. The two had been friends for a long time before Wulfert confessed having a crush on Lucas.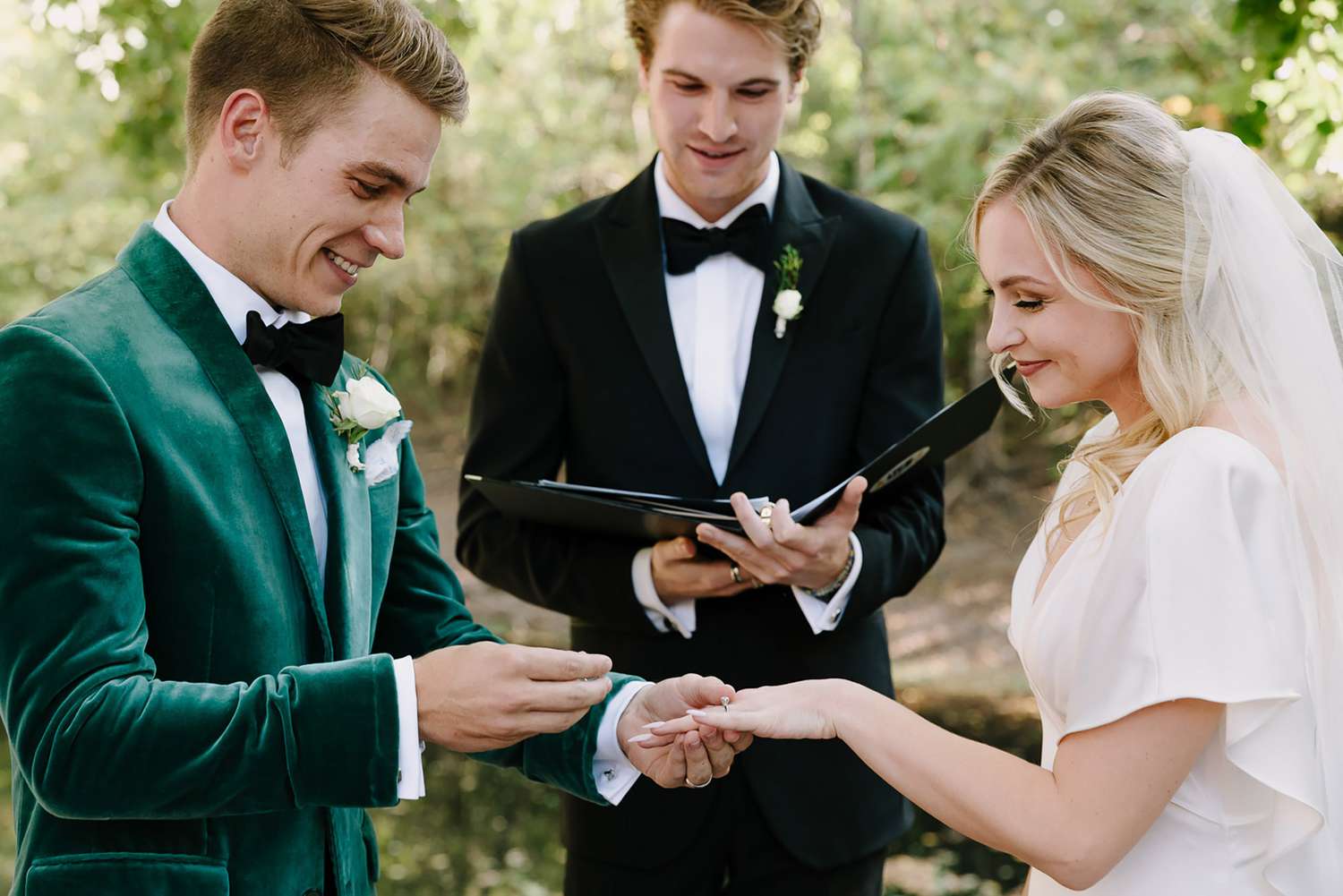 54. Chase Bryant and Selena Weber

Chase is officially off the market after marrying model and entrepreneur girlfriend, Selena in Round Mountain, Texas on October 22nd.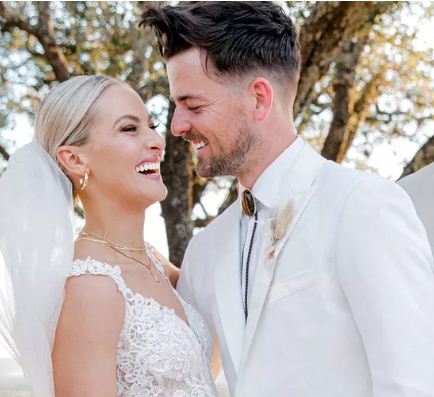 55. Hailey Whitters and Jake Gear

Country singer, Hailey revealed on social media that she wed producer, Jake Gear in October captioning ''Said yes to forever in a field somewhere.'' They gave us a real country feel for their wedding.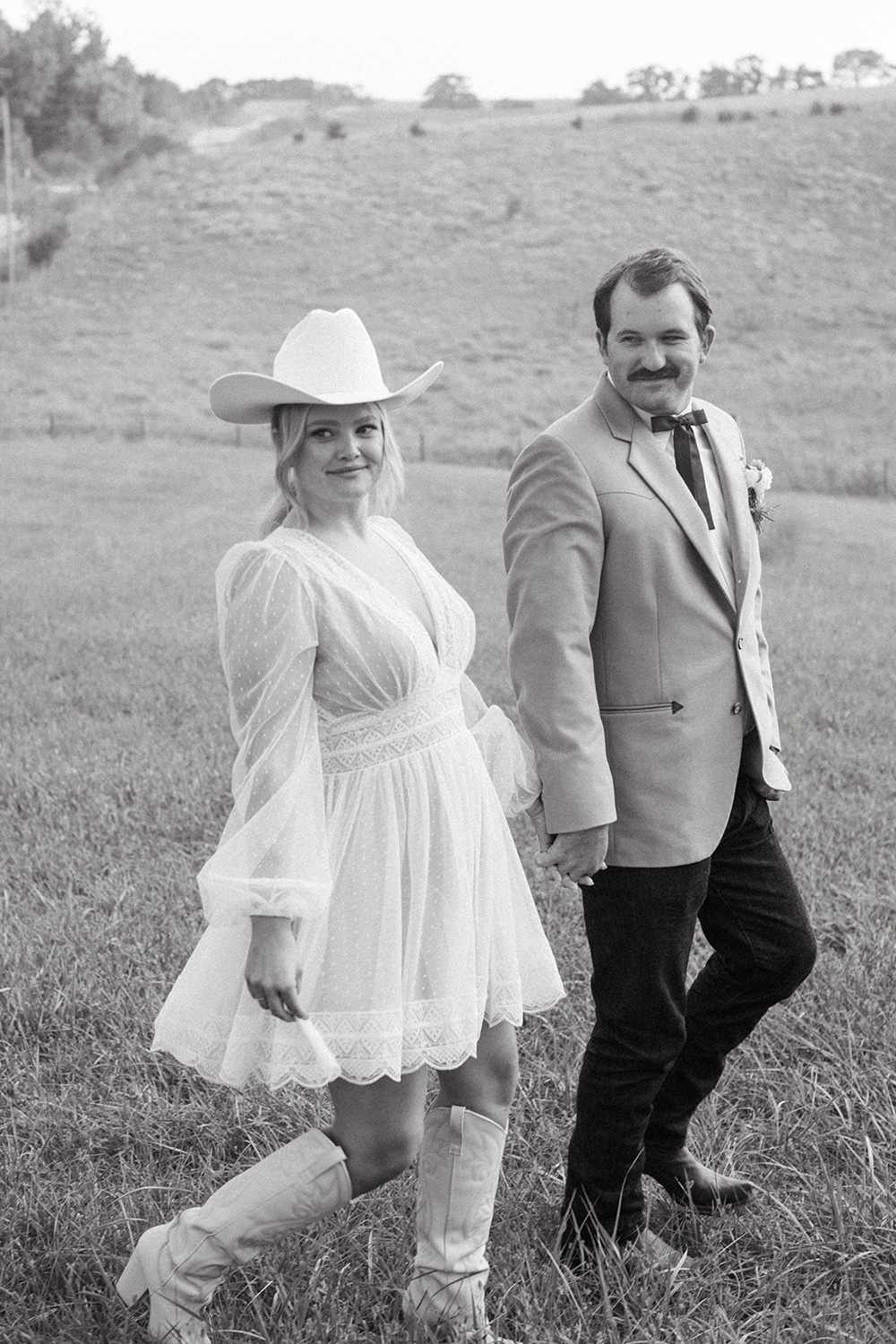 56. Georgia Geminder and Matthew Danos

Georgia married Matthew Danos in a traditional Jewish ceremony at Raheen on October 30th. An heiress and founder of toothpaste company, Georgia hosted her guest at a black tie reception at Raheen where guests enjoyed an Italian feast.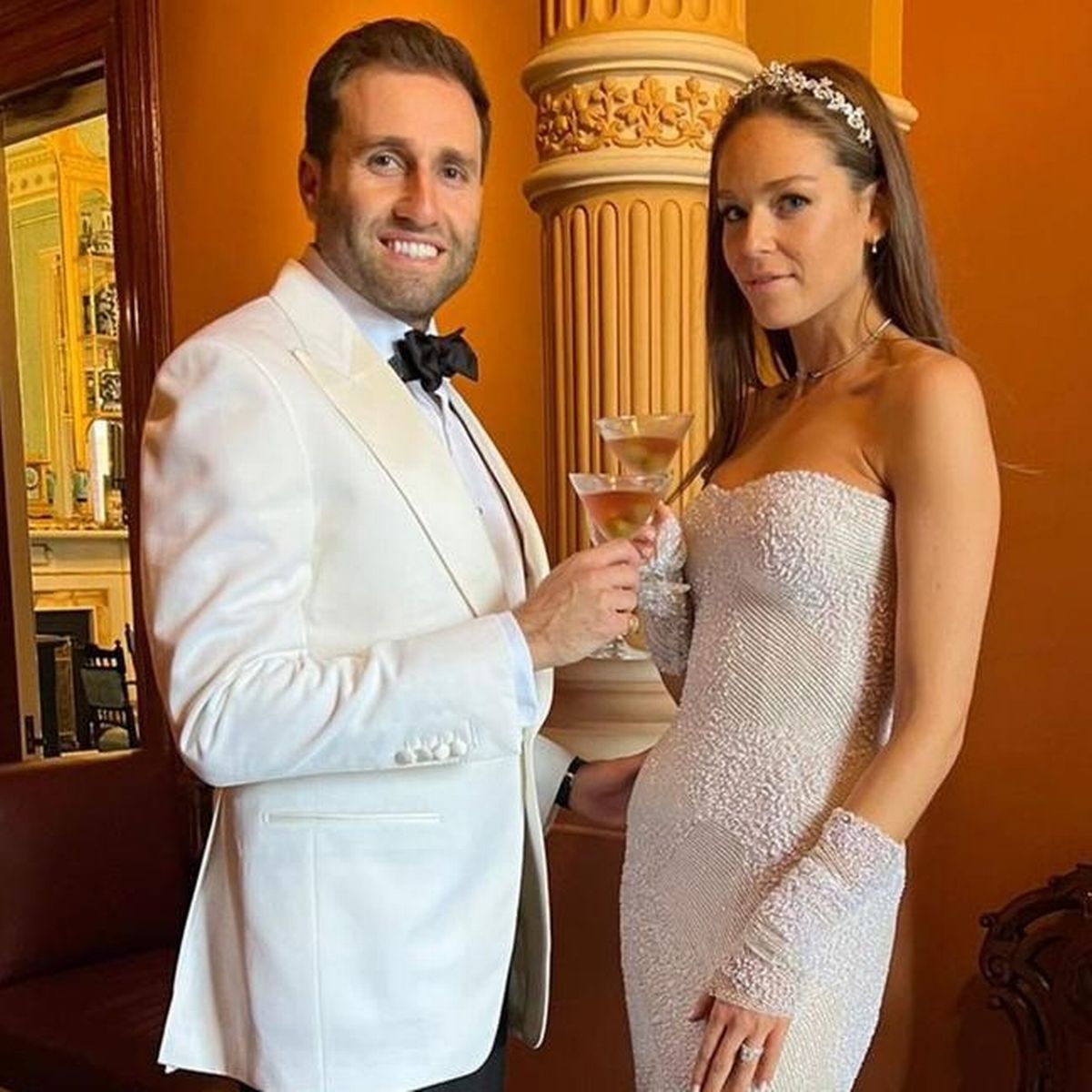 57. Tokyo Sexwale and Natacha da Silva
South African billionaire Tokyo Sexwale in a lavish wedding ceremony married longtime girlfriend Natacha da Silva. Natacha donned a ballgown with a detailed white veil on their wedding on 5th November.
58. Micheal Oher and Tiffany Roy
American football offensive tackler, Micheal Oher and longtime girlfriend, Tiffany Roy, said their vows on November 5th 2022 in Nashville Tennessee.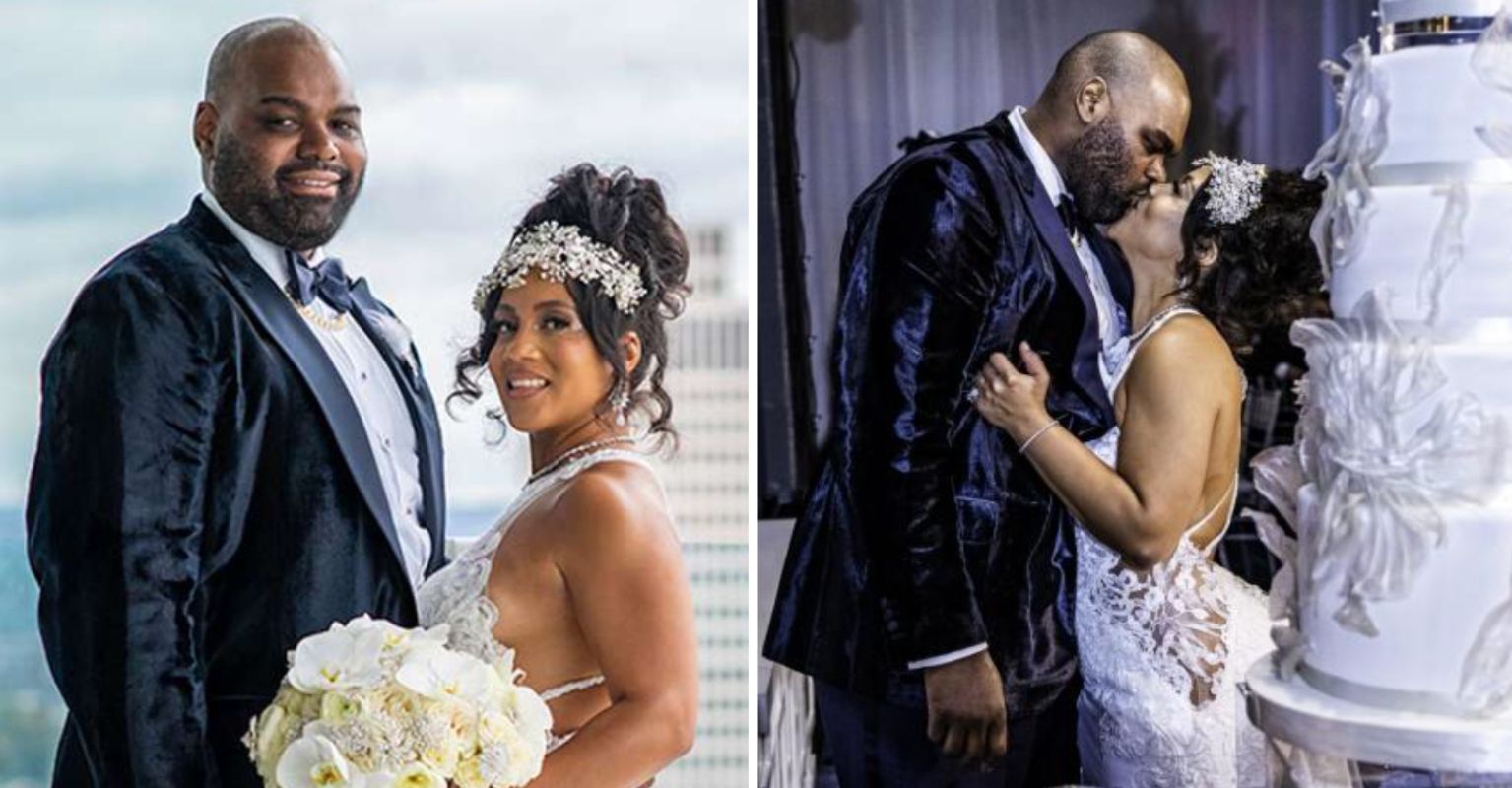 59. Monica Puig and Nathan Rakitt

The athletic couple exchanged vows in an intimate Puerto Rican ceremony attended by family and friends. The gold medal tennis player tied the knot with her fiancé in an evidently rib-cracking ceremony on 11th November 2022.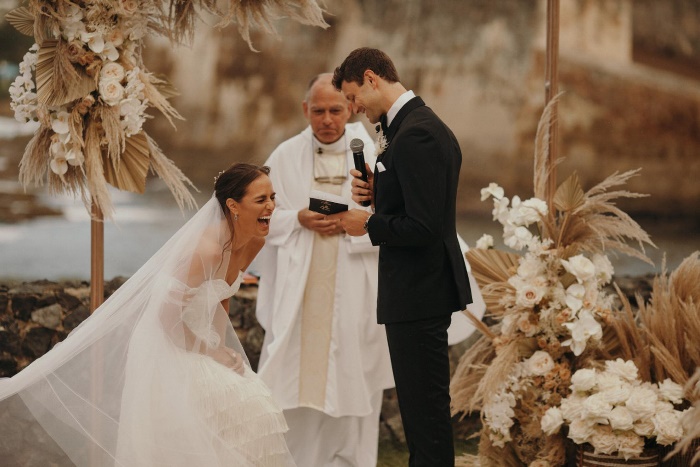 60. Taylor Lautner and Taylor Dome

Famous actor, Taylor Lautner who starred in the 'Twilight' wed nurse lover, Taylor Dome, at a winery in California on November 11th 2022. The actor credits his sister for having introduced them to each other quoting, 'she called me and said, 'Dude, I have found your future wife,''.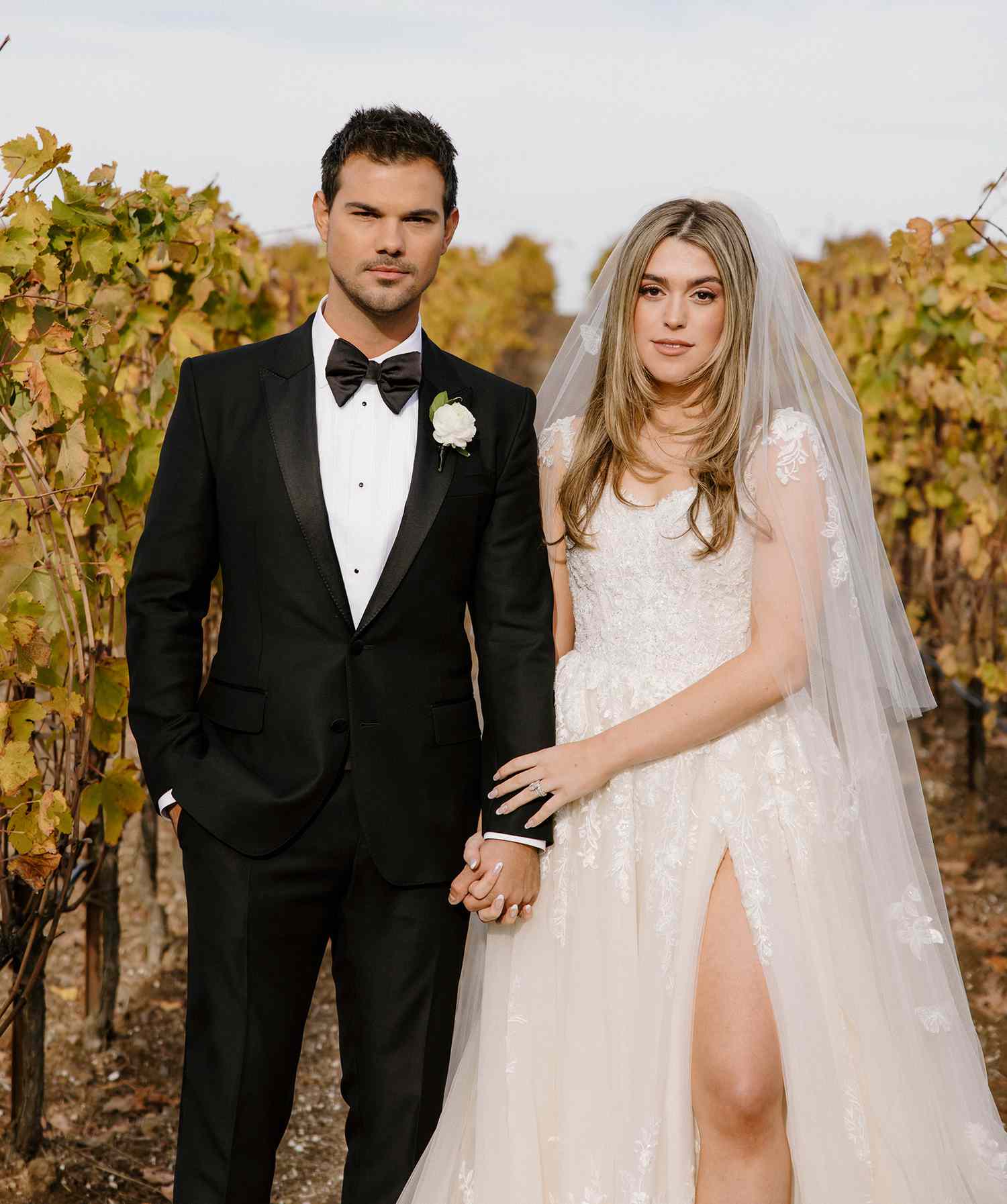 61. Tiffany Trump and Michael Boulus

Former USA president Donald Trump's daughter, Tiffany Trump got married to Micheal Boulus in Florida on 12th November. The two tied the knot at Trump's palm beach home where Tiffany was born.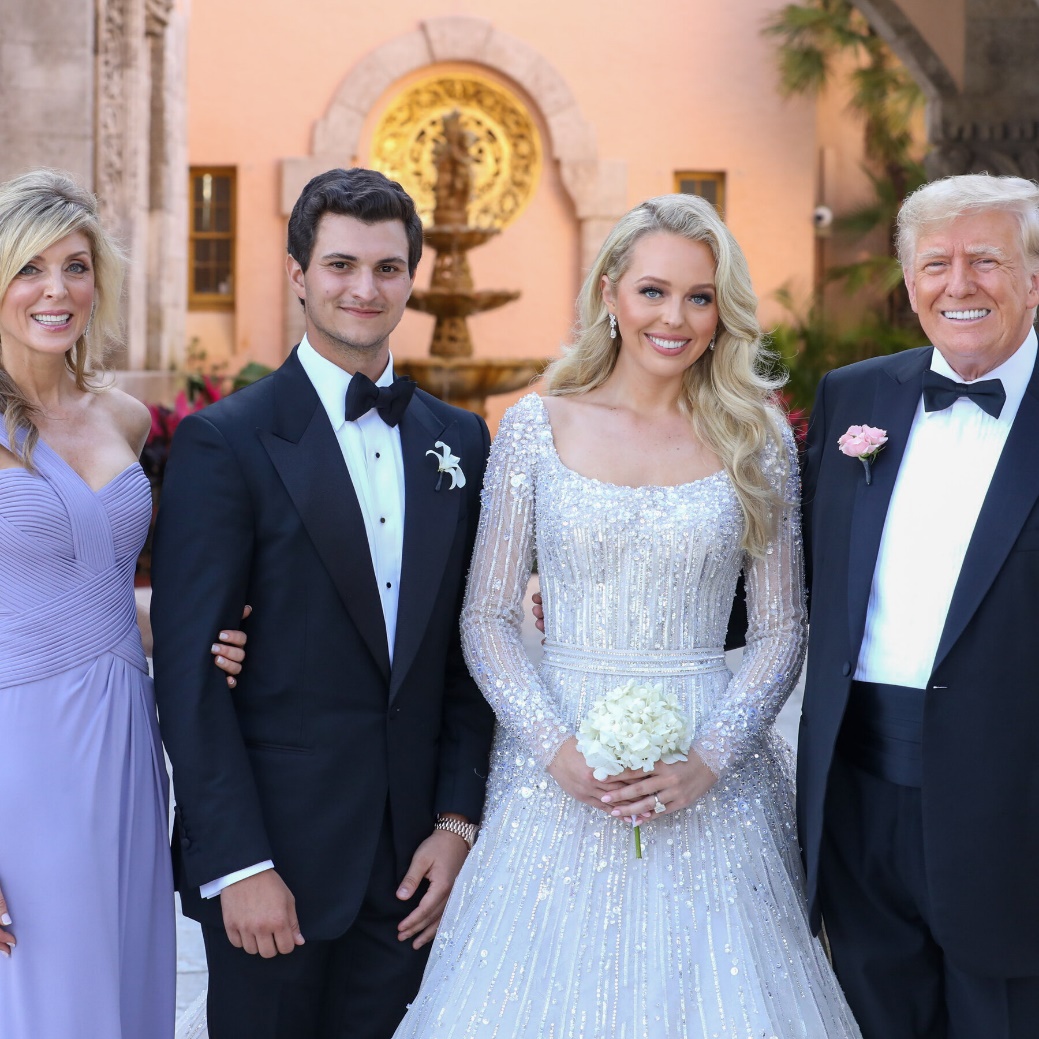 62. Leonard Fredrick AND Peggie Ovire
Nollywood stars Leonard Fredrick and Peggie Ovire set the internet ablaze when they announced their engagement earlier in the year. The two stars followed this with a traditional ceremony in Warri, Delta State on November 19th, 2022.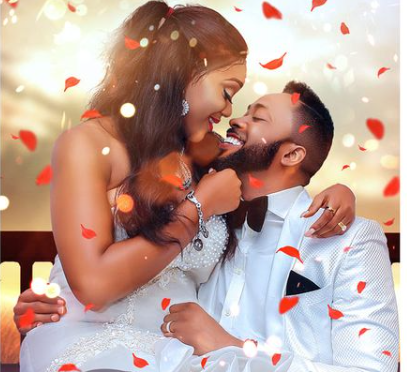 63. Naomi Biden and Peter Neal
A White House wedding! President Joe Biden's eldest granddaughter, Naomi, married her sweetheart, Peter Neal on the South Lawn of the White House on 19th November. The duo are both celebrated lawyers.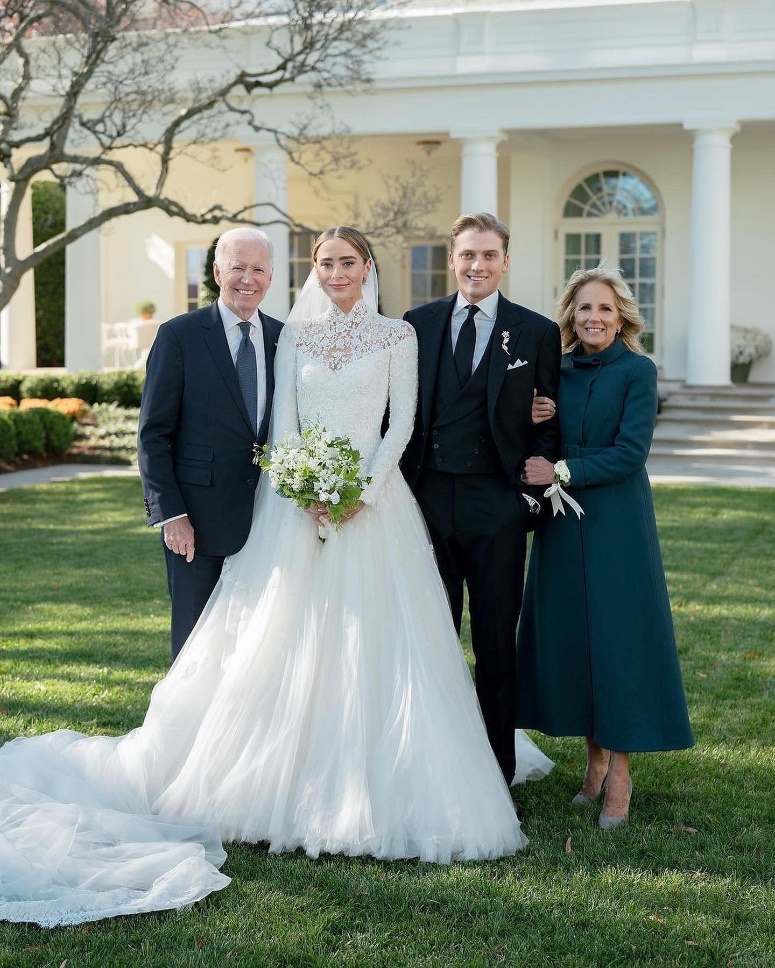 64. Porsha Williams and Simon Guobadia

The couple first had a traditional Nigerian wedding and then later had the white wedding on 25th November. Porsha is a Real Housewives of Atlanta alum and Simon is a Nigerian businessman.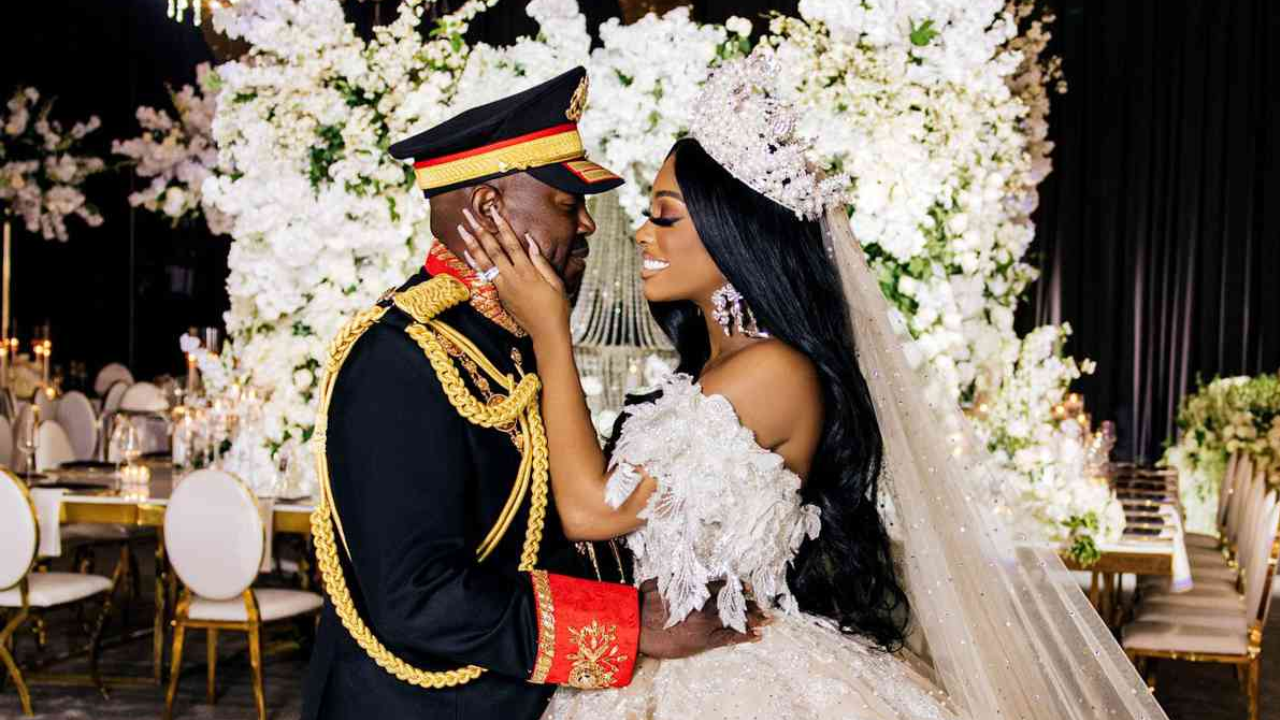 65. Ritah Dominic and Fidelis Anosike

From a very lavish traditional wedding in Owerri, Imo state that was filled with glitz and glamour graced by various celebrities, veteran Nollywood actress, Ritah Dominic went on to marry lover Fidelis Anosike in a lovely white wedding ceremony in England attended by family and close friends on 26th November.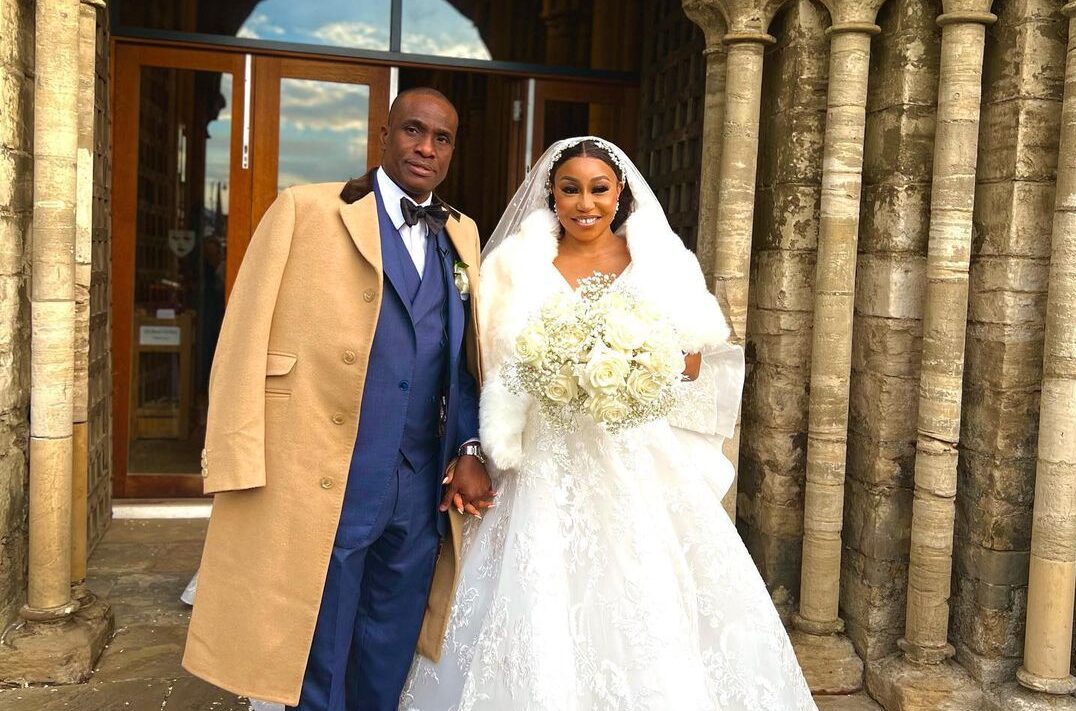 66. Jay Allen and Kylie Morgan
Jay and Kylie are now husband and wife. The country singers and songwriters tied the knot in Fort Myers, Florida on 27th November. The lovebirds had previously postponed their wedding due to Hurricane Ian. And due to their busy schedules and hectic lifestyle, they say there was never an ideal moment to say their vows.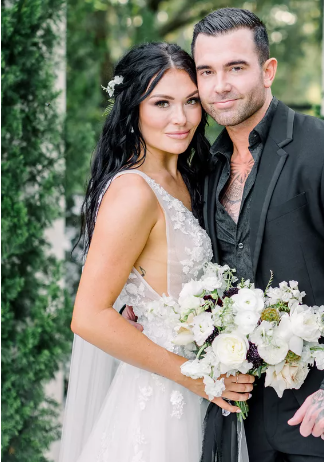 67. Storm Sanders and Loughlin Hunter
Aussie tennis star, Storm Sanders took to Instagram to share stunning photos of her wedding to longtime partner, Loughlin Hunter captioning, ''Mr. and Mrs. Hunter. The best weekend of our lives.'' The wedding that was attended by friends and family took place in November at All Saints East Winery in Wahgunyah.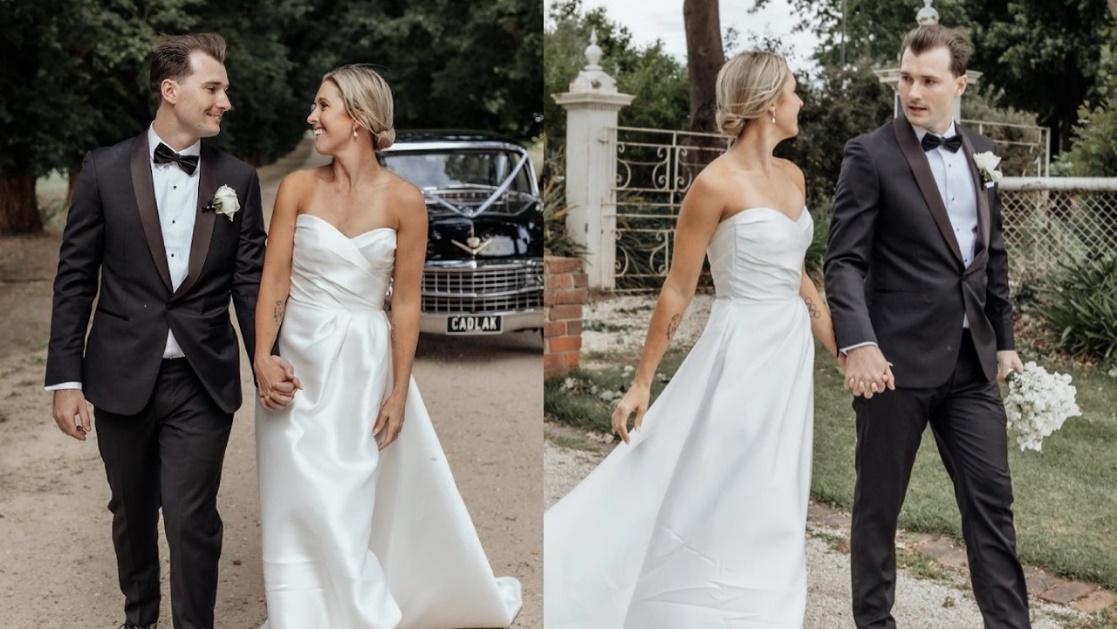 68. Hansika Motwani & Sohael Khaturiya
On December 4th lovebirds Hansika and Sohael got married in Jaipur. The lovely actress and her husband tied the knot at Jaipur's Mundota Fort and Palace. It was such a colorful and beautiful ceremony.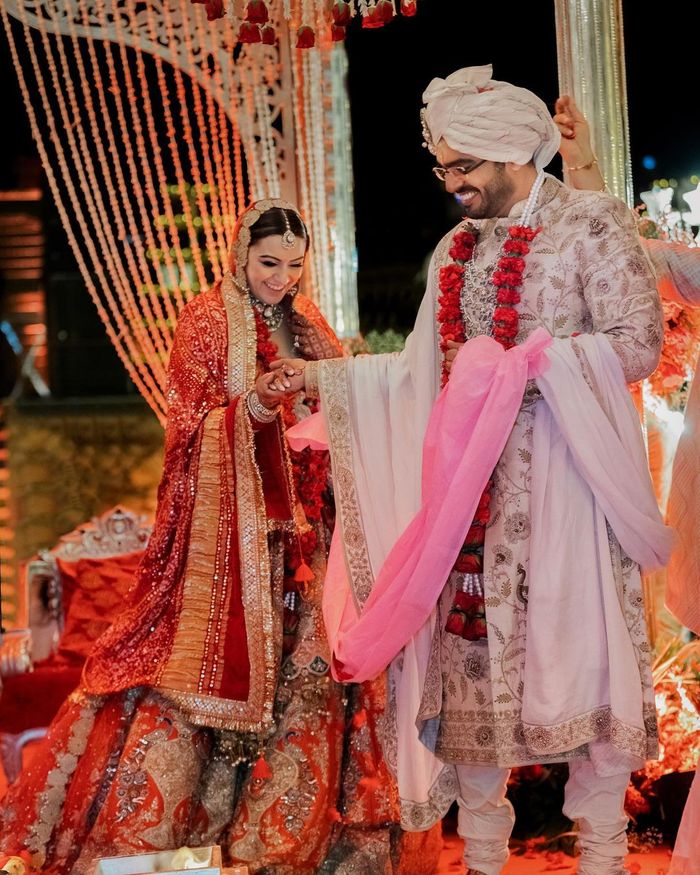 In our non-confirmed wrap of weddings for the year 2022 we feature to famous Nigerian couples. We can neither confirm nor refute the possibility that they got married in the year.
Mr. Eazi and Temi Otedola
Engaged love birds, Nigerian singer Mr. Eazi and millionaire girlfriend, Temi Otedola announced their engagement in a short clip on Instagram in April. Mr. Eazi in an interview said they were engaged for 15 days before the world got to know and therefore it is possible that they are already married and we don't know.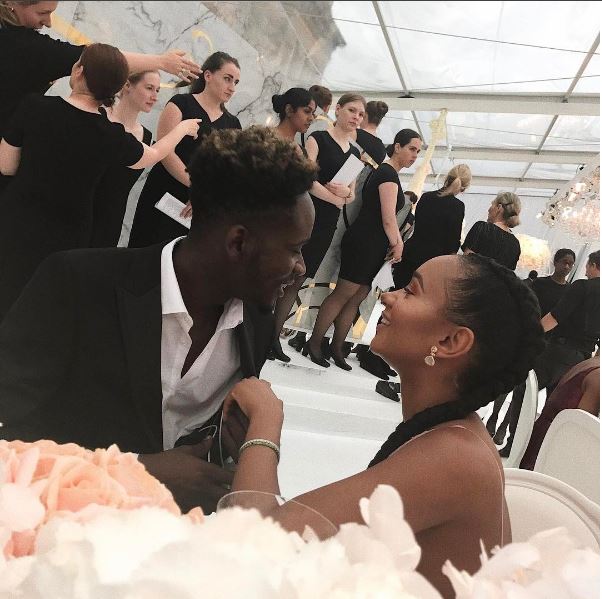 Davido and Chioma Rowland
It is rumored that Nigerian singer, Davido and Chioma got married shortly after the unfortunate death of their son in November. The wedding is said to have been attended by only family with no cameras allowed. However, neither Davido and Chioma have come out to deny or confirm the rumours.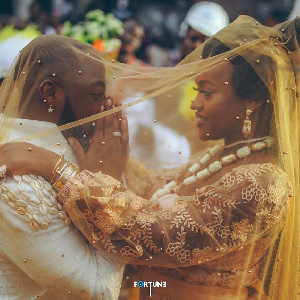 As Nyom Planet, we are lovers of such beautiful things, because, seriously who isn't?! Congratulations to all the celebrity couples that gave us what to marvel and write about in 2022. May your love never burn out.
Kindly let us know of any celebrity couple we might have missed in the comment section. And if you feel 2023 is your year, the Nyom planet team is here to plan your wedding to perfection.
Happy New Year to you all.