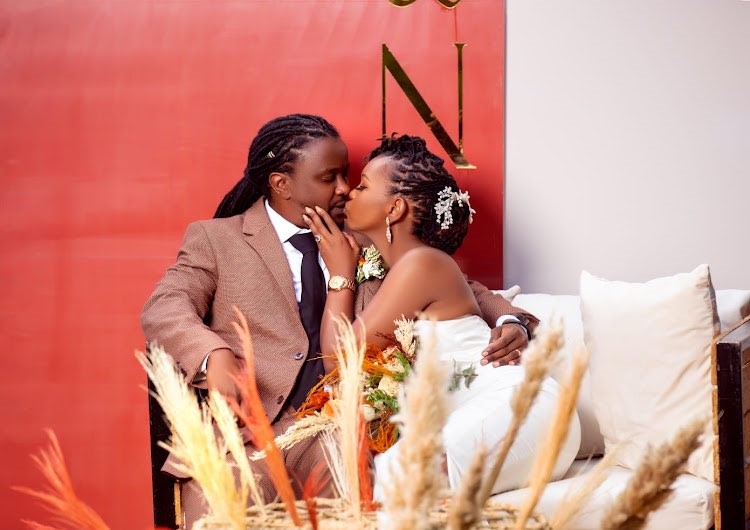 Killer wedding Hair Styles
A woman's crown is her hair. Now imagine if that woman is the queen. Every woman has at least one day where the queen in her shines. It comes once in a lifetime for many.

Your wedding ceremony is that day and you cannot afford to get it wrong!
Having drafted the guest list, sorted the bridesmaids, printed your invitations, and smiles sweetened by cake-tasting, it's time to think about your hair.
Remember, as you saunter down that aisle; eyes, noses and all cameras will be focused on the queen of the day. You dare not allow them to blink! It's not enough to have your make-up all glowing and fabulous matching the wedding dress and wedding jewelry, it matters how you wear your hair.
Selecting an elegant hair style for your locks that matches your entire wedding theme cannot be underestimated. And it involves a bit of work; a visit to wedding stylists; observing what brides before you wore and comparing all this with your personal style!
You have then to decide whether you will stun in your natural hair, curls or in a weave!
But that's why we are here, here are some of the killer hair styles that could inspire your wedding look! Have a glance.
1. Tousled Chignon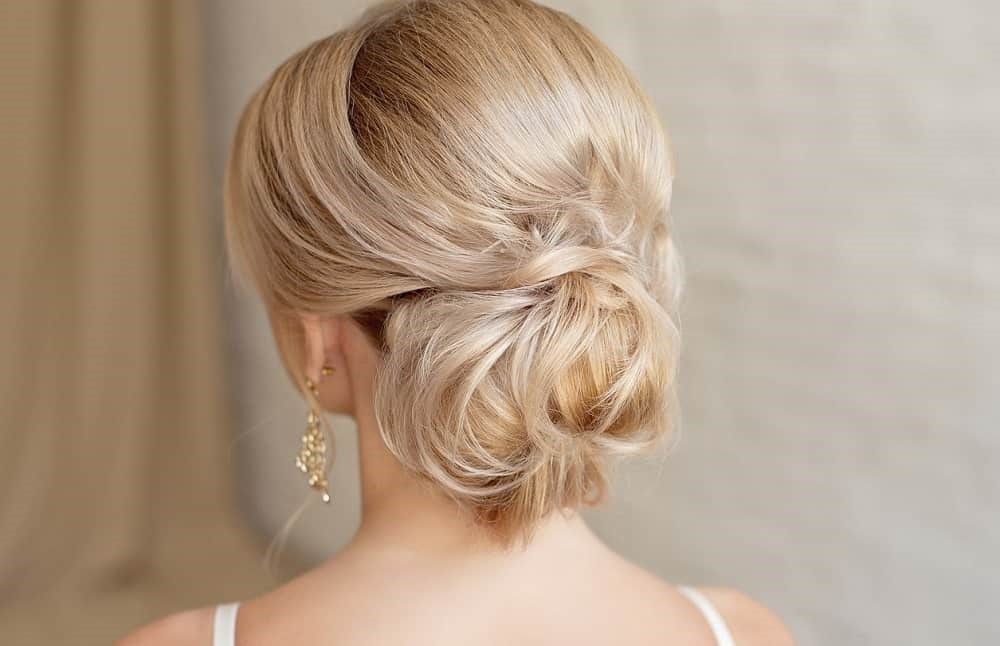 The tousled chignon is the style for the charming bride who has laid back-vibes. Its greatest advantage is, it matches well with most outfits. Not forgetting it being the best option for brides with thin and long hair. And it matches any hair colour!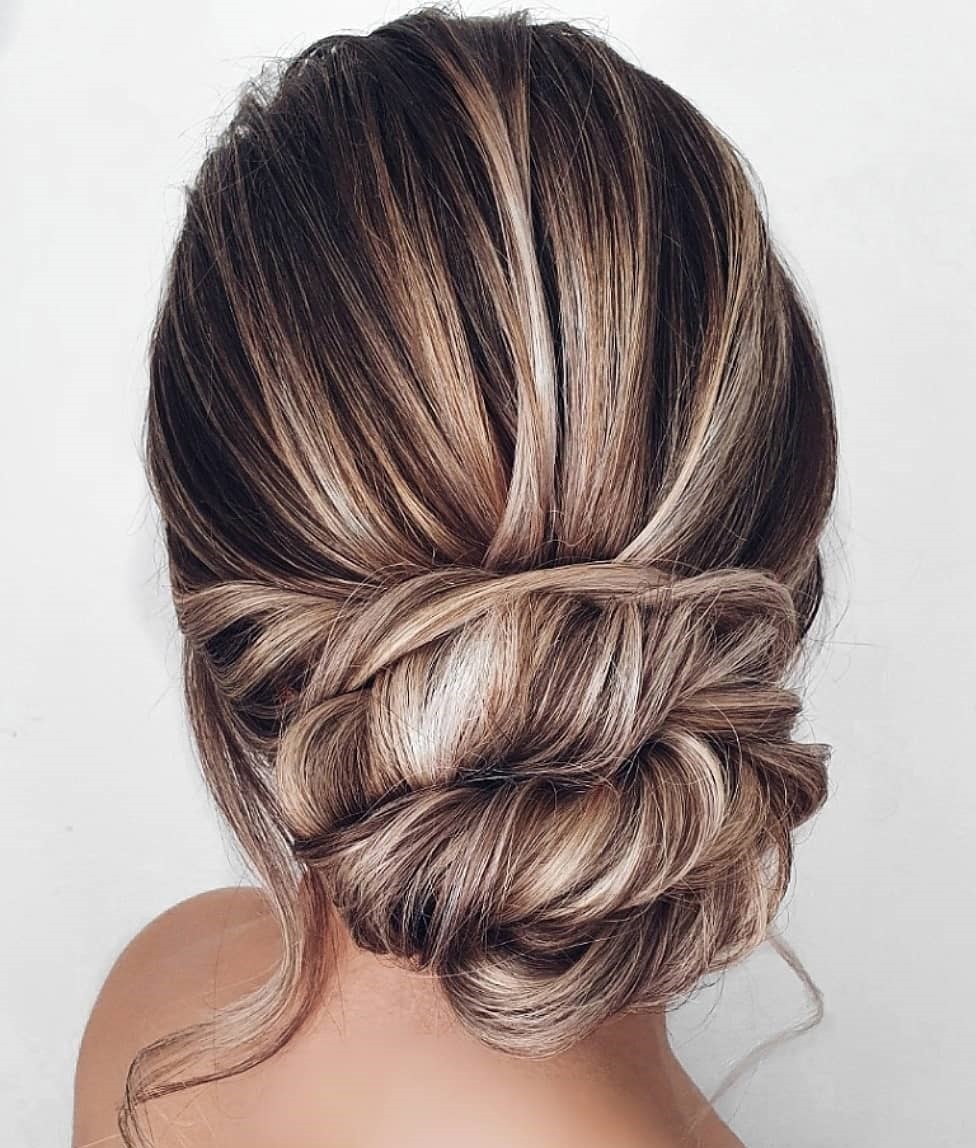 2. Short colored curls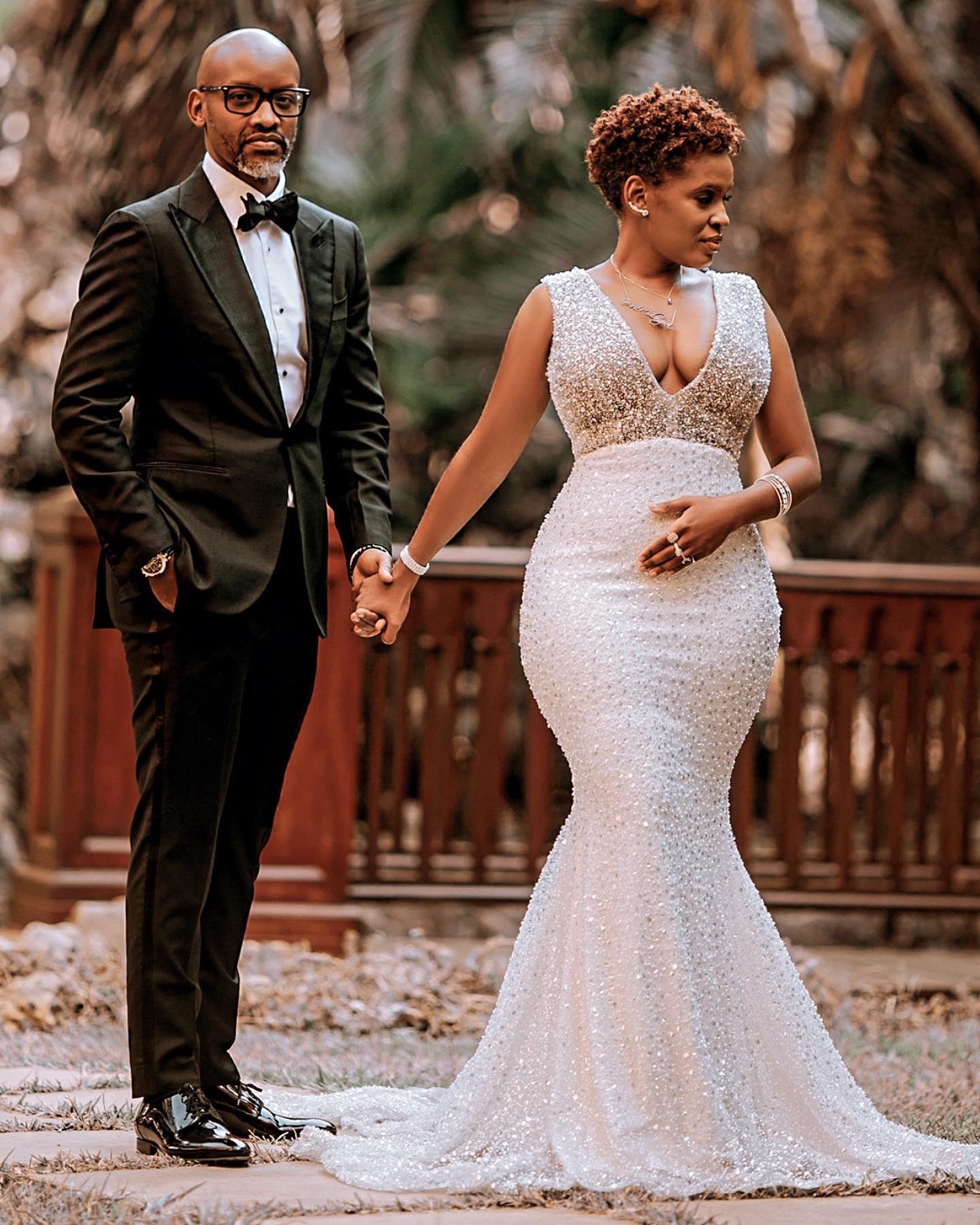 Short curly waves are perfect for brides with short hair who don't mind swimming against the tide. With a little colour, you don't need any hair accessories for you to kill with this look.
3. Braided Updo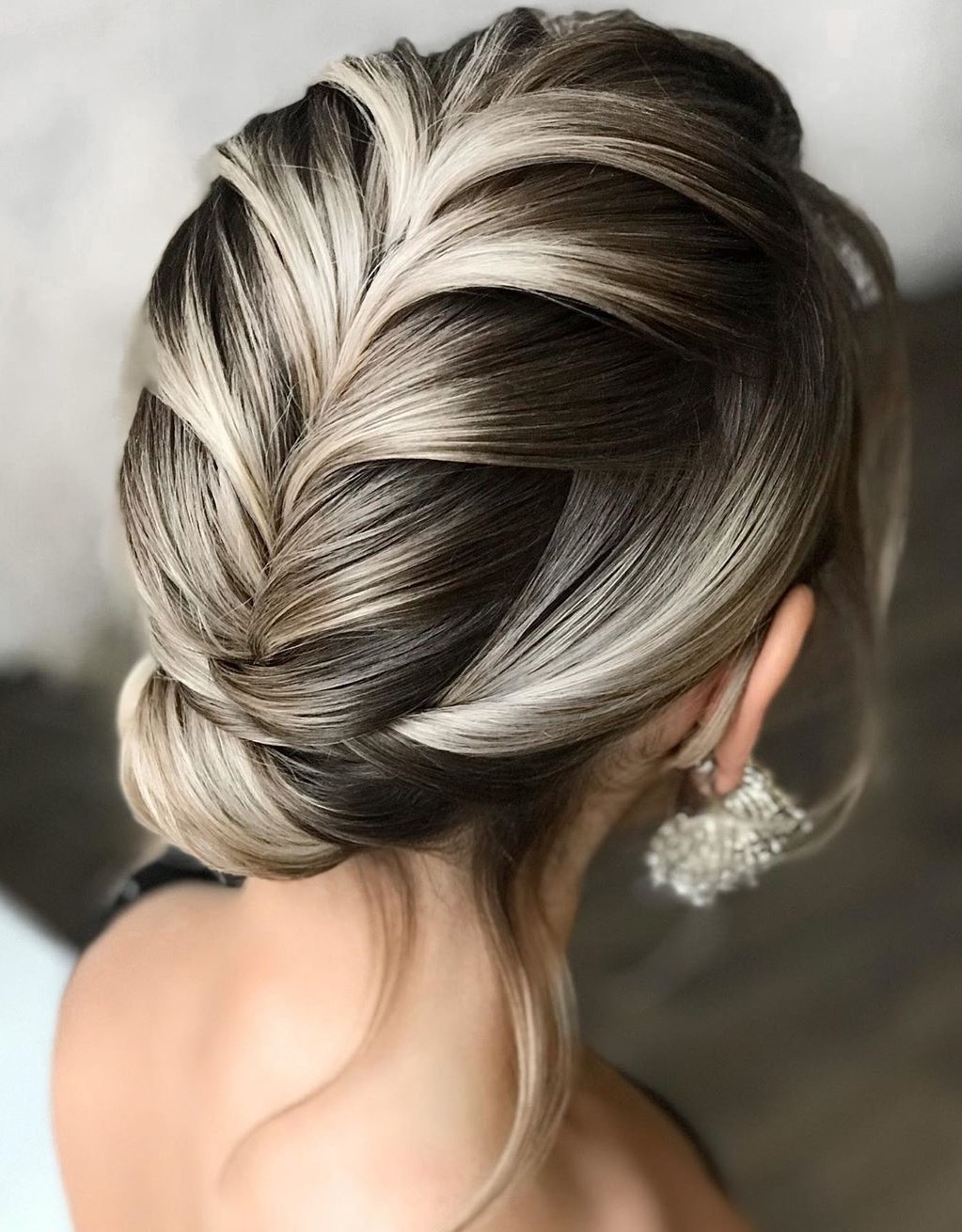 Loosely braided updos look quite elegant on any bride at her the wedding day. They provide smooth grooves that do usually accentuate the bride's look without any need for more hair accessories. Oh, and a few loose strands will add a tender femininity to your look!
4. Retro Rolled Updo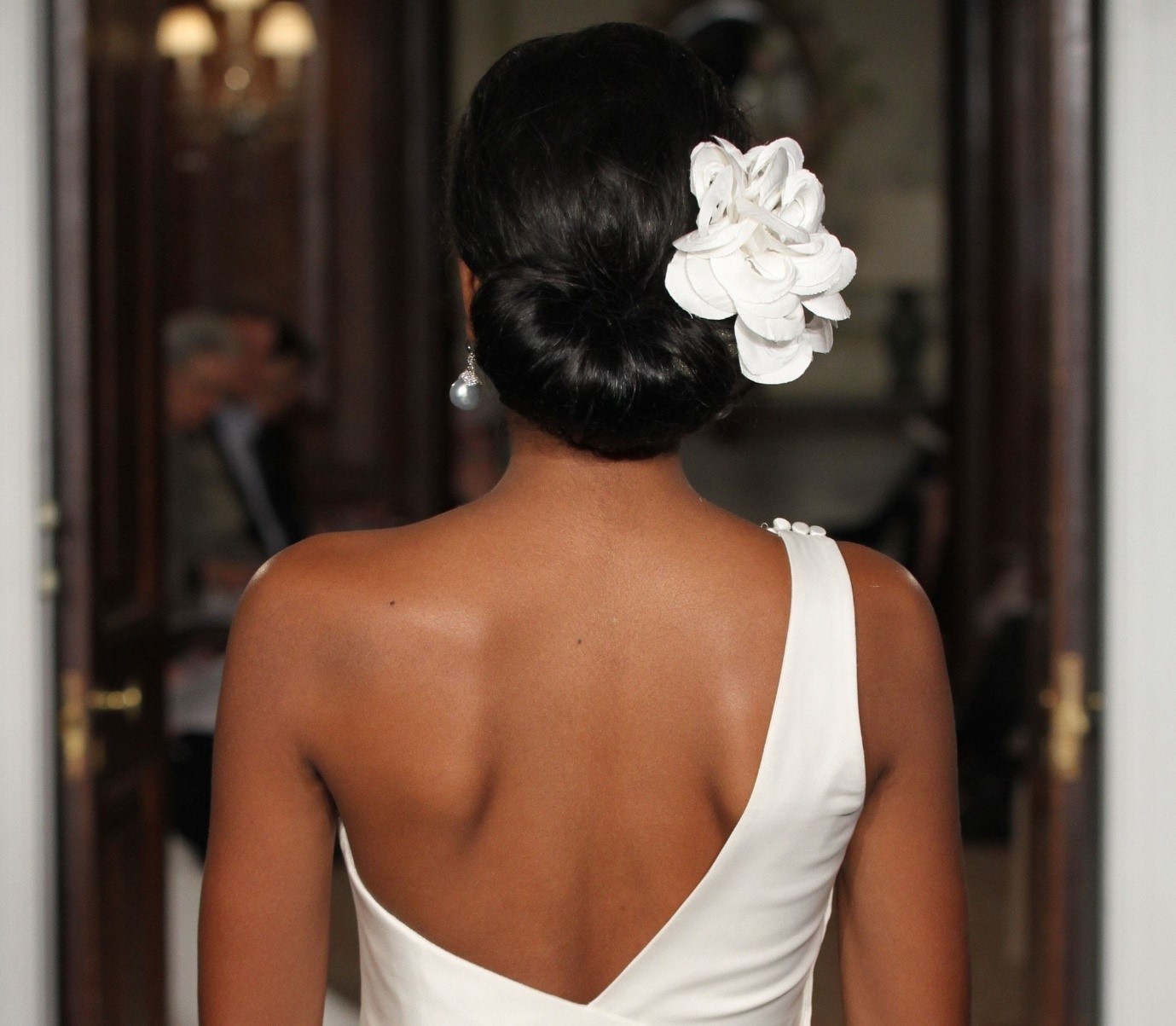 This particular hairdo takes you back in time. It accentuates a bare back wedding dress and simple jewellery making both stand out quite distinctively. The single large blossom is the icing on the cake.
5. The 'hot' donut bun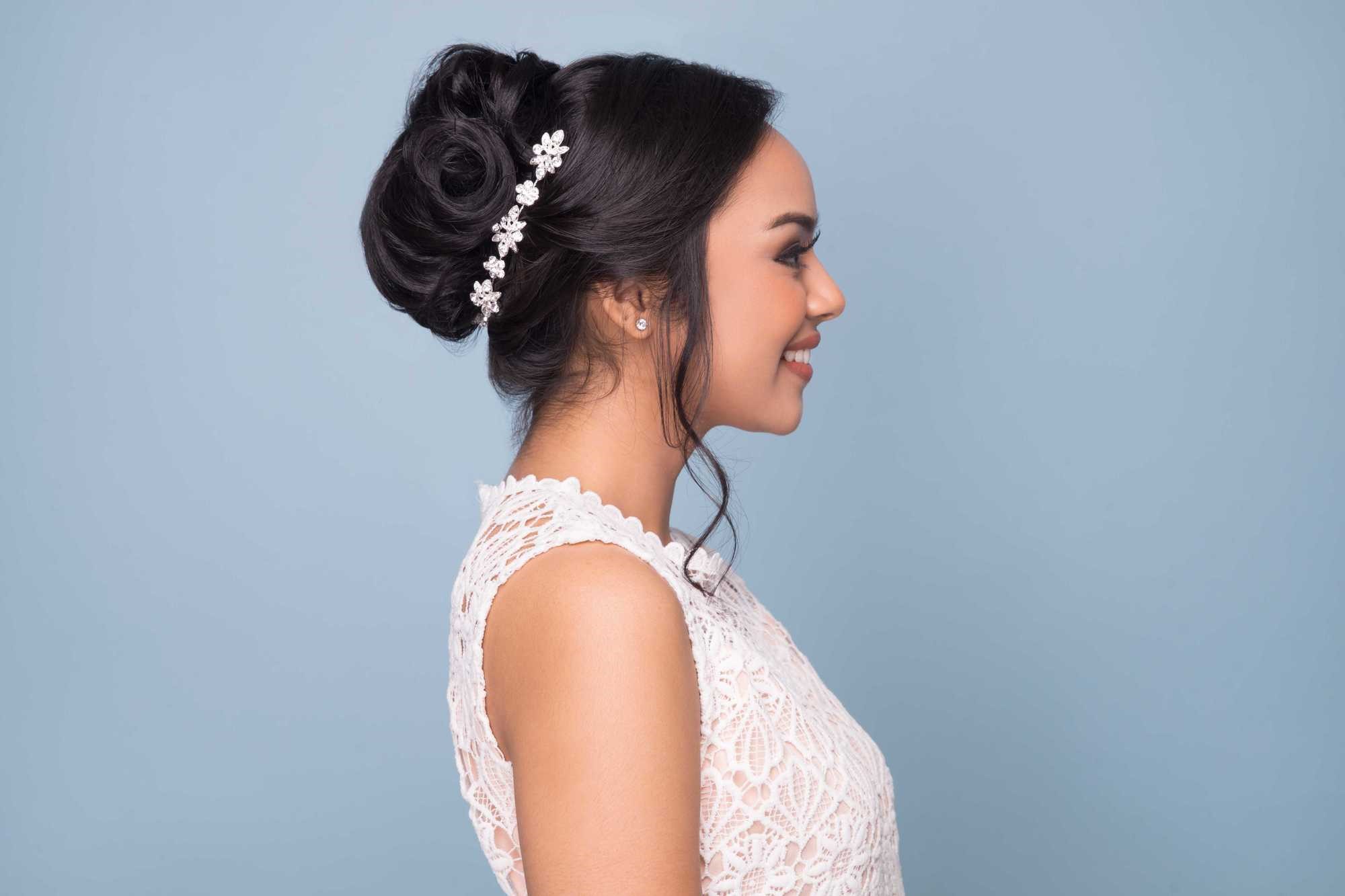 This is a look for mildly bold but feminine brides with medium length hair. Wear it with modest make up, leave a few long winding tendrils to flow down your neck. And glow it up with a smile!
6. Long African flared braids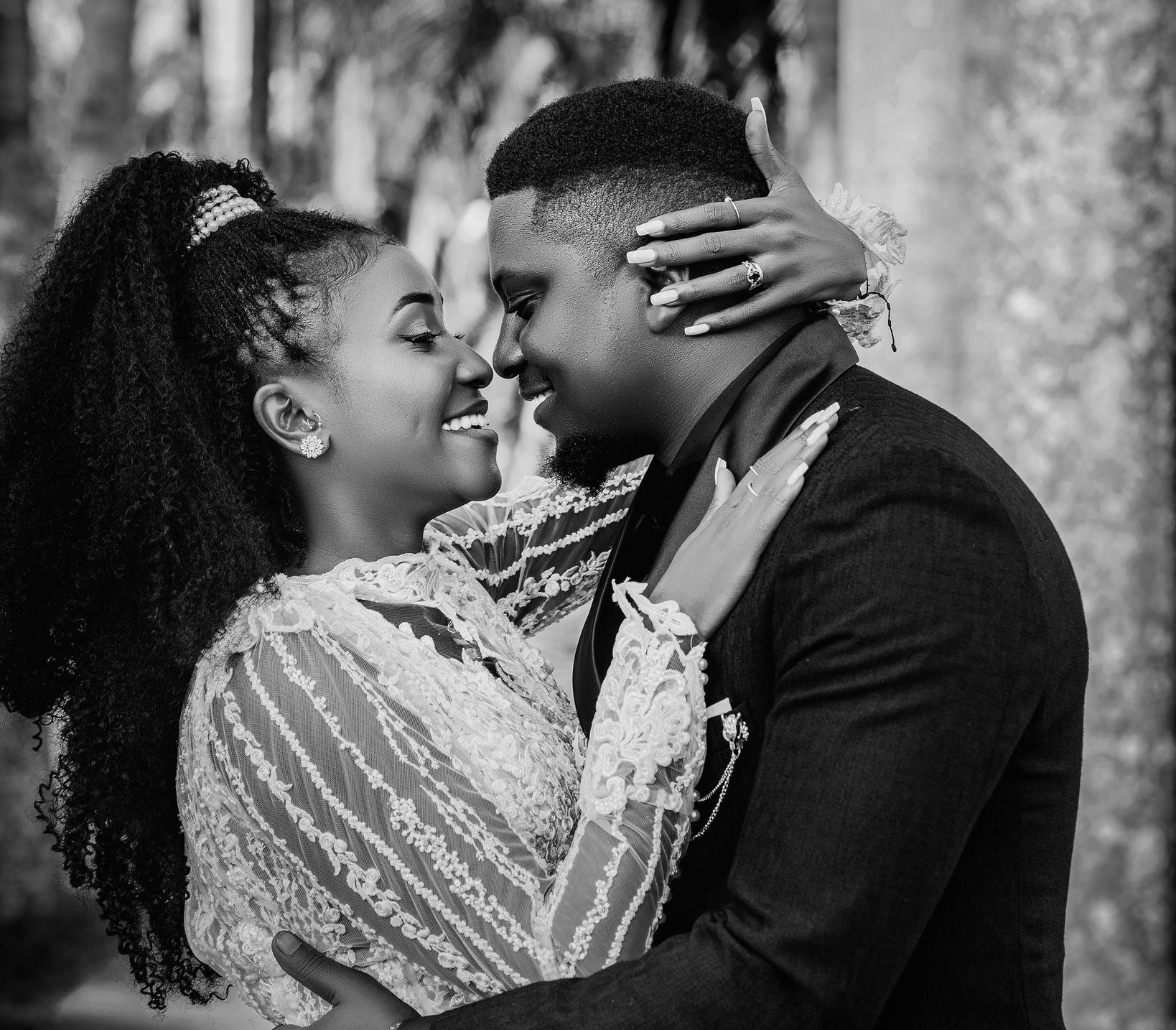 Long African braids held up by a hairband (that matches the dress) and leaving the hair with a little flare creates a curious sight.
7. Flower studded hairdo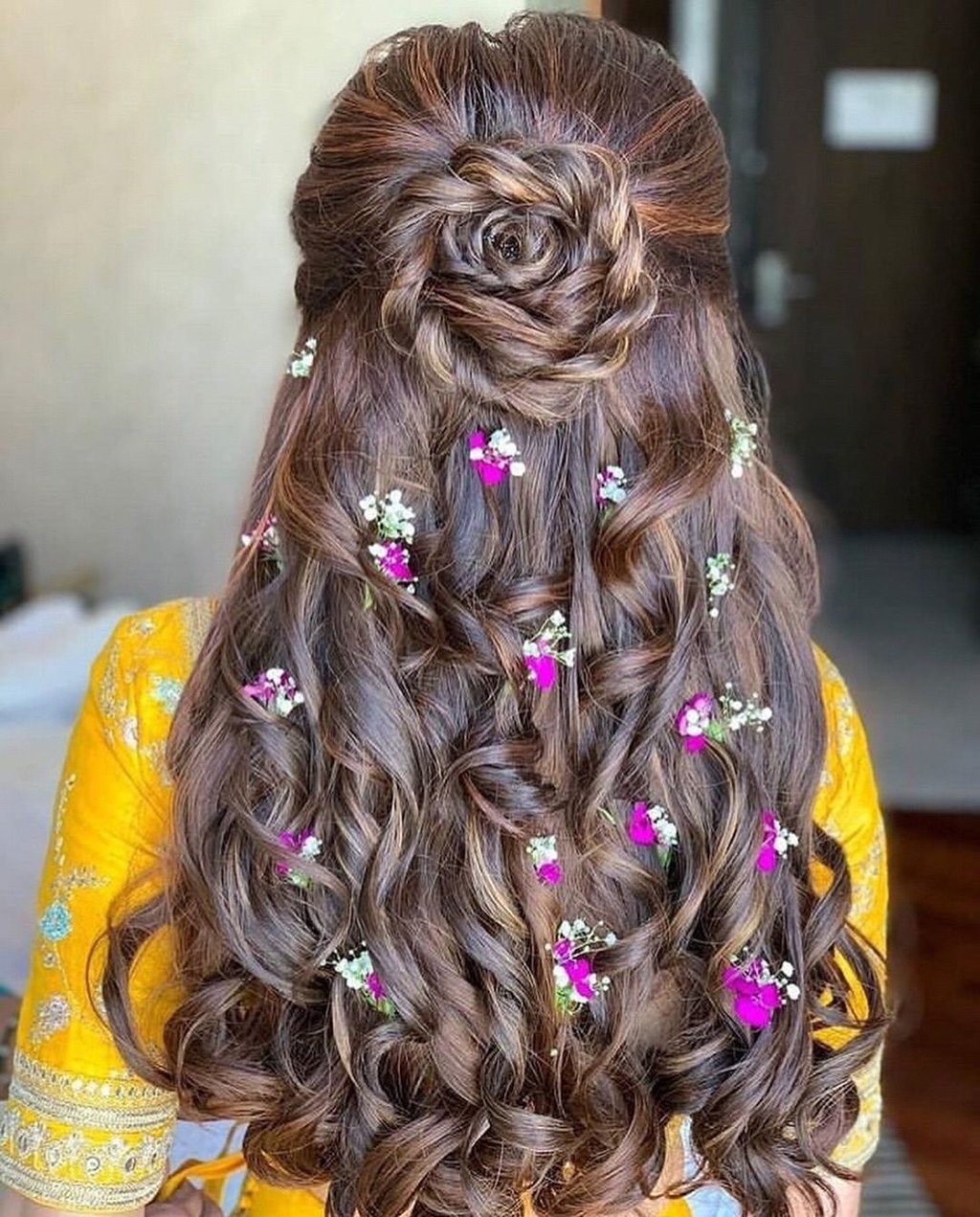 If your hair is long enough, create long wavy strands that can have flowers as accessories. The look is super magnificent! You will be sure to floor your guests in awe!
8. Simple Loose hair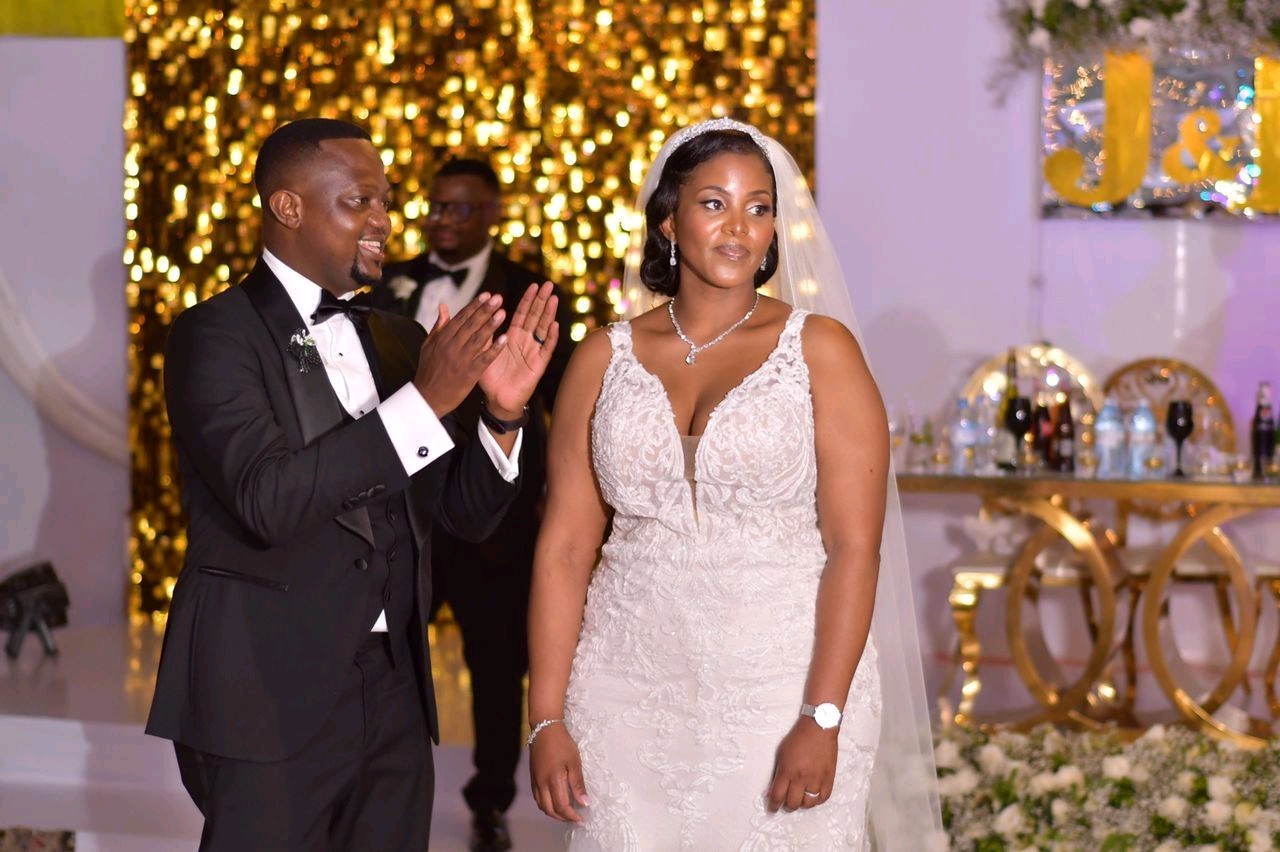 Loose hair combed backwards will make for a great look especially if a veil is won over it. It brings out your feminine side without feeling like you have to do so much.
9. Finger waves with beaded barrette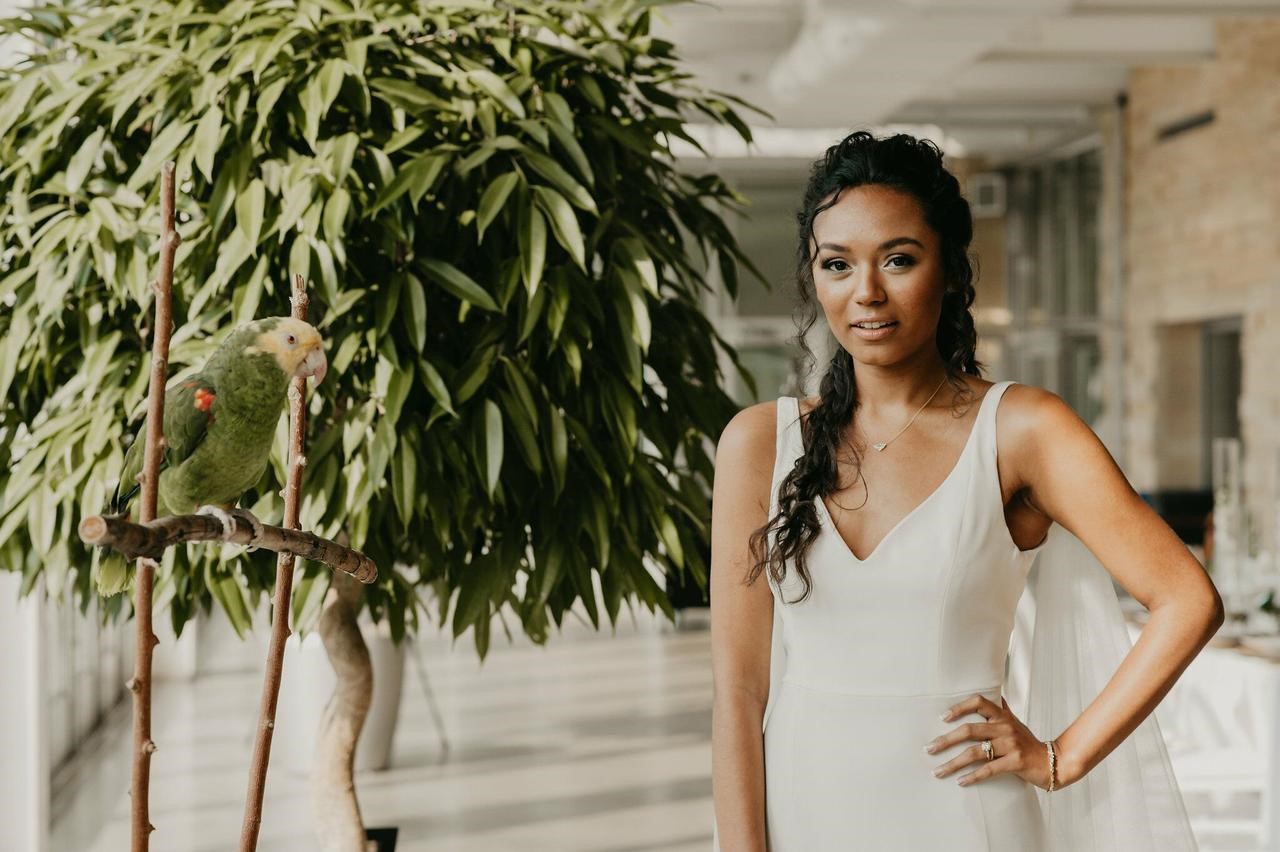 Finger waves add a girly effect to your look. They are a cross between girly and vintage and if won well with your make up, they most definitely bring your best look to the fore.
10. Rose hair bun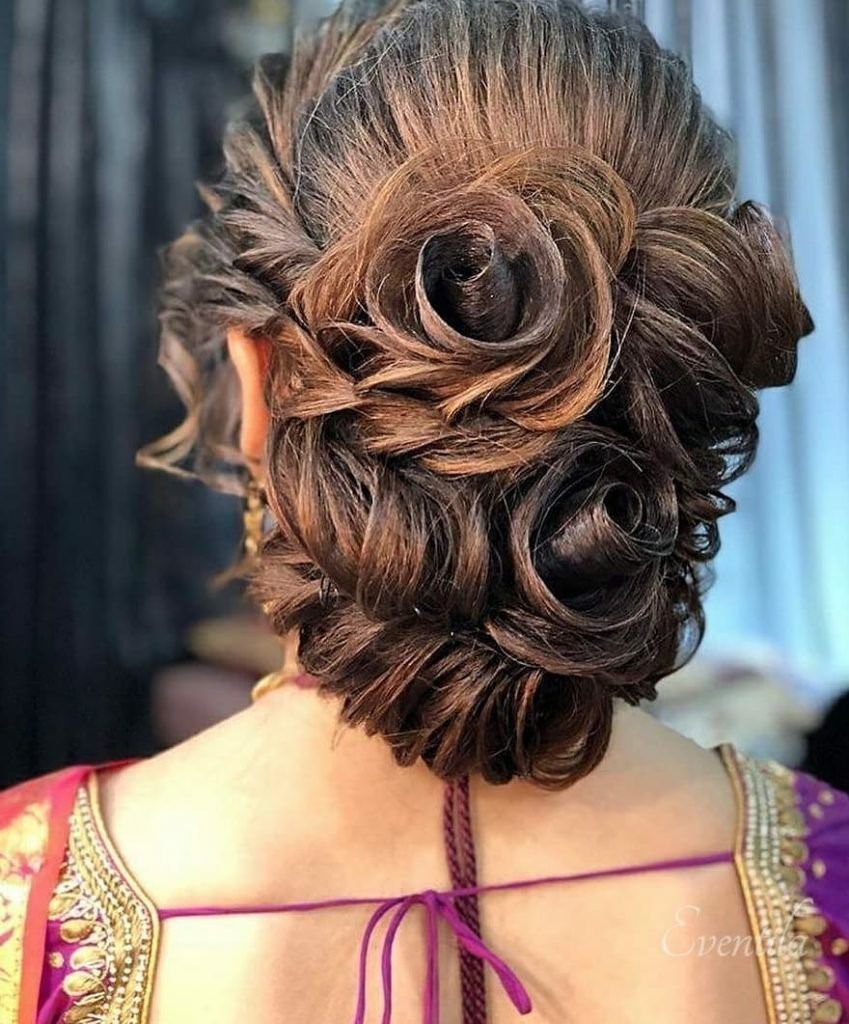 This deeply creative hair bun is inspired by a rose and suits people with long hair that don't want to hold it down on the wedding day

11. Low bun with baby hair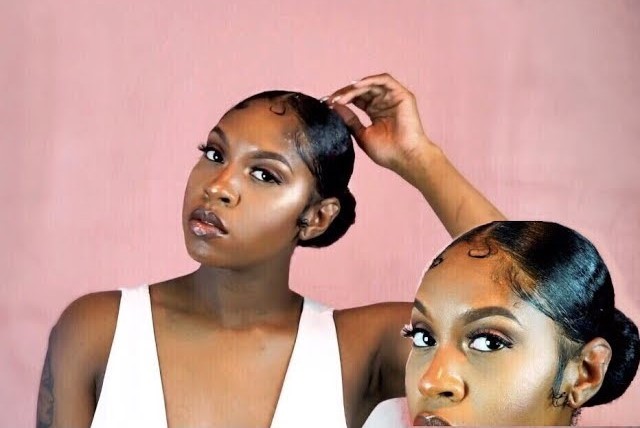 12. Deep side part bun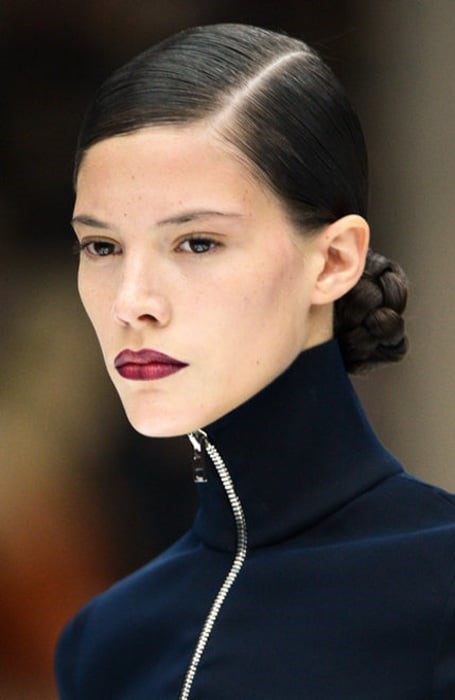 This charming style combines a low burn with a front section left loose. Bow your hair to one side and expose your facial features to let your make up do the talking. Its classy with an almost natural look!

13. Middle part bun with updo
The middle part like the side part bun allows your facial features to glow. It gives a chic but elegant look.
14. The Web Knot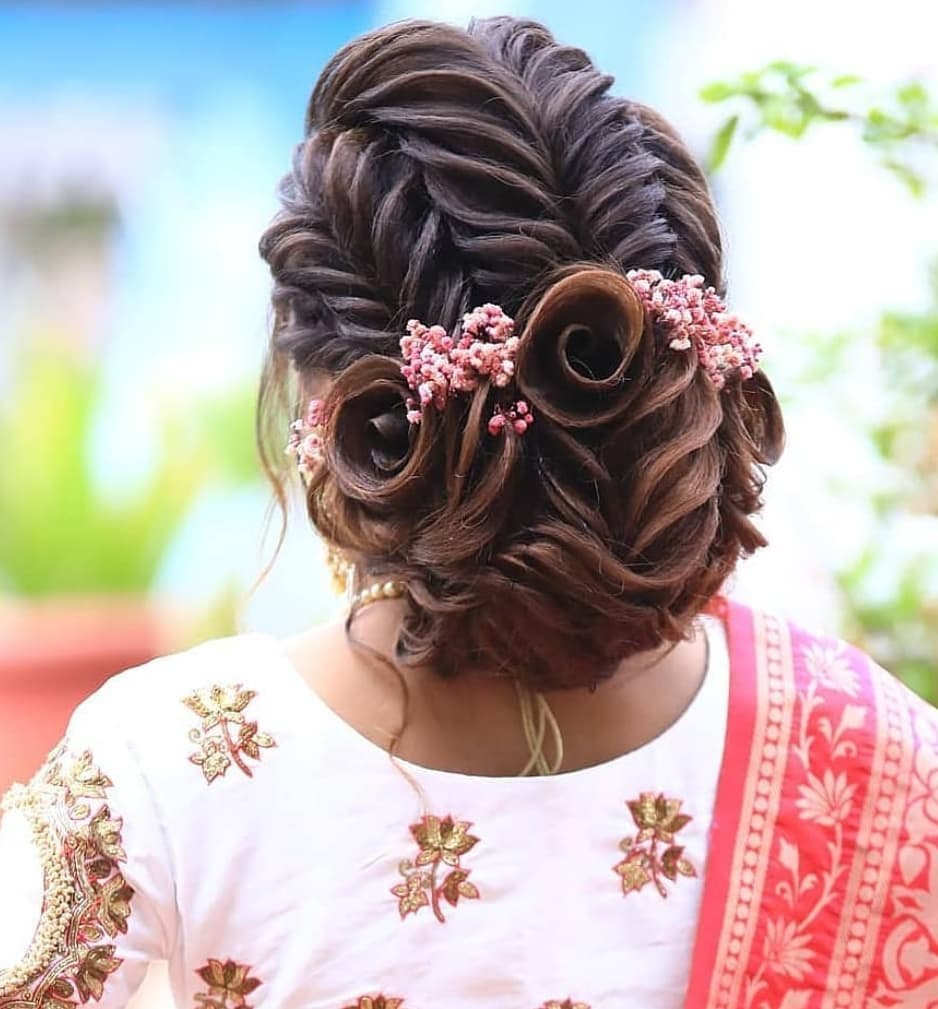 The web knot is fantastic with or without accessories. Here the bride added baby breath flowers to accentuate the look. It's a creative hairstyle that suits brides with long hair. When you wear it, make sure to leave a few hanging strands on the sides to accentuate your facial look.
15. Braided Finger waves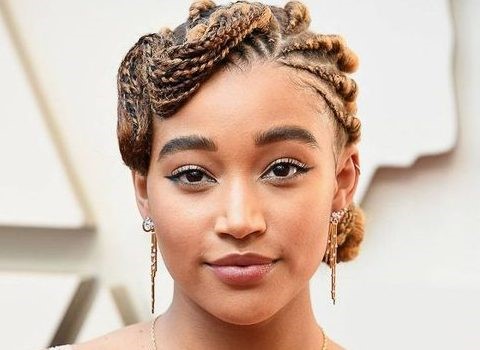 Braided Finger waves are especially perfect for black women. It's the perfect wedding hairstyle for those that love their braids. It gives you a romantic and dazzling wedding look.
16. Fishtail crown braid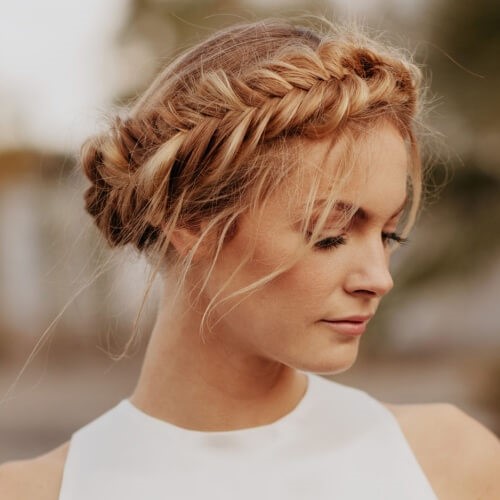 A gorgeous look on your big day can simply mean a wedding hair style that suits your natural look. A thick braided crown with a low bun is perfect to draw out the queen in you!
17. High bun with large coils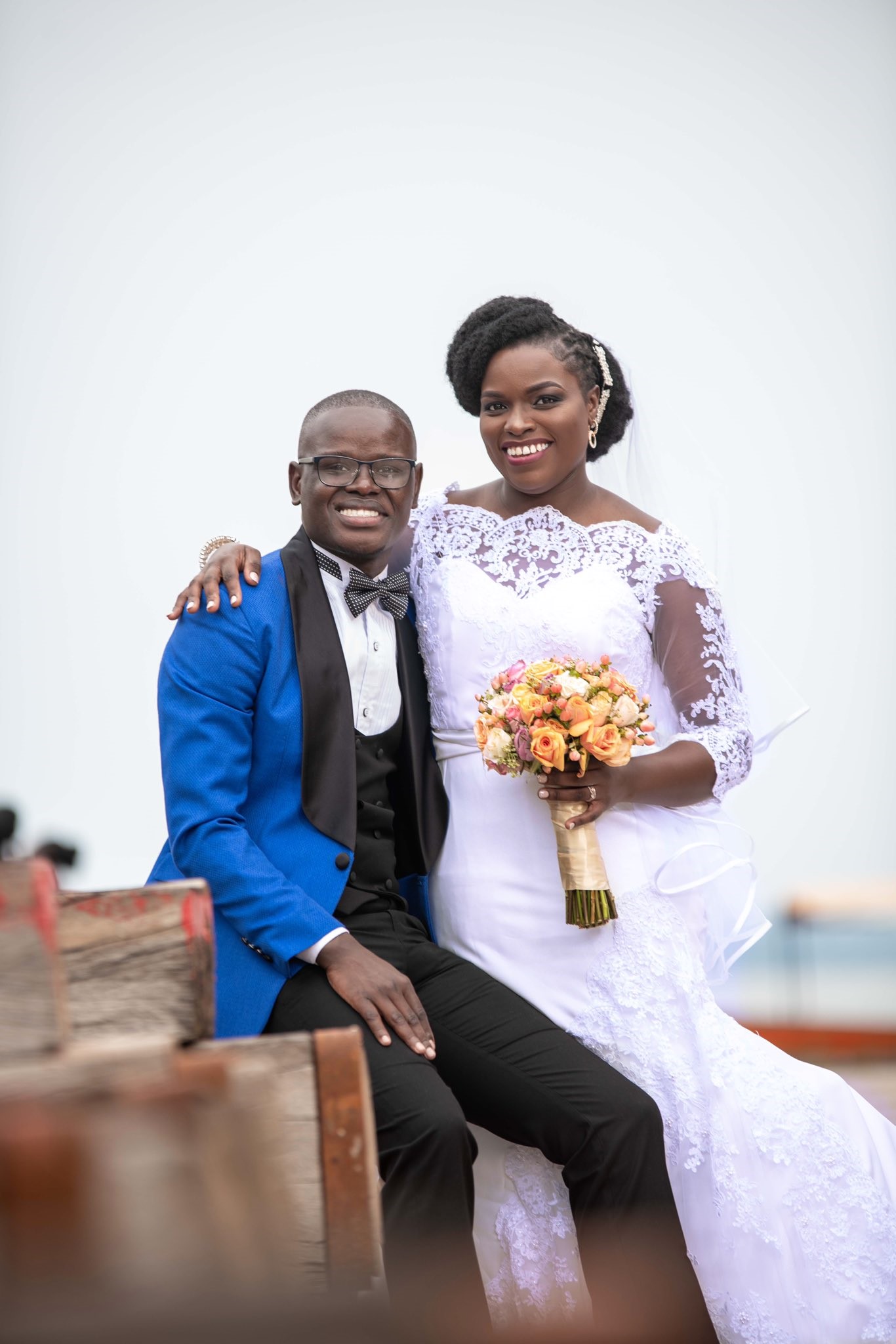 This look is typically great for African brides with long natural hair. Roll your hair into large coils to form a high bun. Accessorize it with bright headband and let the ensemble do the talking.
18. Diagonal Braided crown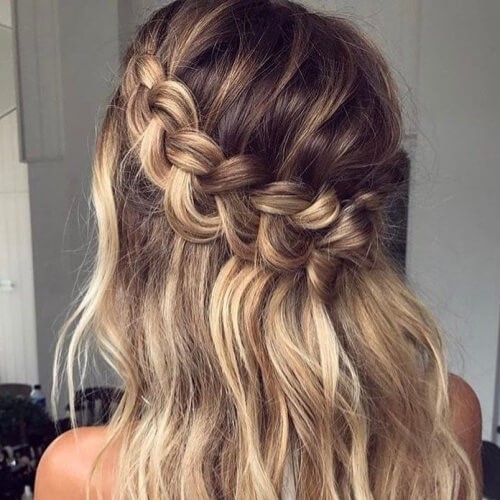 The diagonal braided crown is for brides who want to look different on their wedding day without having to had headbands. It is both creative and natural, and of course it lets the queen in you glow.
19. Long Loose curls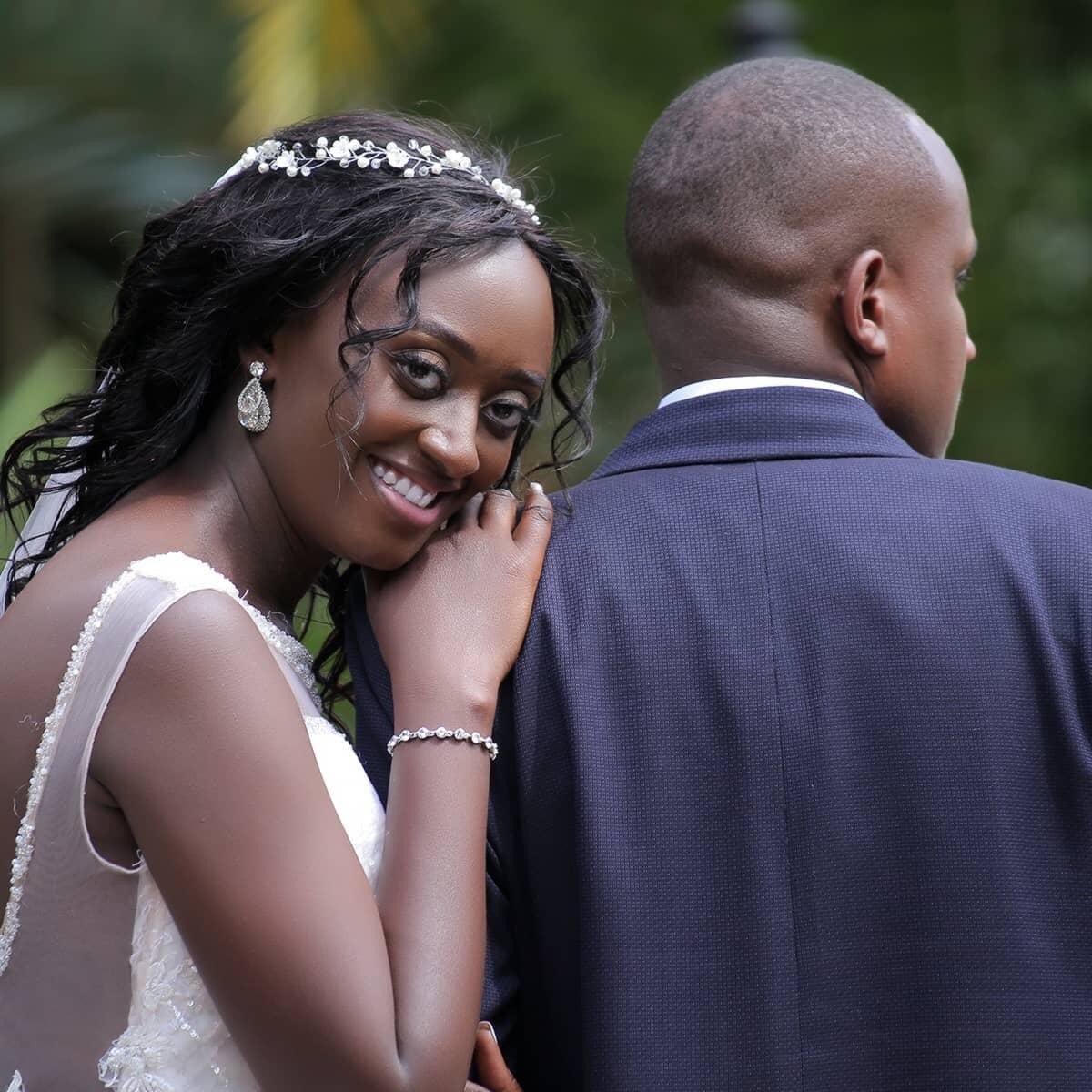 Try this look if you have long hair. Wear it loose to spread around the shoulder, dripping on your bareback gown and get ready to show what you got on the dance floor without worrying about what the hair will become after those Amapiano moves.

20. Low Pony tail with braid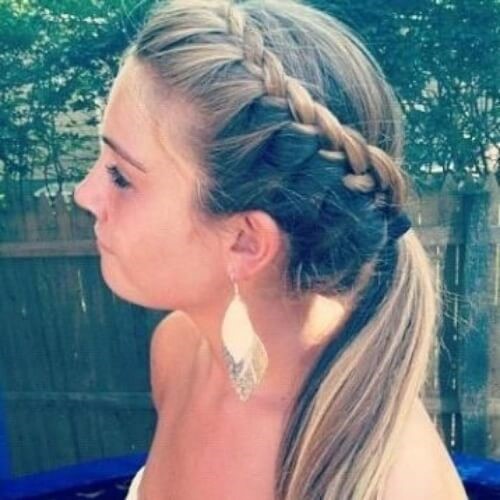 Revisit your high school or university queen days with this playful look that works perfectly if you have long hair. Continue your crown in a low ponytail and accentuate it with modest jewelry.
21. Wavy half-up or curls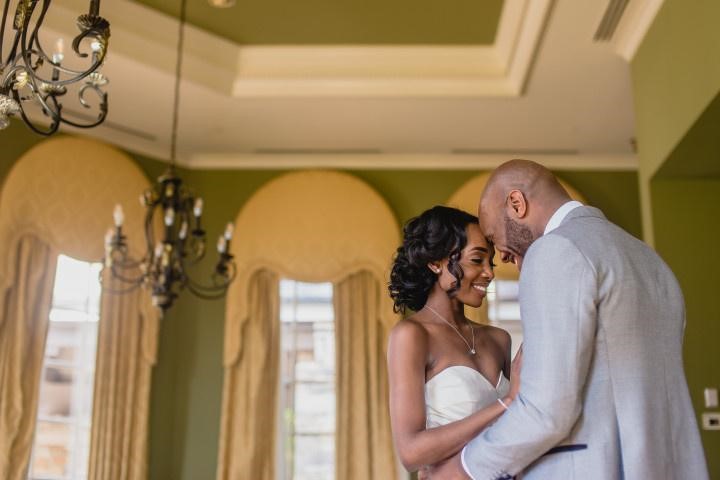 A half-up wedding hairstyle is perfect for long hair but also gives more choices like an updo or moving your hair down and the option to wear waves or curls. It feeds the bride's innermost hairstyle cravings.
22. French braids with pony-tail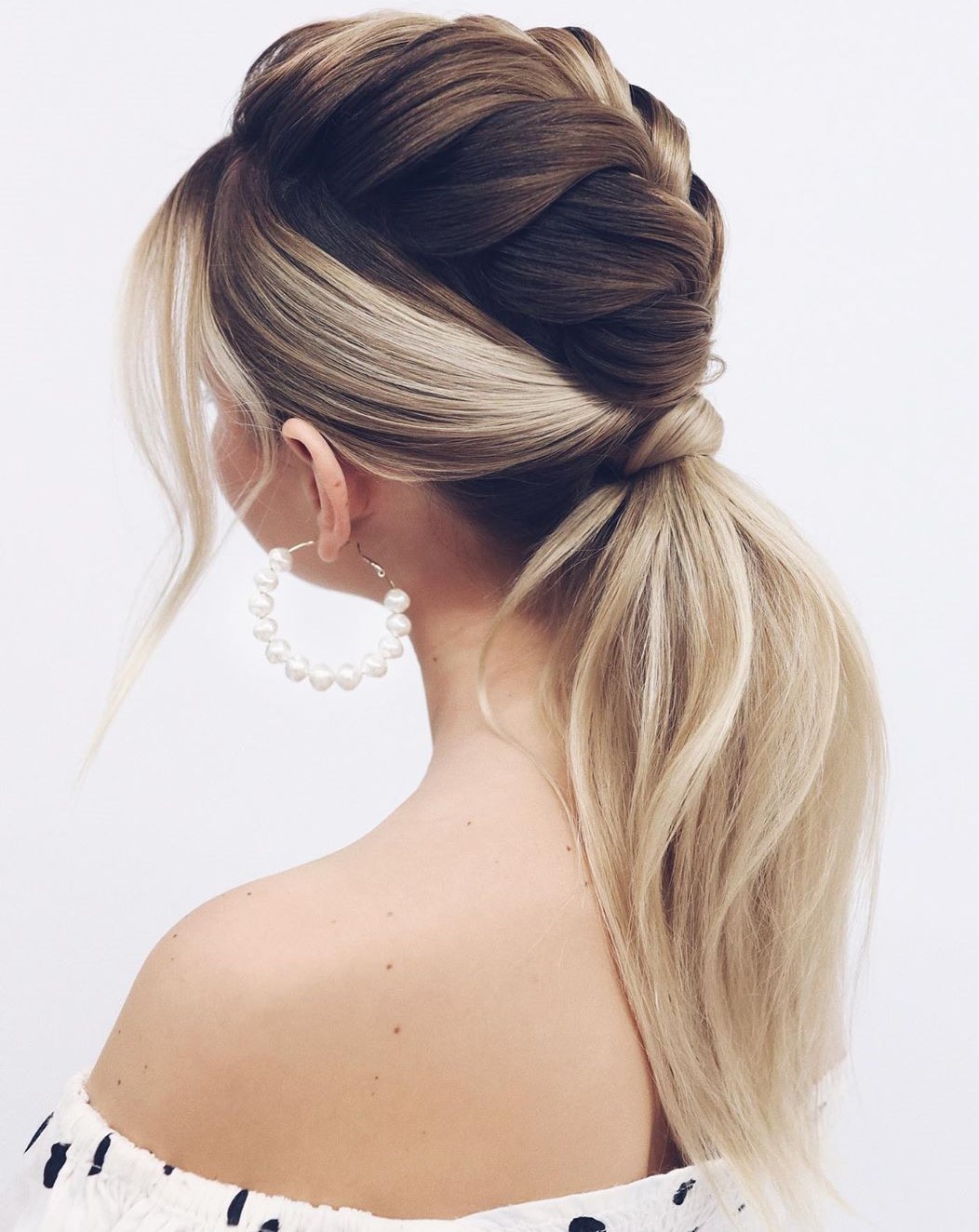 If you are not a fan of curls, this straight up hairdo that combines a voluminous french braid and wrap around the pony is your wedding look to claim.
23. High braided bun with Mohawk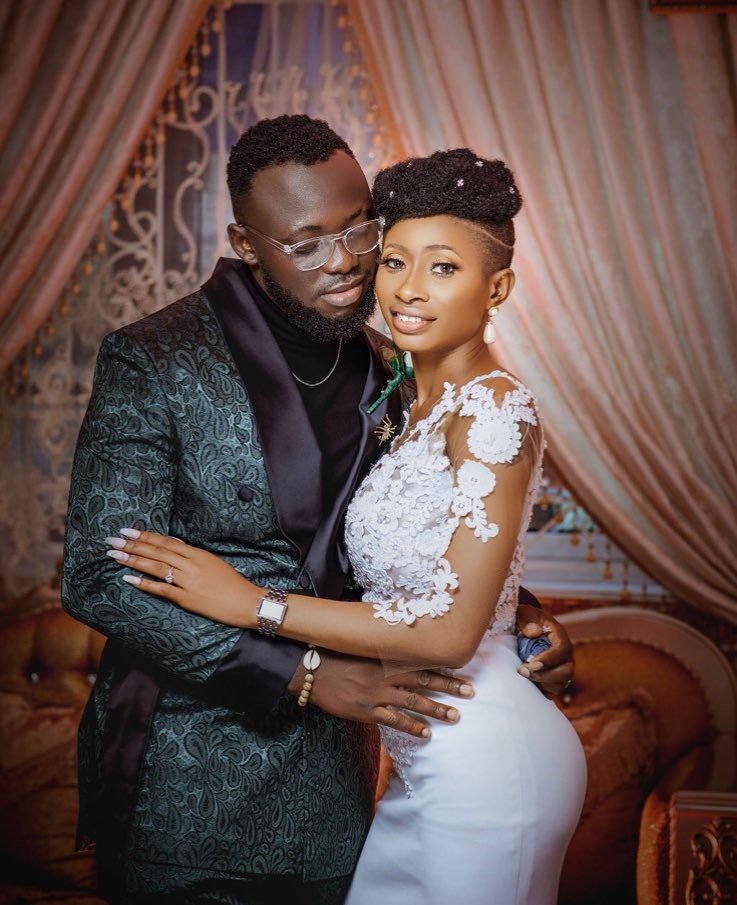 This elegant celebrity look has a chic but rebellious touch to it. It's perfect for brides who want a simple but smart look. Wear this if you want to give tabloids a story to write about!
24. Dutch Braid Crown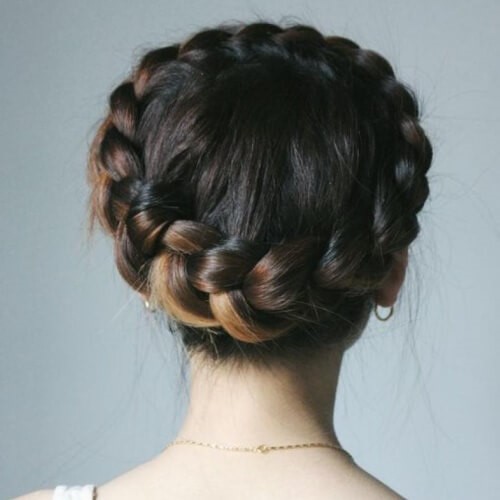 If your problem is fine hair and you want a thicker look on your wedding day, here is a hairstyle for you. It's for queens who want to make a statement.
25. Straight low chignon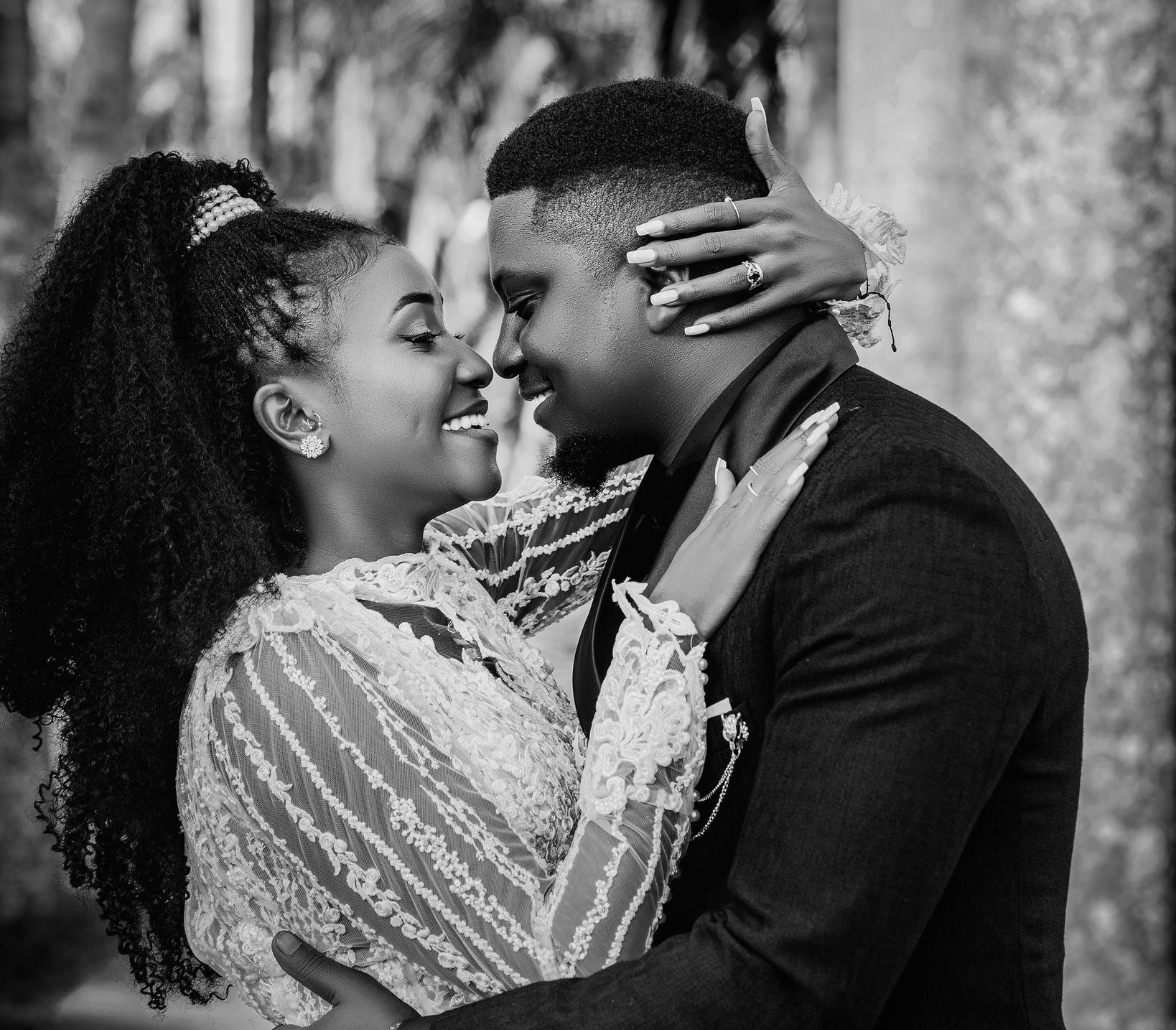 If your bridal makeup is something you want to stick to your guests' memories, go for a sleek chignon at your nape. Suitable for brides with long straight hair, this neat knot is the perfect canvas for bright accessories and complimentary veils. It can also be won by brides with naturally textured tresses.
26. Chic pigtail bubble braids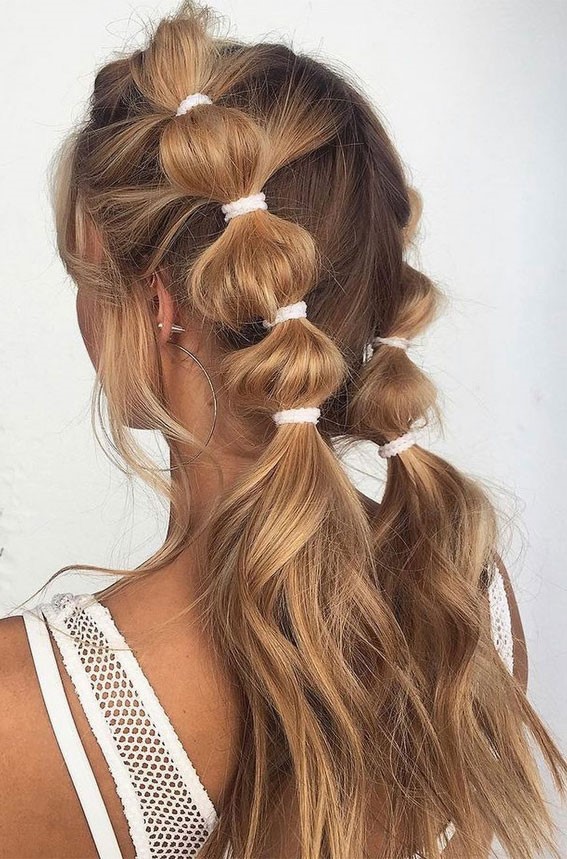 If your wedding is coming up this summer and you want a cute hairstyle. If ponytails or braids are your thing and you want your hair game up there on your wedding day, the bubble braid is for you. It not only combines both braids amd a pony in one look, it is so red carpet! The bonus is that you can wear it on any outfit.
27. Metallic headpiece and low bun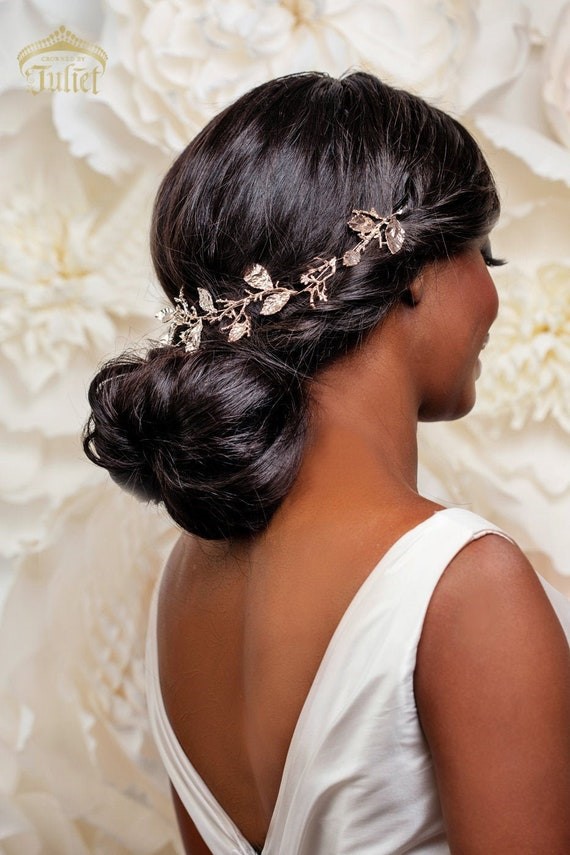 A wedding dress with a fitted waistline and a beautiful back view with a flared skirt if combined with this low bun and metallic headpiece is a sight for the cameras. Opt for silver band hair jewelry to bring out the most exceptional look.
28. Tucked In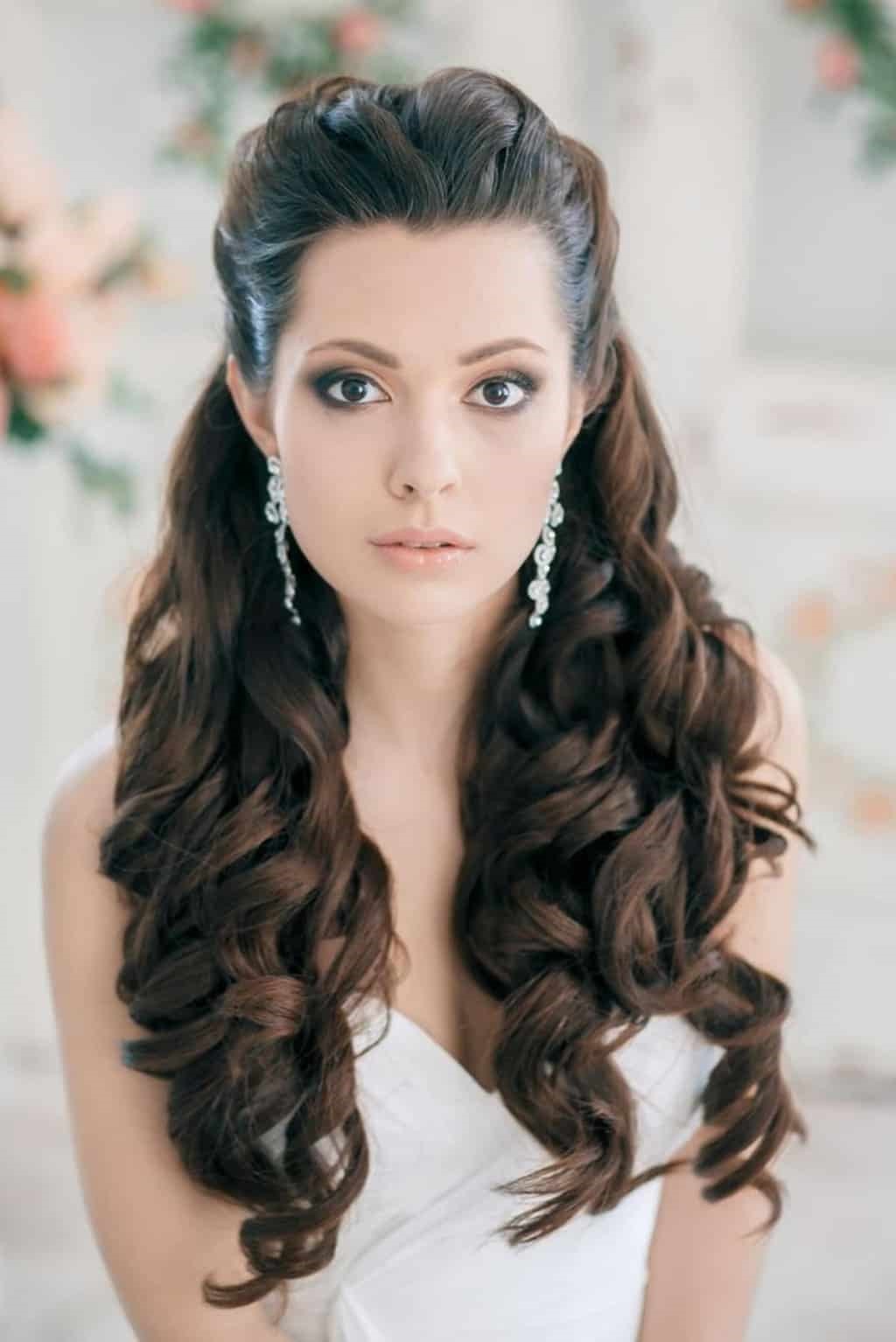 For brides with loose curly hair, you could opt to tuck in your hair behind your ears. Spotlight your look with tall dangling earrings that match your gown.
29. High ponytail with headband
Is fun one of your darling traits? Are you quite sophisticated too? Then this is your hairstyle for the wedding day. You are a queen for this style if you have long straight hair but even those with medium length hair can add a few extensions to the ponytail to add length and/or volume.
30. Kinky/Coily Hair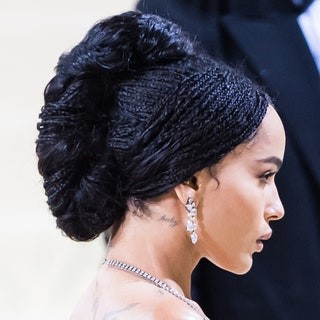 Just extra ordinary this wedding hair style! It gives you a variety of choices if you want to switch your looks around amidst the wedding revelries. This style can also accommodate diverse lengths of hair braids. It's easy to suit to your expectations then add in your own style.
No bridal look is complete without an awesome hair style that highlights your best style and features, check out potential hairstylists here for your big day or contact us at planner@nyomplanet.com with Nyom Plannet for your glamorous look on the big day.