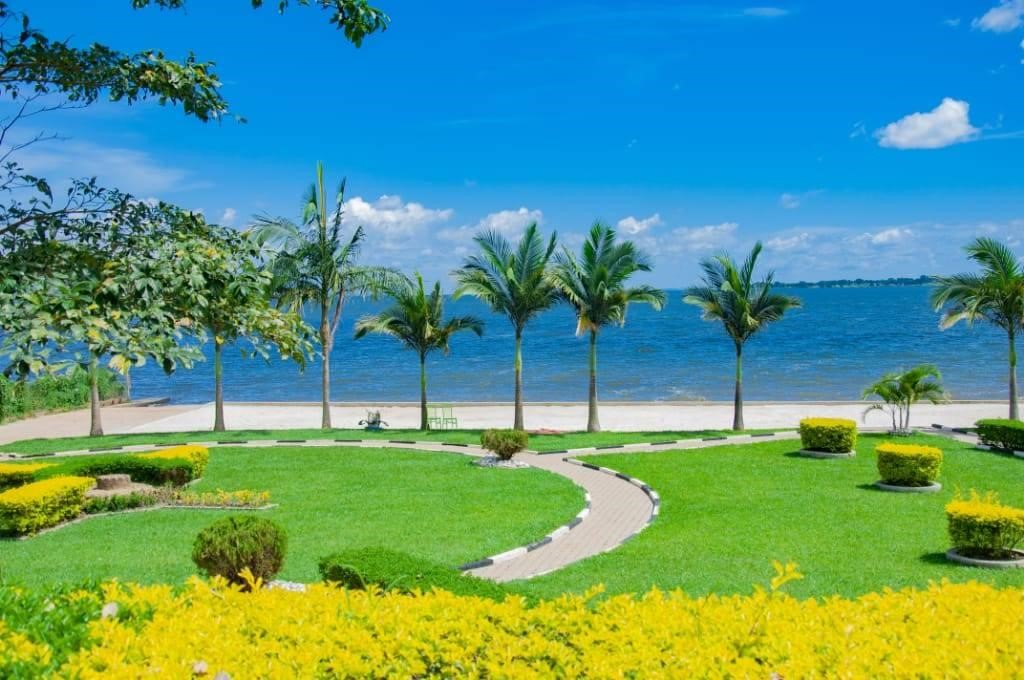 Top 10 Lakeside View wedding venues around Kampala
Lakeside weddings are quite the attraction anywhere in the world. Uganda is blessed with a number of fresh water bodies including Lake Victoria (locally known as Nalubaale), the second biggest freshwater body in the world. The various water bodies house some of the best views and make some of the best lakeside wedding venues in the country.

Explorer with us some of the best lakeside wedding venues in and around Kampala.
1. Imperial Resort Beach Entebbe
One of the older resort hotels in the country, Imperial Resort Beach Hotel is located in Entebbe, just a few kilometers from Entebbe International Airport. Its gardens can host up to 1000 guests with a poolside capacity of upto 300 guests.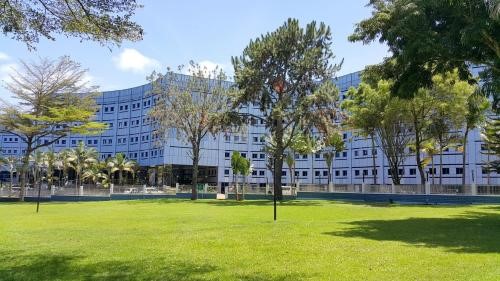 2. Protea Hotel Entebbe
Another one of the finer hotels in Entebbe, Protea Hotel, a member of the Marriott Group of Hotels boasts a complex with a swimming pool, gym and executive rooms. For weddings, a 300-guest reception can comfortably be hosted in its lakeside gardens. Depending on the period of the year, it can accommodate receptions or wedding ceremonies at its beach. The hotel also boasts such photogenic scenery for all kinds of wedding poses.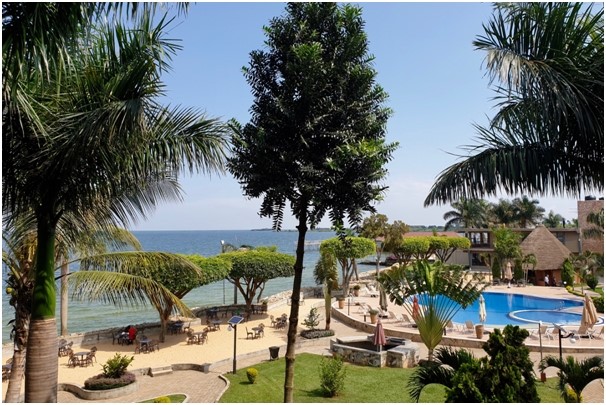 3. Munyonyo Common Wealth Resort
Located some few kilometers outside Kampala city, Munyonyo Common Wealth Resort aka Speke Resort offers one of the most ideal lakeside wedding venues for couples that don't necessarily fancy destination weddings yet still want a lakeview. The vast gardens at Speke Resort can accommodate upto 5000 guests. In addition, they offer a Marquee, screens and sound equipment for a couple intending to wed. Couples are also provided with a roundtable set up and a large car park. It is also ideal for both photography and videography in case the couple opts out of studio photos.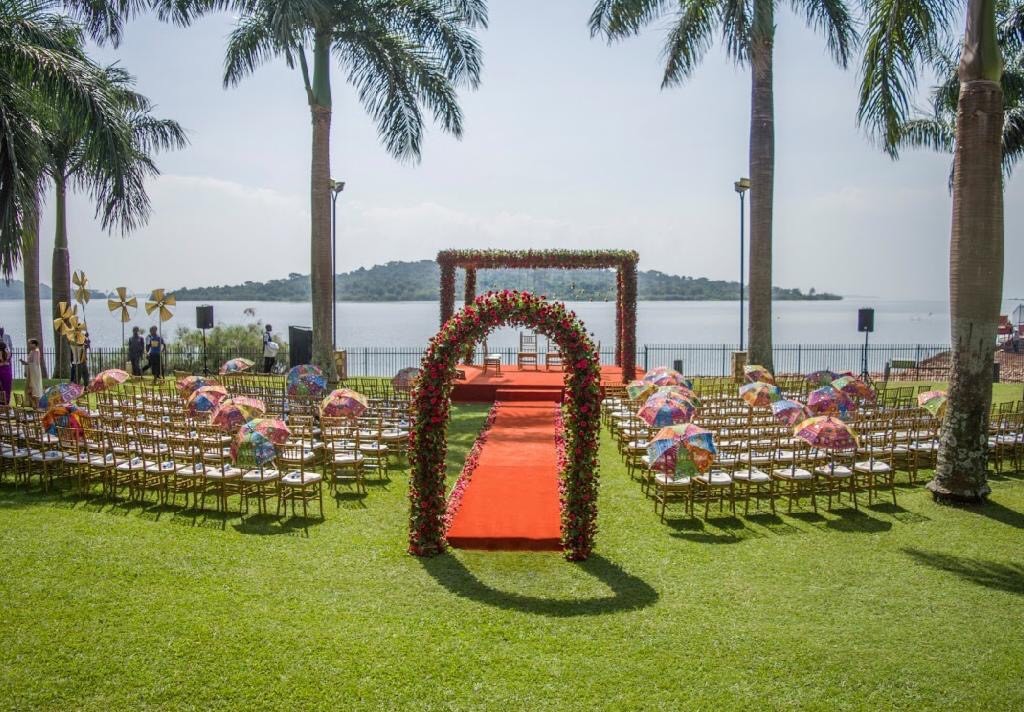 4. One Love Beach Busabala
Located on the outskirts of Kampala, One love beach Busabala boasts of lake-view gardens that could host over 1000 wedding guests. Its parking could park over 250 vehicles. It usually offers a full package including decoration, tents and chairs.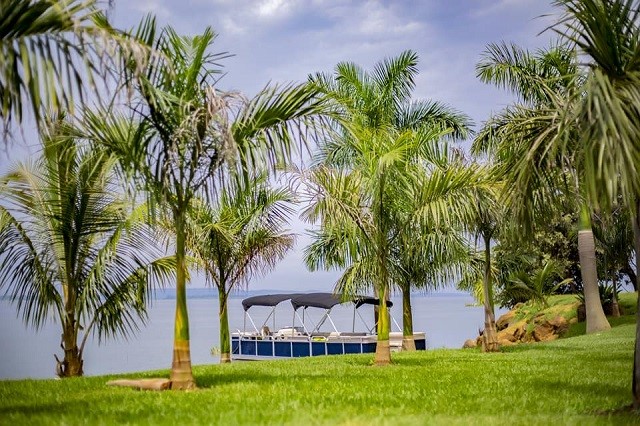 5. Lake Victoria Serena Hotel (Kigo)
Lake Victoria Hotel Serena is a wonder. On the outside, except for the Golf course, it could pass for a simple setting of a couple of scattered buildings but on the inside, it is a large expanse of great architecture. It recreates those old roman buildings with a long and large staircase leading down to the lakeside. Its gardens can accommodate over 1000 guests while its parking lot could hold over 200 vehicles at ago. It also has a much smaller arrangements for 300 guests and less.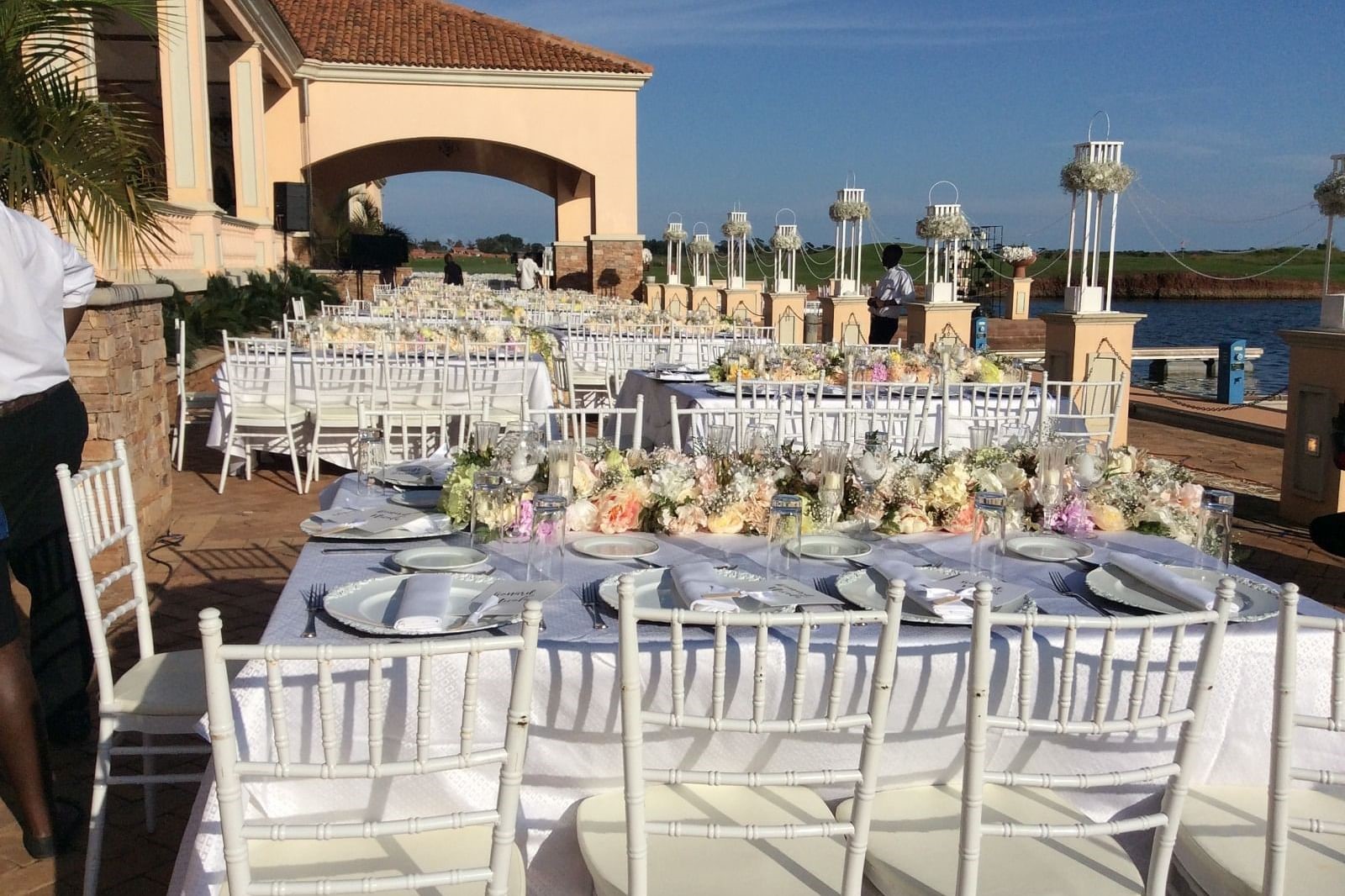 6. Lutembe Beach Resort
Located about 20kms on the old Kampala- Entebbe road, Lutembe Beach resort like a phoenix has lived through the years, taking on different looks throughout its lifetime. Being one of the major attractions along this route, wedding guests are bound to be treated to an epic surprise. It has a 1000 capacity garden. It also offers a poolside for couples who would like a poolside wedding at the beach. It provides the couple with a classy changing room, chairs and sound equipment.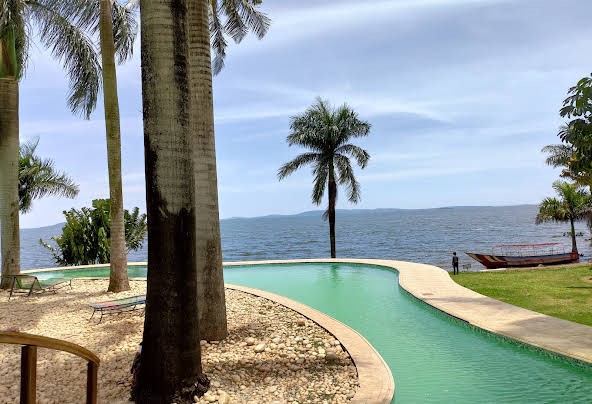 7. Nyange Resort Bwelenga
Nyange Resort is located some seven kilometers off Entebbe Road at the Kawuku junction (near Corsu Hospital). Nyange, like the bird from which it derives its name suggests is a bright but hidden gem at the lakeside in Bwerenga. It can accommodate guests in its cottages in case they need to stay for the night. The sparkling green gardens host over 400 guests with an expansive parking space. Couples looking to hire these premises will benefit from changing rooms as well as the serenity that comes from a place hidden away from the buzz and noise of crowds.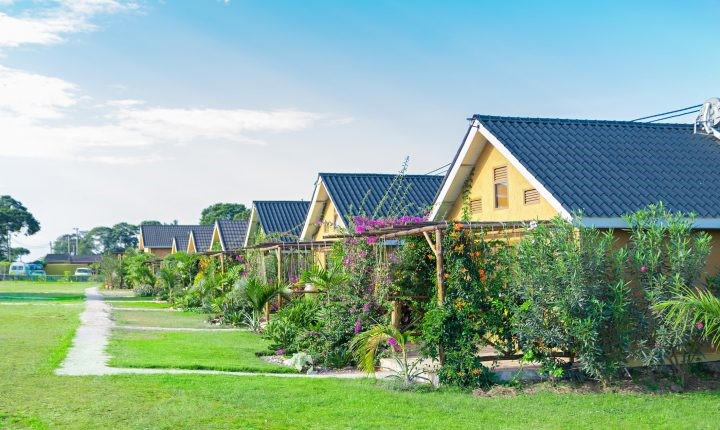 8. Explorer Resort Bwerenga
Right next to Nyange resort is another hidden gem in Explorer Ranch Bwerenga. It has various spots close to the lake, both for photography, wedding service and reception. The verdant that makes its gardens can host over 1500 guests with an expansive parking space. Couples looking to hire these premises will benefit from two changing rooms and the luxury of bringing their own food and beverages without a corkage charge.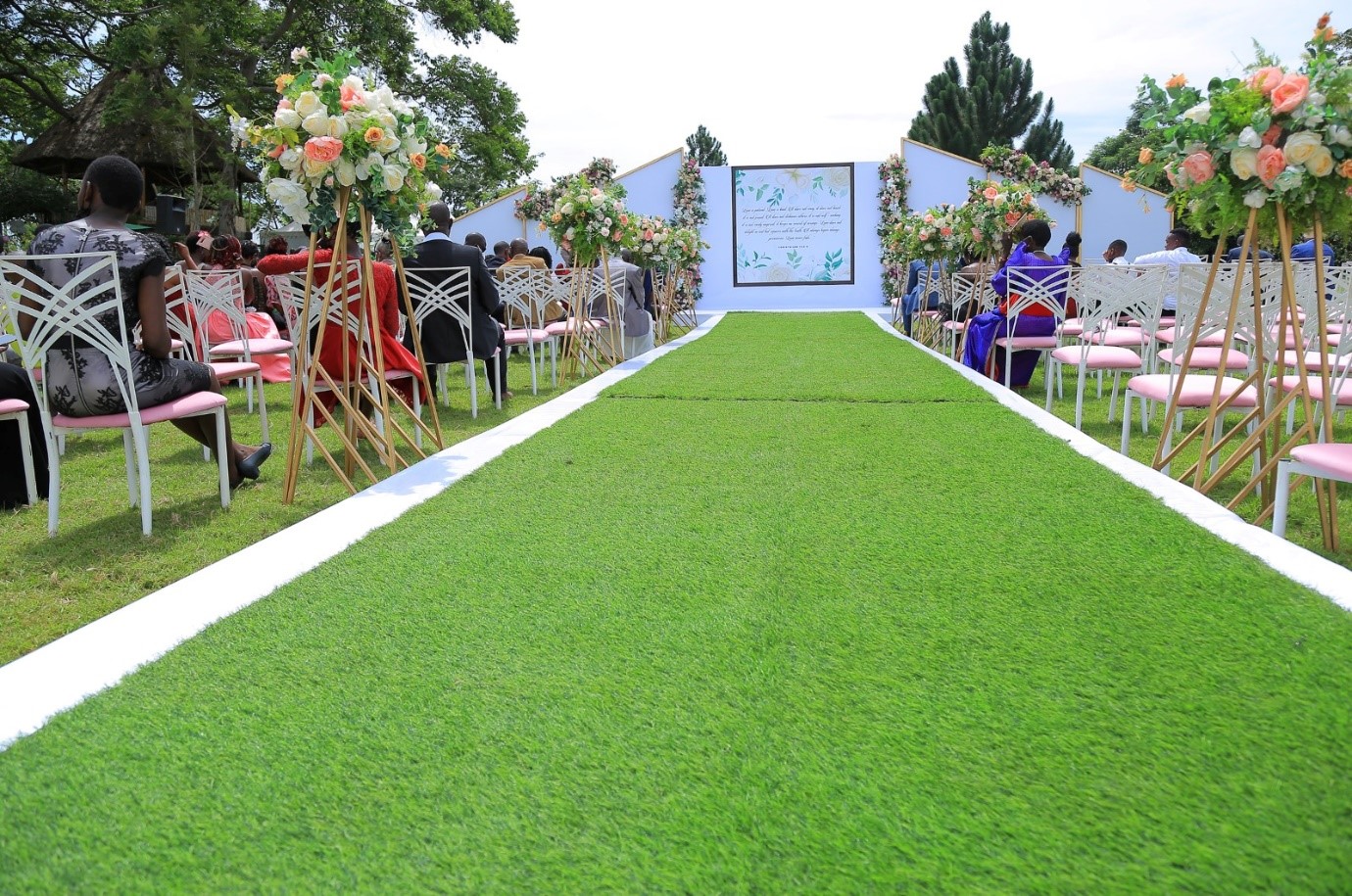 9. Garuga Country Resort
Garuga country resort is the place you go to have a lakeside cozy wedding. It does not host beyond 500 people and for its numbers it gives very neat services. From the food to the changing rooms and venue set up, this place provides such a suitable venue for anyone whose goal is to wed at the lakeside.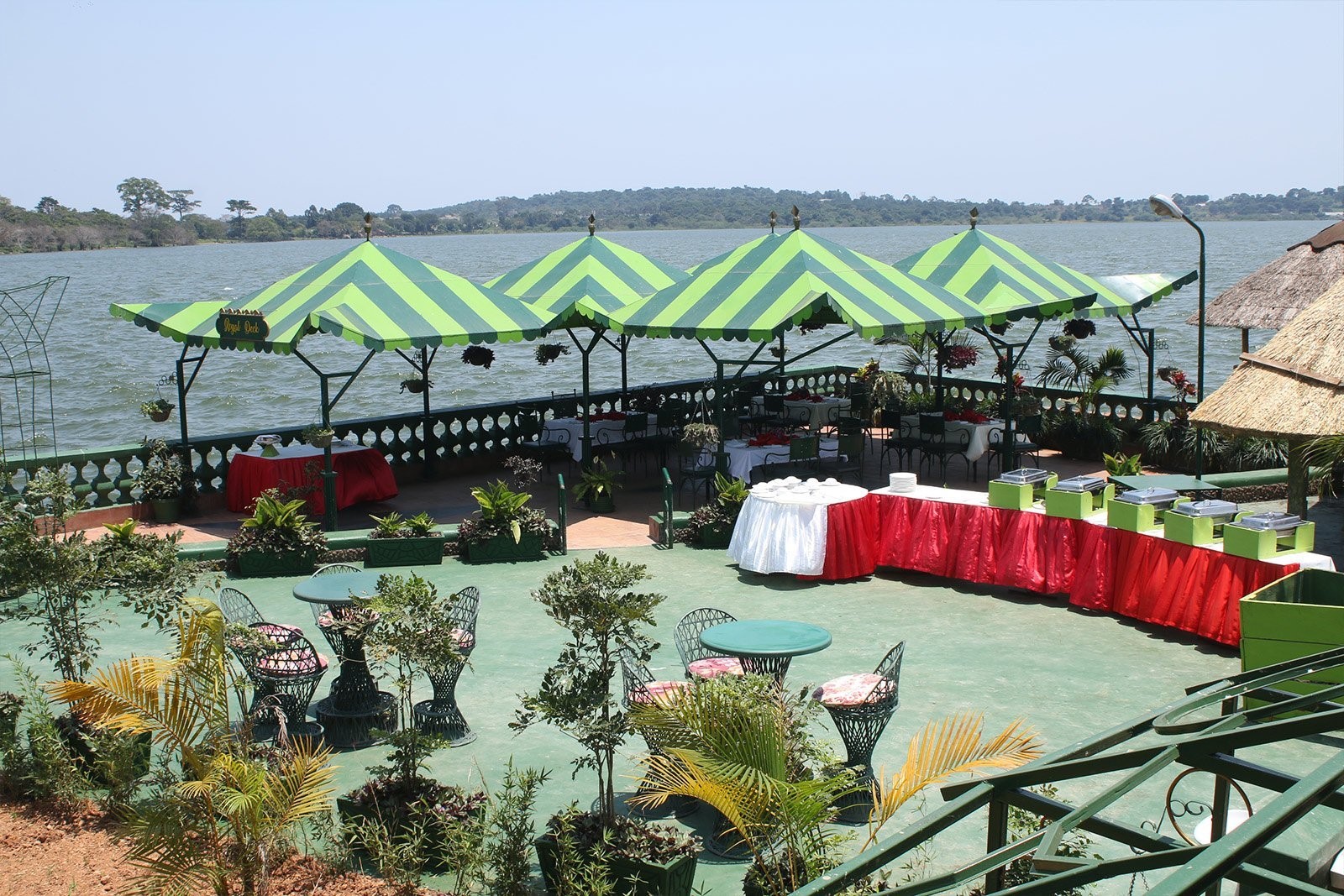 10. Lavanda Beach
Last but not least, Lavanda beach in Bwerenga is another of those venues with a perfect lakeside view. Located about 6km from Entebbe Road off Kawuku, it boasts an architectural design akin to beaches we only get to see in movies. A good decorator and wedding planner would make this place a couple's beach destination wedding dream. The greenery is so inviting for guests at the wedding reception.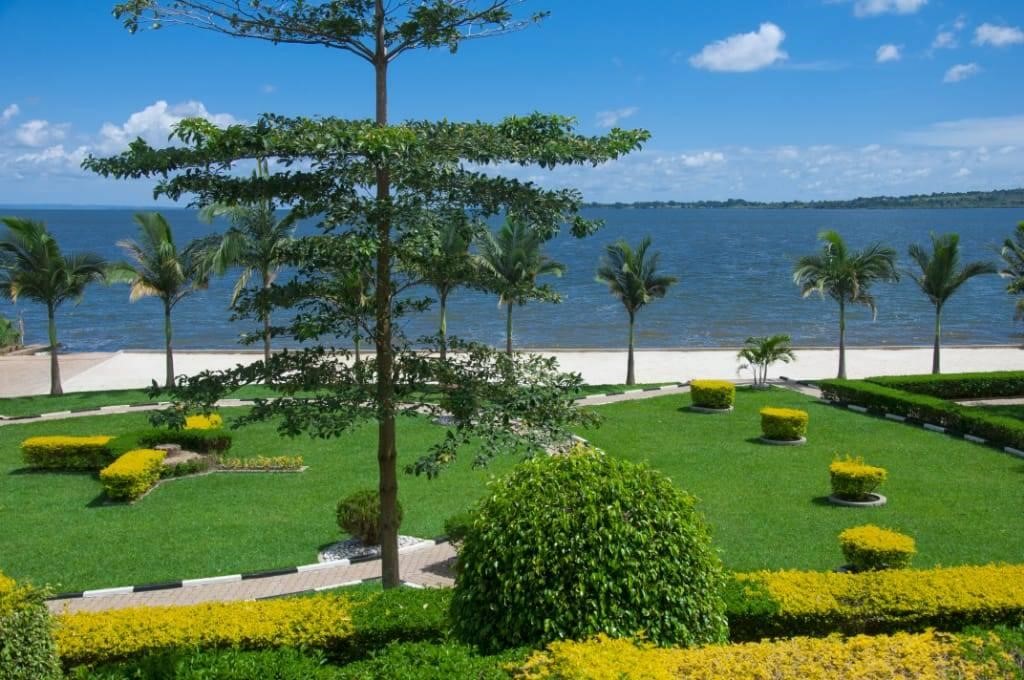 Visit us again, as we bring you top wedding venues in and around Uganda.