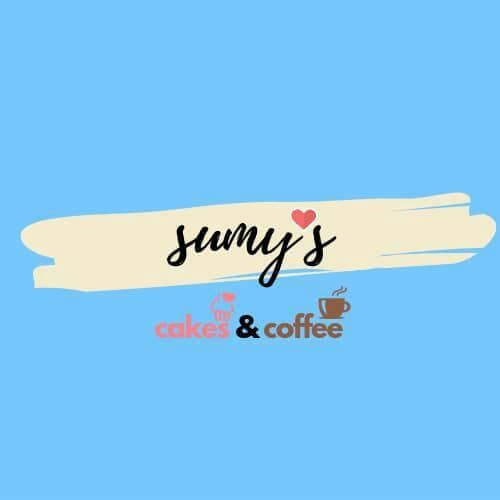 Vendor spotlight – Sumy's cakes and coffee
One thing we all look forward to on the wedding day is the cake! Shout outs to the cake lovers out there! Here is Sumayah Namuwenge, a wedding vendor that provides that one item that we can't do without on those big days. Read more to find out her experience, the different cake flavours out there and roughly how much you would need to budget for cake on your wedding day.
1.
Talk about your story and how the business came into play.
My name is Sumayah Namuwenge, a Ugandan by birth and citizenship. I started my bakery called Sumy's cakes and coffee while in my second year at the university in 2015 doing a Bachelor in Human Rights. At the time, my main focus was to get an income generating business that would top up on my campus weekly upkeep my parents would give me but with time, it turned into passion. Overtime, my business has matured and expanded from making only cakes to making coffee and tea on different functions. My dream now is to enlarge my bakery and be in position to provide employment to many more people in our society so as to reduce the high number of unemployed youths.
2.
How did you start baking wedding cakes?
After I started baking cakes, I began getting so many clients who had tasted my cakes on different occasions ordering for their wedding cakes with me. It was so overwhelming seeing people believing in me and loving my products so I took on cake decorating classes to better my skills and later I began making wedding cakes for them because I couldn't disappoint them.
3.
Where do you get inspiration for your cakes?
I get most of my inspiration from the internet when I look at what other bakers around the world are doing. I also get a lot of ideas from Pinterest as it has a wide range of cakes for all occasions and all designs. I also get a lot of inspiration from the community beliefs and traditions especially when I am working on the traditional cakes for the traditional functions. I always prefer portraying the couple's traditional beliefs or use the symbols that portray their culture on these cakes.
4. What has been the best wedding cake you have made and why?
This is my biggest wedding cake because it was my first biggest order I got from a client I had never met shortly after I finished my cake decorating classes. This client believed in me even without ever meeting me. We first met at her introduction when I went to deliver her introduction cake.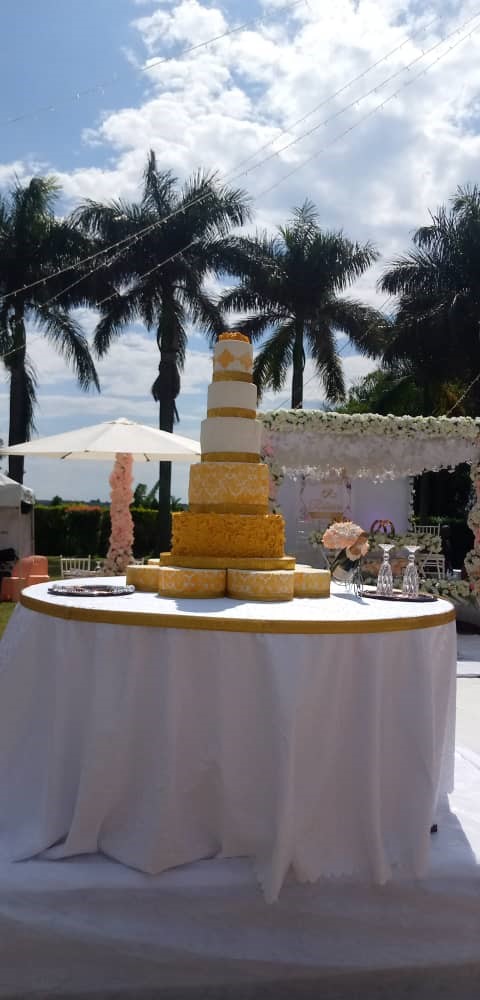 5
.
What flavours do you offer and what is your best flavour?
We offer a variety of flavours and these include; French vanilla, Red velvet, Chocolate, Pineapple, Strawberry, Chocolate fudge, Vanilla, Butterscotch, Fruit cake, Coconut, Mint, Bubble gum, Orange, Lemon, Tutti-frutti, Blueberry, Toffee among others.
My best flavour is Chocolate fudge because I am a chocolate addict and have a sweet tooth.
6. How long does it take you to get a wedding cake done?
It usually takes me one week to have a wedding cake fully complete.
7.
How much would I need to get a good wedding cake for 200 people from you?
I would offer this at a minimum of 1.5 million Uganda shillings.
8.
For how long can I can keep my after the wedding?
For about 3 three months out of the refrigerator and a year in a freezer.
9.
What has been your biggest wedding day challenge?
My biggest wedding challenge was when one of my clients decided to send people to pick up her wedding cake from our bakery. On their way to the reception, they called me to report that they had broken the centerpiece cake due to reckless driving. When I got to where they were, I found the cake in a very terrible state beyond repair. I had to take the cake back to the bakery and start afresh. I was finally able to set up the centerpiece cake at reception before the bride and groom got to the reception. The bride only found out that her wedding cake had broken a week after wedding day and she was very happy we handled the issue very perfectly. Till today, she is one of my top clients.
10. Any advice for couples intending to wed as they choose a type of cake?
I would advise all couples intending to get married to always choose their best flavours and also agree on the cake designs with their chosen baker beforehand. A design that the couple likes but also one that the chosen baker is able to make else you risk ruining your wedding day. Also ensure that the desired cake can withstand the weather conditions at their chosen wedding reception in case of rain or too much sunshine.